Is it socially responsible to invest in social media?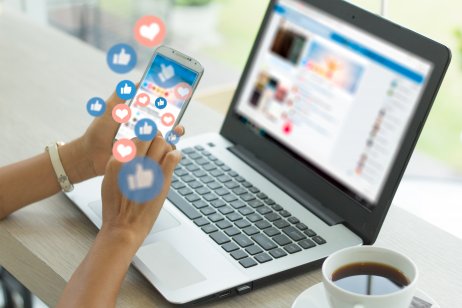 Social media companies do a lot of good. They connect billions of people around the world, enable us to share information and help businesses to promote their content.
However, with Facebook being taken off Standard & Poor's (S&P's) 500 ESG Index twice in the last three years – this year and in 2019 – can anyone claim to be embracing environmental, social and governance (ESG) principles when investing in social media companies?
Environmental concerns
When it comes to environmental issues some social media platforms appear to be making major strides in reducing pollution and providing an example for others to follow.
The sharing of information on social media allows users to shine a spotlight on some of the biggest environmental issues of our time, such as global warming, natural disasters and pollution.
Before it was removed from the Standard & Poor's ESG index back in 2019, Facebook received high scores on environmental issues – 82 out of a possible 100. Since then, Facebook has made further progress on environmental issues – announcing earlier this year that it has reached zero emissions, which means it could achieve its wider target of net zero emissions across its entire supply chain by 2030.
But it's clear that views on how they're embracing ESG principles can change. This year Facebook was removed from S&P's 500 ESG Index after its scores decreased driven by "deteriorations in environmental reporting, operational eco-efficiency and policy influence".
Social and governance
It's on the social and governance side of things that some social media companies are not quite hitting the mark. Christopher Tucci, professor of digital strategy and innovation at Imperial College Business School, points out: "ESG encompasses more than just environmental sustainability and can include social sustainability. A lot of people think it's more stakeholder orientated which means treating staff well, being a good steward in your community – it's more than just making money."
Facebook whistleblower Frances Haugen claims social media companies know that polarised opinions drive engagement and are good for business. So should the impact this has on wider society be a consideration for ethical investors?
Tucci says: "I think it would be hard to say that what they are doing is socially responsible given that it's been shown to lead to polarisation of society and all kinds of bad dynamics between people."
Governance issues on social media have also become a concern. Last month UK financial regulator the FCA threatened to take action unless platforms such as Facebook, Twitter and Instagram make it harder for criminals to conduct scams online through their platforms.
Laura Suter, head of personal finance at AJ Bell, says: "The FCA has firmly pointed the finger at social media sites, such as Facebook, Twitter and Instagram, as needing to do more to stop the rise in fraud. It's calling on the government to force these internet giants to do more to protect savers from online scams, including monitoring posts."
While monitoring scams can be expensive it's not impossible to address. "Google has already announced a plan to help shut down the number of scammers who pay for ads so their results will appear high up in search rankings, to ensnare many savers.
"But now the FCA has set its sights on the social media platforms that serve as a gateway to fraudsters and allow them to spread their fraud quickly and with ease. The issue with social media sites is that scammers can very cheaply and easily spread their messages to thousands of people and once the posts are live it's hard to control them," adds Suter.
ESG definition
It's clear that social media companies still have a lot to do to meet ESG principles. However, it's unlikely that they will lose all their fans because of this.
"It really depends on your own personal viewpoint and ethics. Some would say that that social media companies haven't done enough against scams or enough to protect young and vulnerable people. Others would have a more relaxed view and focus more on companies doing environmental damage such as gun manufacturers. So, it comes down to own personal viewpoint," says Suter.
Ruling out all social media companies will mean missing out on a big part of the tech market. However, if you do invest in funds tracking the S&P 500 ESG Index you could still gain some exposure to social media while keeping things in line with your conscience. For example, Microsoft, which has acquired LinkedIn, is part of the index.
Other than Microsoft there are other large companies that remain on the ESG Index – some of them tech based that could offer good returns including Apple Inc and Amazon.com Inc.
Ultimately, investors have a lot of other options if they feel that social media companies aren't meeting their ESG requirements.
Read more: Can Diem become mainstream after delays and privacy issues?