Are semiconductors on the verge of a supply boost?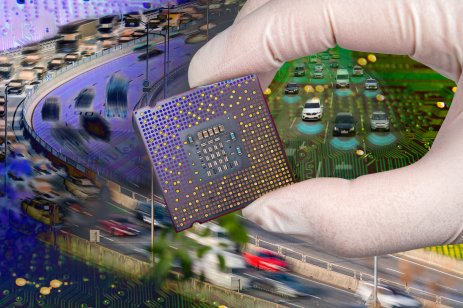 The semiconductor shortage that began in 2020 has shown no signs of slowing down. The industry is now in a rush to find alternate methods to recover supply for a product that continues to grow in demand.
The semiconductor supply-chain bottleneck has recently come under added pressure from renewed Covid resurgence in China and geopolitical pressure stemming from Russia. The chip shortage is expected to linger until at least 2023.
As a result, some companies such as Intel (INTC) and Samsung (SMSN) are taking matters into their own hands by building their own semiconductor-producing factories outside of China.
There are indications that Intel is taking this a step further by aiming to become the US version of Taiwan Semiconductor Manufacturing (TSM) through potentially partnering with Nvidia (NVDA) and Qualcomm (QCOM).
Such moves may help provide a promising recovery of semiconductor supplies, yet as it will take a few years for such initiatives to pay off, sectors dependent on semiconductors will have to make do as best they can despite the shortage.
This is especially true for the smaller companies, which may not have strong supply chains; market leaders such as Apple (APPL) and Tesla (TSLA) are more likely to survive in the short term.
What is your sentiment on INTC?
Vote to see Traders sentiment!
Taiwan Semiconductor Manufacturing
New factories
With the ongoing shortage further increased by the recent lockdowns in China, companies are also turning to alternate locations in order to meet demands.
Samsung Electronics, the world's second-largest supplier after Taiwan Semiconductor Manufacturing, is expanding its production in the US. Its new factory in Texas will be its largest investment in the US, costing $17bn.
Although delayed by the labour crunch, Taiwan Semiconductor Manufacturing is also expanding in the US by creating a factory in Arizona.
Angelo Zino, senior industry analyst and vice preesident at CFRA Research, told Capital.com that while these plans for new factories are useful, it will take time before they can have a positive effect: "It does take two to three years to fully ramp (in some cases longer)... [as a result] we continue to see pockets of supply-chain issues through 2022 and into early 2023."
Samsung Electronics
Further building plans and collaborations
Much like Samsung and Taiwan Semiconductor, Intel (INTC) is also building a new plant in Ohio.
Zino believes Intel has even greater plans: "Intel's business model is shifting towards one that will be foundry-driven. Essentially, they are looking to be the US-based version of Taiwan Semiconductor so we are likely to see the company announce new partnerships with other chipmakers [such as Nvidia and Qualcomm]."
Jason Pompeii, senior director at Fitch Ratings, expects similar business movements for the chip maker.
He said: "A significant portion of Intel's existing capacity is in the US, and the company's build plans are intended both to alleviate its own supply constraints and establish capacity outside of Asia in the name of its newly formed foundry business, Intel Foundry Services (IFS)."
Intel
How chip-dependent sectors are coping
While markets await the recovry of supplies, Pompeii has outlined the foru main ways the sectors that are most dependent on seminconductor chips are currently surviving:
foregoing production – for example, car companies have lowered their unit-production forecasts, while PC makers have made the case that supply constraints, not just for semiconductors but also for other components, have resulted in considerable unmet demand;
shipping units with lower semiconductor content;
raising prices outright; and
optimising their production mix for profitability.
What is the outlook for semiconductor-dependent industries?
Zino believes there will continue to be a problem with matching supply and demand in the industry in the near term, with smaller companies at greater risk: "In this market, Apple remains best positioned given its scale and importance to the supply chain.
"EV companies like Tesla will be better positioned than some smaller EV start-ups in terms of getting the chips it needs."
Recovery in the semiconductor sector is imminent as consumer demand for products containing semiconductors is being increased, rather than diminished.
Pompeii adds: "We note that auto and PC makers are still reporting solid profitability despite the shortages. From our (credit perspective), we believe the shortages have had a moderating force on demand, and that consumer demand for items like autos or PCs will not be destroyed, but rather pushed out."