Are UK housebuilders set to benefit from a strong market in 2022?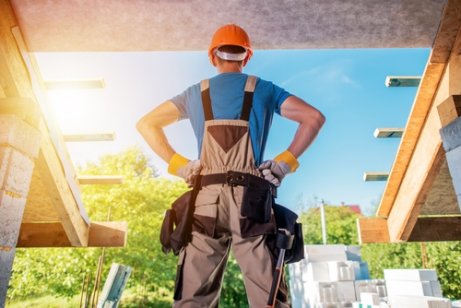 As we head firmly into 2022, the problems facing aspiring homeowners do not appear to have diminished. Last year, people were keen to move, but this was made more difficult with a shortage of stock.
This year is set to follow a similar trend if Rightmove's latest House Price Index is anything to go by. It highlights that the strong demand for homes and the low number of homes for sale is continuing, at least for the start of 2022.
Tim Bannister, Rightmove's director of property data, says: "New Year sellers and buyers have been quick off the mark this year, with Rightmove recording the highest ever number of Boxing Day sellers coming to market."
Stiff competition
Competition among buyers for available homes remains strong in 2022. Perks such as the stamp duty holiday may be over, but Rightmove's figures show that this has not put potential buyers off. In fact, the number of buyers enquiring about homes is 15% higher than the same time last year.
But the supply is not meeting demand. According to Rightmove, the number of homes available for sale per estate agency branch has hit another record low of 12 properties, down by 2 from December.
It means homebuyers need to react swiftly as the few homes on offer in the market are not around for long. Rightmove found that the average time it took to find a buyer in December last year was two weeks less than the same period in 2020.
As a result, more than 70% of properties currently on estate agents' books have already been sold, meaning there's just 30% of properties still available.
Impact on housebuilders
The high demand for properties, especially in the East Midlands, South West and South East (where Rightmove recorded the most need for new supply) will no doubt bode well for developers too.
Today, Taylor Wimpey's (TW) trading update shows that it has benefitted from strong demand with operating profit expected around £820m, which is in line with current expectations, and with operating margins of 21–22%.
Chief executive, Pete Redfern said that the company had delivered excellent performance in 2021 and expected to report full-year results in line with expectations. Taylor Wimpey's share price went up 3.22% today on the back of the announcement.
"The foundations were strong throughout 2021 for housebuilder Taylor Wimpey, as interest rates remained low, and the availability of mortgages was high. Total UK home completions were up 47% compared to the previous year with the average selling price continuing to rise, now up to £332,000 for the group," says Matt Britzman, equity analyst at Hargreaves Lansdown.
But while the demand for homes is strong, this may not last. There are also other concerns that investors need to consider that may negatively affect homebuilders' performance as we head further into 2022. These include:
Increasing costs
The construction industry has suffered from a shortage in materials and this is likely to continue into 2022. Omicron is one of the many reasons behind the supply chain disruption.
"More than 18% of construction firms in the most recent large scale Business Insights survey from the ONS reported experiencing supply chain disruption. This will have led to escalating costs with the prices of materials pushed up due to a lack of availability, and this situation has been going on for months.
"Back in October almost a third of businesses (29%) questioned reported that the price of materials, goods and services purchased had increased by more than normal price fluctuations. Costs of materials like bricks, timber and steel have been rising, and at the same time construction firms have also been trying to cope with the spike in energy prices," points out Susannah Streeter, senior investment and markets analyst at Hargreaves Lansdown.
Labour shortages
The sector is facing a record number of vacancies, with positions waiting to be filled soaring to 48,000 from August to October – the highest level in two decades.
"With costs escalating and labour problems intensifying, it's little surprise that almost a quarter of firms say turnover has decreased (24.7%) and more companies are going to the wall," says Streeter.
Mortgage rates increasing
The Bank of England voted to increase the base rate to 0.25% from the record 0.10% low. There are now concerns that this will put more pressure on households that are already struggling with other increasing costs.
With mortgage rates going up and gas prices set to increase with the introduction of the new energy price cap, new property buyers may be put off entering the market.
More sellers entering the market
There are early signs that more property choice is on its way. According to Rightmove, the number of home valuation requests for the first working week of 2022 is 44% higher than the same period last year and 48% up from the same period in 2020.
More sellers entering the market could result in more competition for homebuilders. Bannister says: "The number of requests from would-be sellers to agents to value their home has continued to increase from the end of last year and was at one of its highest points ever on the first working day of this year.
"While this potential new supply will take a little while to appear on the market, it's an encouraging sign of more choice for buyers in the coming months."
Only time will tell if all these factors add up against homebuilders in 2022 or not. Either way, traders and investors in the homebuilding sector could be in for a bumpy ride.
Read more: UK housing industry crisis: What's behind the market shift?