Apple stock analysis: what's next after a $100bn quarter?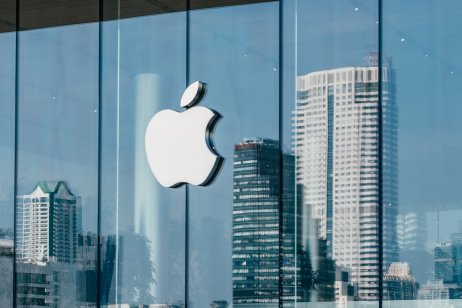 Apple reported fiscal first quarter results on January 28, 2021 but the historic quarter took a backseat to the crazy trading activity in GameStop, AMC Entertainment, and other heavily shorted names. But once the dust settles and the short squeeze fiasco comes to an end, investor attention should shift back to trillion-dollar tech names and investors will debate the Apple stock analysis.
Largest quarter in history
Apple's fiscal first quarter earnings report was highlighted by revenue topping $100 billion in a three month period for the first time ever. Specifically, revenue rose 21 per cent year-over-year to $111.439 billion.
Sales of Products rose from $79.104 billion in the same quarter last year to $95.678 billion. By category, iPhone revenue was up 17 per cent year-over-year to $65.6 billion, Mac revenue was up 21 per cent to $8.68 billion, iPad revenue was up 41 per cent to $8.44 billion, and Other (i.e. earphones, watches) were up 29 per cent to $12.97.
Services, a key component for the bullish view on whether the Apple stock is a good buy now given its hefty margins, saw its revenue rise 24 per cent from a year ago to $15.76 billion. Included in this segment are sales generated from the App Store, Apple Music, TV+ sales, licensing fees paid by Google, warranties, and others.
One would assume that a record-setting quarter would support bulls in the Apple stock buy or sell debate, but such was not the case.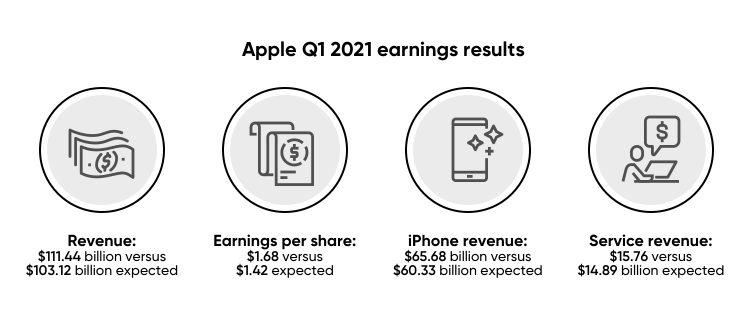 What is your sentiment on BP?
Vote to see Traders sentiment!
Apple stock analysis: iPhone offers path to $3 trillion valuation
Not even a global pandemic could slow down Apple's new iPhone 12 sales. In fact, Apple exceeded even the most bullish iPhone sales estimates, especially in China where sales rose 57 per cent year-over-year.
According to at least one analyst, Apple's iPhone 12 has the potential to outsell the record-high 231 million iPhone units that were sold in fiscal 2015.
If sustainable, and there is no reason to believe it isn't, Apple's potential iPhone 12 "supercycle" in the new 5G category would help lift Apple's valuation above and beyond the $3 trillion mark.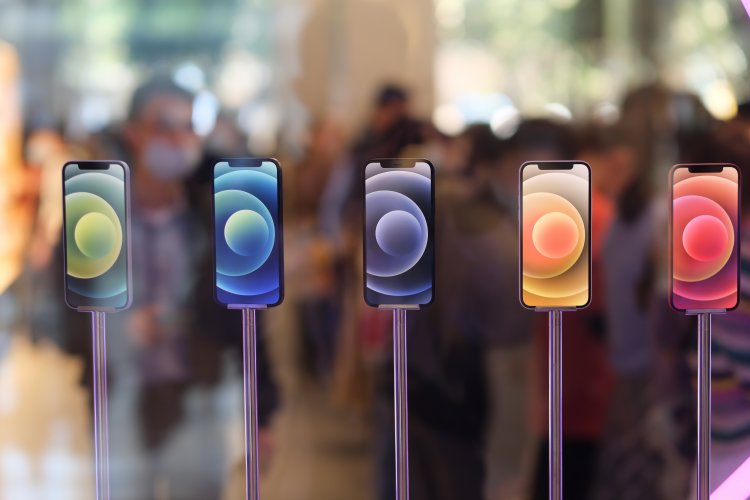 AAPL stock analysis: why the selloff?
The latest Apple share news and earnings report resulted in the stock losing around 3 per cent the following trading session. So, what contributed to the weakness?
Some are attributing the decline to Apple's management team not providing a revenue forecast for the coming quarter. Such was the norm throughout most of Apple's history but was not the case to kick off the new fiscal year.
Management also noted that its margin-rich and closely watched Services business faces a difficult year-over-year comparison moving forward.
Apple also had an opportunity to change the narrative in the Apple shares buy or sell debate by confirming if it has any intention to enter the auto market. Company CEO Tim Cook faced multiple questions from Street analysts asking him to confirm or deny reports.
He stated:
"We've got new things that we're not going to talk about that we think will contribute to the company as well, just like other new things have contributed to the company in the past. We see lots of opportunity."
While a vague response never translates to a bullish Apple stock price forecast, investors have plenty of reasons to come away with a bullish AAPL share price forecast.
Overlooked quarter takeaways
Apple's quarter shows that it managed to accelerate its active device installed base from 7 per cent last year to 10 per cent, while its Services monetisation rose at the fastest pace in recent memory. As expected, customer loyalty remained a strong point as it is not only retaining record high customers but selling new products like watches to existing hardware owners.
According to Morgan Stanley analysts, these favorable catalysts should sustain a multi-year revenue compounded annual growth rate of 10 per cent through 2025. The research firm is modelling Apple's full-year 2021 earnings per share to rise by 6 per cent and another 8 per cent in 2022. Encouragingly, both these outlooks are "materially above" what other Wall Street analysts are expecting.
Perhaps being overlooked by investors following Apple's report is the company's surprise gross margin improvement. For the past two to three years, Apple's gross margins hovered roughly between 37.5 and 38.5 per cent. But in the reported quarter, gross margin moved notably higher to 39.8 per cent. Apple may have a path to perhaps sustain 39 to 40 per cent margins over the near-term and this would help lift earnings by default.
Apple also continued its stock buyback program and repurchased 200 million shares of its own stock for a total of $24 billion. The company also returned $3.6 billion to investors in the form of dividends. Despite what seems like a large amount in shareholder friendly activity, the company still grew its cash hoard from $192 billion in the prior quarter to just shy of $196 billion.
Taking a look at the AAPL stock chart
The five-day Apple stock chart isn't particularly encouraging as it shows near-term momentum is not in Apple's favour. Taking a step back and looking at the one-year chart shows Apple's stock is prone to fall after picking up some momentum.
The stock has strong support at around $110 per share level although the AAPL technical analysis offers no clues that it will sell off back to these levels. That is, barring any broader volatility that would push the entire market lower.
One thing is clear from the chart: the trend is higher. Apple's stock bottomed at $53.15 in 2020 amid the Covid-19 selloff and has since rebounded nicely. Surely, a fall to around $110 should be taken advantage of by investors as it represents a great entry point for long-term investors.
Conclusion: hold Apple stock
CNBC's Jim Cramer has consistently said over the many years that investors need to avoid trading Apple's stock. Rather, he argued since at least 2015, investors need to buy it and hold it in their account.
He said in 2015: "Own, don't trade the biggest company on Earth. Just own it in a very tough period for tech stocks in everyone's portfolio. I can see it's going down, you can see it's going down. I just think there is value [for the long-term.]"
Again, in 2019 he said: "Sooner or later, everyone will be on the same page which means Apple can have a lot more upside as we begin to calculate the lifetime value of every subscriber. That's why I always say own it, don't trade it."
And finally, on January 25, 2021, he said: "This kind of thing [high expectations from analysts] does make it so it's a dicier call ahead of the quarter," while adding "people have to own Apple. Don't trade it".
Read more: Tesla stock analysis: should you buy the shares after a Q4 earnings miss?