Apple (AAPL) stock price closes at record high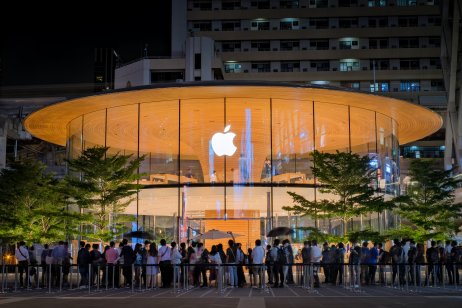 Apple's stock price hit a record high Thursday amid rumours that the tech company will produce electric vehicles in the next few years.
The company stock closed up 2.85%, or $4.38, at $157.87 on the Nasdaq Global Select Market. The previous record of $157.26 was set during intraday trading 7 September 2021.
Thursday's upward climb continued in after-hours trading as the stock surpassed $158.
The stock also rose above that mark during intraday trading before subsiding slightly.
Analyst prediction
The surge occurred after Wedbush Securities analyst Daniel Ives predicted that Apple will announce a strategic partnership with an automaker in 2022 that lays the groundwork for the company's entry into the burgeoning EV market.
Ives made his prediction in a research report that he provided to Capital.com. He was responding to a Bloomberg report that Apple is accelerating its development of autonomous EVs that could hit the road by 2025.
The analyst said it is a matter of when – not if – Apple enters the EV market. He called for the company to partner with an automaker initially to save costs and to produce a standalone version after 2025.
Apple's stock price has risen 19% so far this year. Thursday's record closing price marked a 34.25% rise from its opening price of $117.59 on Nov. 19, 2020.
Read More: Rivian (RIVN), Lucid (LCID) shares fall as investors cash in