There are a number of factors that may significantly affect your trading performance. Some are external, such as economic and political events. However, according to cognitive psychology, there are some factors that come from within, and anchoring is one of them.
Keep reading to find out what this psychological phenomenon really is and how to avoid anchoring bias when trading.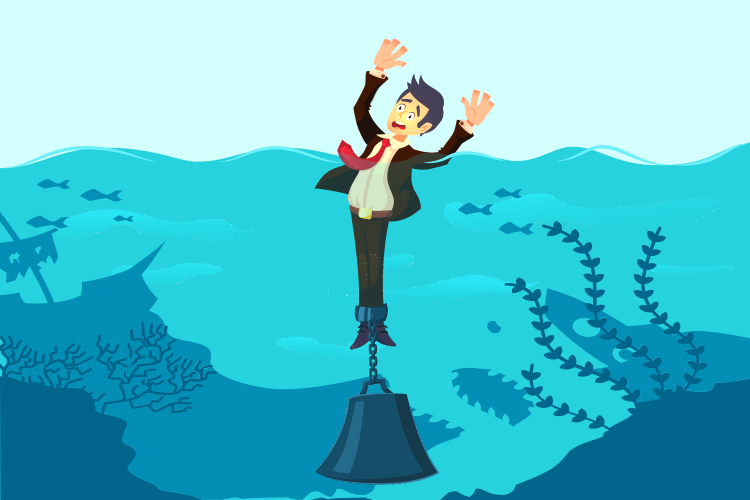 What is anchoring?
When making decisions, people often use a so-called "anchor" as a reference or starting point, overly relying on a specific piece of information. Therefore, anchoring bias, also known in psychology as anchoring effect or focalism, is the tendency to use first impressions to form further perceptions. These initial perceptions have a great impact on the decision-making process.
Individuals who experience the anchoring bias tend to fixate their thoughts on an irrelevant reference point. Values are assigned based on how one option is attractive compared to others, rather than on analysis of each option on its own.
How does it work? Psychologists and economists Amos Tversky and Daniel Kahneman, discovered that even arbitrary numbers could lead people to make wrong estimates. In one of their experiments, participants were told to spin a wheel to select a number from 0 to 100. They were then asked to adjust that number, lower or higher, to indicate how many African countries were included in the UN. Those who spun a lower number gave lower estimates, while those who spun a higher number gave higher estimates. In either scenario, the participants were using the initial number on the wheel as their focal point to base their final decision on.
Tversky and Kahneman explained in their 1974 paper: "People make estimates by starting from an initial value that is adjusted to yield the final answer. The initial value, or starting point, may be suggested by the formulation of the problem, or it may be the result of a partial computation. In either case, adjustments are typically insufficient. That is, different starting points yield different estimates, which are biased toward the initial values."
It is very easy to find anchoring bias examples in our everyday life.
Imagine, for instance, you want to buy a new car. When searching online, you find out that the average price of the car you are interested in is $10,000. You go to the local car shop, and the dealer offers you the same vehicle for $9,300. You quickly accept the offer, as it's $700 less than what you were expecting to pay. However, you later find out that another car dealer across the city is offering the exact same car for only $7,000, a full $3,000 less than the average price you saw online and $2,300 less than what you paid.
You may blame yourself afterwards for not searching for a better deal and making such a quick decision. What prompted you to accept the offer? The anchoring bias suggests that we favour the first piece of information we receive. Since your initial research showed that $10,000 was the average price, the first offer at your local store seemed like a great bargain. However, you missed out on further information, such as the possibility that other car shops may have lower prices and made a decision with the limited information you already had, which served as an anchoring point in your mind.
Anchoring bias in trading and investing
So, what is anchoring in finance? The anchoring concept is part of behavioural finance studies, which examines how emotions and other external factors impact economic choices.
Anchoring bias can play a disproportionately large role in the decision-making process. In the context of trading and investing, an anchoring bias tends to force market participants to potentially take irrational decisions, such as selling an overvalued asset, buying an undervalued asset or holding onto investments that lost value, as they have anchored their fair value estimate to the purchase price rather than underlying fundamentals. As a result, they may take greater risk by hoping the security will return to its initial price and subsequently holding the investment.
Anchoring bias can be found at any point of the financial decision-making process.
Commonly, traders are aware that their anchor is deficient. They try to make adjustments according to the latest information and analysis. However, these adjustments often remain influenced by the bias of the original anchors.
Historical values, such as high-water marks or acquisition prices, are common anchors. These values are typically unrelated to actual market pricing and cause traders to make irrational decisions.
Anchoring bias can take on several forms within the trading realm.
For example, traders tend to anchor to the price at which they bought an asset. Let's assume you bought a security for $50. You will remain psychologically fixated on that price when making decisions on a further sale or purchase of the same security, regardless of its actual value based on an evaluation of relevant factors influencing it.
Another example: think of the DE30 Index. A trading session started off with a bullish run. You felt certain that the day would continue in uptrend, as you were essentially anchored to the information about the "bullish run" you received earlier that day. While the market showed clear signs of exhaustion, you still claimed it was bullish. As the session ended, you realised that you spent your time and money fighting against the market.
Causes of anchoring in trading
Now that you know what anchoring in behavioural finance is, let's see what are the reasons behind the phenomenon.
Just like any other form of behavioural bias, anchoring bias is embedded in the human mind. It is caused by people's need to make estimates. Once an estimate is formed, a person starts adjusting away from it. However, even after the adjustment is made, a final result still tends to anchor on the initial value.
Anchoring is also reinforced by uncertainties. As any investment decision on its own is full of uncertainties, it tends to be most affected by the anchoring bias. When investors face situations they have not dealt with before, they may struggle to find something to base their judgements on. At these times, historical or initial values become the focal points, being subconscious and, sometimes, irrelevant.
How to avoid anchoring in trading
Anchoring itself is not necessarily a bad thing. However, it may cause problems if you use a poor anchor to base your judgements on. Here we list a few ways to use anchoring to your potential advantage
Acknowledge it. Ask yourself questions that may reveal anchoring behaviour and recognise whether most of your decisions are emotionally driven. When deciding whether to buy, sell or hold a security, think whether you are giving enough consideration to all of the available information and possible options, or just basing your decision on an existing anchor point.
Set your own anchor and adjust as needed. Anchoring can be a beneficial tool as long as your anchor is appropriate in your particular situation. It can be useful to establish an anchor based on your personal financial goals and needs, adjusting it as your circumstances change.
Use Objective resrouces when establishing an anchor. When setting an anchor, analyse underlying fundamentals of the given security. In regard to stocks, look at a company's financial statements, goals, competitors, expert analysis and other factors. It may help you determine whether a particular security is appropriate for your investment portfolio.
Experienced investors do not just base their decisions on one piece of data. Instead, they do in-depth research and refer to analysts' opinions. They also learn through experience and keep a record of their wins and losses to identify performance mistakes. These investors are less prone to the anchoring bias.
Essentially, the key to overcoming this bias is to be objective and flexible, and to be able to evaluate prices and make decisions impartially, regardless of what your current position is. Keep in mind that comprehensive research and assessment of factors affecting security prices or markets are necessary to eliminate anchoring bias from decision-making in the investment process.