Analysis: Is the worst over for Europe's supply-chain woes?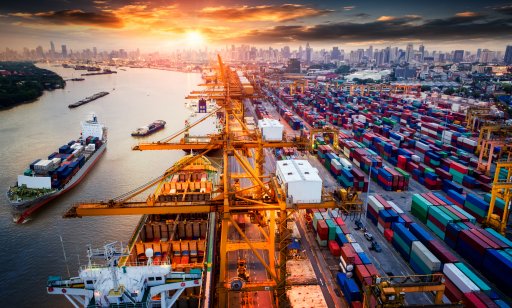 Supply-chain bottlenecks have been one of the major headwinds this year for businesses as global demand has started to increase in the wake of Covid-19 lockdowns.
The problems, which focused on a backlog of material and equipment shortages, were blamed for severely undermining the rebound in industry in the eurozone.
However, an analysis by Oxford Economics suggests this situation is finally starting to ease, with eurozone industrial production expected to grow 4% during 2022.
Here we look at its main findings.
Peaking supply bottlenecks
According to the study, which has been reviewed by Capital.com, there are growing signs that supply bottlenecks are starting to ease.
"The clearest indication of easing is in the supply of intermediate goods, where clogging due to the massive restocking cycle and hoarding of inputs is fading," Oxford Exonomics stated.
In addition, progress in vaccinating the global factory workforce suggests the drag from coronavirus-related supply disruptions should begin to fade.
Improving factors
The study highlighted improvements in a string of factors that caused problems this year, including overwhelming demand, disrupted global supply chains and transportation bottlenecks.
For example, demand is now slowing as restocking has progressed and companies have ramped up output. This has led to a marked improvement in the situation.
While Covid-19 and weather-related production cuts wreaked havoc on supply chains, Oxford Economics suggests a broad – albeit tentative – turnaround is underway.
In addition, moderating container transport costs also suggests an easing, although it will likely take some time until the strain from restocking fully fades.
Semiconductor shortages
The report emphasised the key reason for the "deep plunge" in car production throughout this year was a "particularly pernicious scarcity" in semiconductor chips.
Strong demand in other sectors is likely to keep semiconductor supply tight for a while, as it takes time to ramp up production capacities.
"We assume only a gradual improvement in carmakers' chip supplies over the course of the first half of 2022," it added. "The tight supply will hold back carmakers' demand for other intermediate goods."
Strong production growth outlook
Oxford Economics stated that an easing in supply bottlenecks was "the first pillar" in its forecast of strong industrial production growth next year.
"This should allow previously constrained firms to begin working off the mountain of backlogs that they accumulated," it stated.
In many sectors, this is more about sustaining high output given limited spare capacity, but there should be a "material lift" to activity in the automotive industry.
Other pillars
The second pillar is the expectation of strong gains in foreign demand next year of about 5% year-on-year, following the 11% jump this year.
The third pillar concerns a pickup in investment. Corporate investment should pick up strongly, given sustained elevated capacity-utilisation levels, easing uncertainty, and this year's lacklustre rebound.
"Indeed, firms' capex plans for 2022 are at record highs, with firms having some catching up to do after two weak years," the study pointed out.
In addition, Oxford Economics expects government investment to grow at the fastest pace on record as countries begin deploying the funds from the EU recovery fund
Bolstered outlook
According to the research, the positive backdrop "bolsters the outlook" for most of the countries and sectors that were particularly impacted by this year's supply bottlenecks.
Germany and the automotive sector are expected to outperform the eurozone average after having been the laggards in 2021.
"Whereas we project eurozone industrial production growth slowing to 3.7% in 2022 from 7.6% this year, we expect a pickup in Germany to 5.1% growth in industrial production," the study added.
Possible exceptions
Strong industrial production growth is also forecast in most other countries, with the likely exception of Ireland and Belgium.
"There, the chemical and pharma sector saw outsized gains in 2021 that we expect to be partially reversed," Oxford Economics stated.
Separately, the renewed enforcement of coronavirus-related restrictions across the region remain a key downside risk as we approach 2022.
Impact of Omicron
The biggest unknown comes from the fast-spreading Omicron variant of Covid-19, which poses a clear threat to many industries.
"Should a future Omicron wave trigger renewed lockdowns, this could easily cause a return of severe supply-chain disruptions," the report stated.
Oxford Economics also sees a chance that companies may hesitate to ramp up output and capex due to low visibility of underlying demand trends.
Another risk outlined is that governments' ambitious investment agenda could be delayed as worsening labour shortages constrain capacity in the near term.
Potential upside risks
The study also outlined some potential upside risks.
"Should bottlenecks fade faster than expected, then the production recovery could be more front-loaded," it stated. "Given the investment needs from the digital and green transitions, we could see a more sustained capex cycle, one that is jumpstarted by fiscal policy."
Read more: Supply bottlenecks hit Germany's industrial output