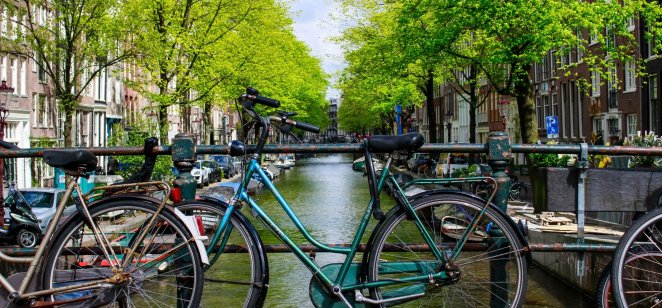 The world's oldest stock exchange is on a roll.
Since the start of the year, the Amsterdam market has toppled London as the main centre for trading European shares. Meanwhile, the exchange's own AEX index has powered upwards, with prices close to their three-monthly highs.
One can't help feeling that the exchange's founders, back in 1602, would have been proud of their successors. That said, maybe they would consider it no more than the country's due, given its role in financial innovation.
Dominated capital markets
The Dutch East India Company, founder of the Amsterdam exchange, is believed to have been the first firm in the world to offer the public shares that could be traded. That was in the year of the exchange's launch, in 1602.
Not long afterwards, types of futures and options emerged. Unsurprisingly, perhaps, the Netherlands dominated international capital markets in the 17th Century.
There is a lot more competition now, of course, not only from Wall Street but also from other European exchanges. But the Amsterdam market is more than holdings its own.
On 19 April, the AEX closed at 711.94. One month earlier, on 19 March, it stood at 681.70, and three months ago, on 20 January, it closed at 593.30.
Momentum is strongly upwards, with the three-monthly low seen back on 29 January, at 637.11, and the high on 16 April, at 716.80.
"More concerned with liquidity"
Companies listed on the market include ABN AMRO Bank, chemicals group Akzo Nobel and drinks company Heineken.
Britain left the European Union on 31 January 2020, but remained in the single market during a transition period that ended on 1 January 2021. While the country has a trade deal with the EU, this does not cover financial services, thus Brussels has told EU financial institutions not to trade in London as it does not recognise UK standards as equivalent to its own.
Amsterdam's having overtaken London in this way does not seriously threaten jobs in the City or Britain's status as a world financial centre. Anish Puaar, a market structure analyst at Rosenblatt Securities in London, told the Financial Times: "It's symbolic in that London has lost its status as the home of EU share trading, but it has a chance to carve out its own niche on trading.
"Fund managers will be more concerned with availability of liquidity and the costs of placing a trade, rather than whether an order is executed in London or Amsterdam."
Ultimately, this may become a quirky footnote in history, as has Italy's 1987 overtaking of Britain in terms of nominal gross domestic product (GDP). On recent figures, Italy's GDP per head was $42,492 and Britain's was $46,659.
READ MORE: Amsterdam ends the year on an upbeat note