AMC CEO: Theatre chain could become 'issuer of cryptocurrency'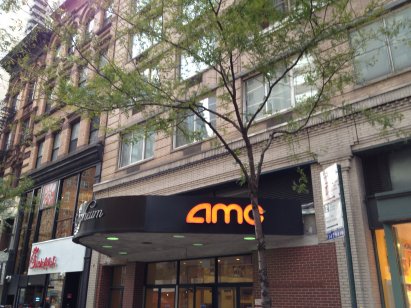 In an interview, AMC Entertainment CEO Adam Aron thanked the retail investors who have allowed the company to weather the existential threat of Covid-19 lockdowns and laid out longer-term ambitions for the theatre chain.
Speaking on CNBC's Power Lunch, Aron first thanked the "millions of retail traders who have descended on AMC" to provide the liquidity needed to continue operating over the past 20 months.
"We have four million shareholders with small positions on average. This truly is evidence of the democratisation of Wall Street," Aron said Tuesday at the Milken Institute Global Conference, an annual event where executives discuss social and economic issues.
Future business
Aron said this liquidity will be used to position the company for the future as streaming services gain ground in distributing films.
"We have no intention of just bringing back the company that existed in 2019," Aron said. "Our investors have armed us with a $2bn (£1.45bn) cash and liquidity war chest to transform our company, and we have several big ideas."
AMC wants to expand into "businesses unrelated to what we do," Aron said, including increased involvement in cryptocurrencies.
What is your sentiment on BTC/USD?
Vote to see Traders sentiment!
Crypto involvement
"There are a lot of reasons we could become an issuer of cryptocurrency, as well as a redeemer," he said at the event.
Leawood, Kansas-based AMC announced plans to accept crypto for both theatre tickets and concessions before year-end during its second-quarter earnings conference call.
After initially indicating AMC would accept bitcoin for payments, Aron later broadened plans to accepting dogecoin after asking his Twitter followers if AMC should. AMC has also announced plans to accept litecoin.
Broadening broadcasts
Aron added that AMC would like to expand its distribution of live event broadcasts at its theatres. AMC currently broadcasts select National Football League (NFL) games but does not have full national broadcast rights.
"You can, at some theatres, watch some NFL games right now," Aron said. "We are in discussions with the NFL to broaden our rights, so we can show all the games on Sundays."
AMC would like to broadcast other live events, as well. Aron mentioned plans to show Ultimate Fighting Championship, World Wrestling Entertainment and boxing content and even live performances from The Metropolitan Opera in New York.
"We'll have something for everyone," Aron said.
Read more: "Ape army" pushes AMC stock to four-year high
The difference between stocks and CFDs
The main difference between CFD trading and stock trading is that you don't own the underlying stock when you trade on an individual stock CFD.
With CFDs, you never actually buy or sell the underlying asset that you've chosen to trade. You can still benefit if the market moves in your favour, or make a loss if it moves against you. However, with traditional stock trading you enter a contract to exchange the legal ownership of the individual shares for money, and you own this equity.
CFDs are leveraged products, which means that you only need to deposit a percentage of the full value of the CFD trade in order to open a position. But with traditional stock trading, you buy the shares for the full amount. In the UK, there is no stamp duty on CFD trading, but there is when you buy stocks.
CFDs attract overnight costs to hold the trades, (unless you use 1-1 leverage)
which makes them more suited to short-term trading opportunities. Stocks are more normally bought and held for longer. You might also pay a stockbroker commission or fees when buying and selling stocks.