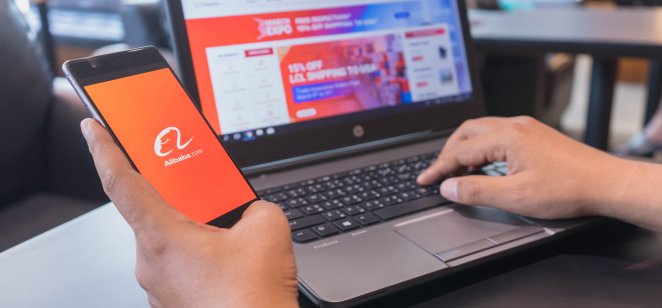 Content
Stock in Chinese technology giant Alibaba Group Holding (BABA) has climbed by 40 per cent so far this year, as the company has benefited from the growth of online shopping in Asia. The strength of China's e-commerce sector, even before the Covid-19 pandemic shifted retail online around the world, has attracted the attention of investors.
After such a strong performance so far in 2020, is Alibaba stock a good investment or has the rally run its course?
This article looks at the latest Alibaba stock news and analysts' outlook for the share price for the next year and beyond.
The online retail industry today: Covid-19 driving e-commerce sales growth
China has rapidly become one of the world's largest e-commerce markets, with the pandemic hitting the country early in 2020 and prompting consumers to make purchases online. China's online retail sales reached 5.15trn yuan (about $737bn) in the first half of 2020, up by 7.3 per cent from the first half of 2019, according to the country's Ministry of Commerce.
Similar trends have driven online retail in western countries, with US e-commerce sales climbing by 30 per cent in the first half of 2019 to $372bn according to the US Department of Commerce. Research firm eMarketer forecasts that e-commerce sales will increase by 16.9 per cent in 2020 – well above its pre-pandemic forecast of 8.8 per cent.
Alibaba share price rises on international expansion
Founded in 1999, Alibaba launched the world's largest-ever IPO on the New York Stock Exchange in 2014, valued at a staggering $25bn. The Alibaba stock trend has been steadily higher ever since – it has returned 352 per cent from the IPO price of $68 per share, as the company has expanded within China and beyond.
BABA stock analysis shows that the share price has followed the pattern of the broader technology markets so far in 2020, climbing from the $220 level at the start of the year to $230 in January, slumping to $176 during the March sell-off in the global financial market before recovering and advancing to fresh highs.
The BABA share price accelerated over the summer, jumping by 16 per cent in July alone after a front-page editorial in the state-owned China Securities Journal newspaper encouraged investors to buy Chinese stocks as the country recovers from the impact of the Covid-19 pandemic. The stock reached the $300 per share level in early October.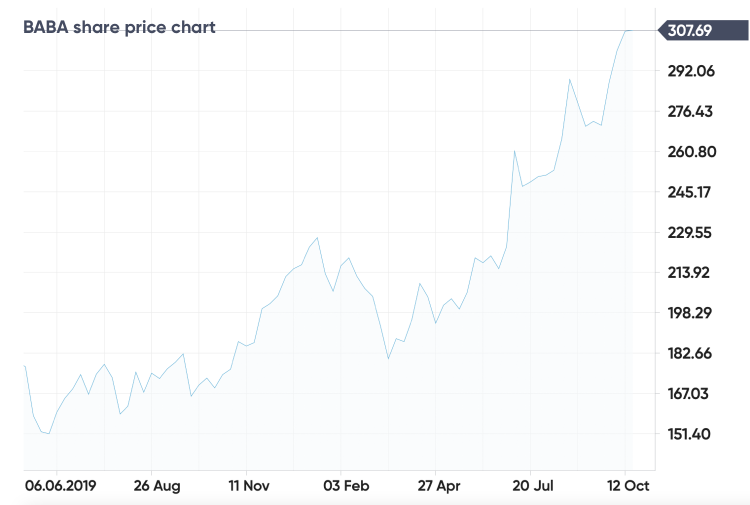 Alibaba's Q2 earnings results showed that the pandemic contributed to strong sales growth, fuelling higher Alibaba stock predictions. The company's chairman and chief executive officer, Daniel Zhang, commented on the matter: "We were well-positioned to capture growth from the ongoing digital transformation, which has been accelerated by the pandemic, in both consumption and enterprise operations."
Alibaba's revenue increased by 34 per cent year-on-year to 154bn yuan, ($21.76bn), as it reported a 16 million increase in active consumers to 742 million.
Revenue from the company's cloud computing business increased by 59 per cent to 12bn yuan ($1.75bn), as companies have shifted to working remotely and storing more information in cloud-based systems during the pandemic. Alibaba expects the cloud business to become profitable for the first time in 2021.
Alibaba has made numerous acquisitions, including Singapore-based e-commerce platform Lazada, English-language newspaper South China Morning Post, Chinese video platform Youku Tudou, and an investment in US ride-sharing app Lyft. It has recently bought a 10 per cent stake in Swiss duty-free retailer Dufry in early October, forming a joint venture to combine its digital capabilities with Dufry's travel business.
But will BABA stock go up even higher in 2021? Read on for analysts' views on the direction of the share price in the next year.
Alibaba stock price prediction: where next for the stock?
China's leading e-commerce conglomerate has demonstrated strong growth so far, but is Alibaba stock a buy now with further room for strong returns?
The average 12-month price target of 24 analysts that have issued an Alibaba share price forecast in the past three months is $328.86 per share. Estimates range between a low $290 per share and a high of $355 per share. The average price target indicates an upside of 7 per cent from the share price in mid-October.
So far in October, analysts at Needham & Company and KeyCorp have increased their Alibaba share price forecast targets to $330 per share; analysts at Goldman Sachs have increased their target to $350 per share, and analysts at China Renaissance Securities have raised their target to $355 per share.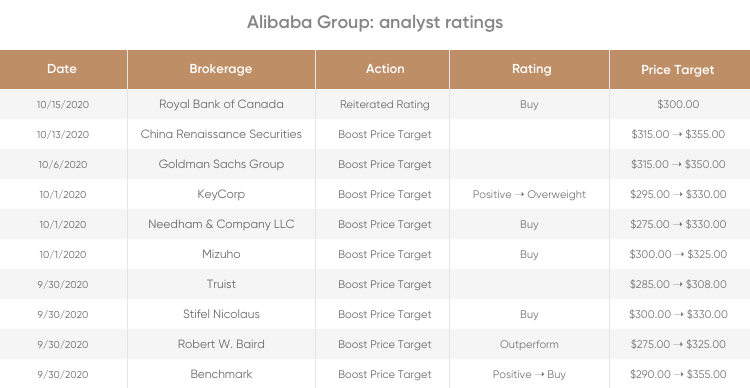 Gil Luria, director of research at investment bank DA Davidson, told CNBC earlier this month that news that Alibaba's cloud business is expected to become profitable next year is "very positive" for the company's financial outlook and, by extension, the Alibaba stock forecast.
Luria said: "They've always planned to be profitable there; Amazon's cloud business has been very profitable for a while. They just got to the scale that they needed to get to that allows them to cross into profitability and it will no longer be a drag on their profitability. Let's not forget they make more than all their money on China commerce, and then all of their other businesses lose money.
"Cloud used to be the biggest loser, so the fact that that's going to cross into profitability is going to allow them to grow profitability at a higher rate with less of a drag and, in fact, that did happen in their most recent fiscal year ending March. Their earnings growth was one of the highest they've delivered since their IPO."
Luria noted that Alibaba will need to expand further outside of its Chinese online retail business to maintain its strong growth trajectory: "When you have 750 million users, even in China you're starting to hit saturation. They're starting to talk about [smaller] Tier 5, Tier 6 cities. Not only is their market there not as fertile but it's also already competitive and so their growth's going to have to come from outside of China, other parts of south-east Asia.
"Cloud is a very good way to do that. But let's not forget they've also put a stake in the ground with Lazada. They're doing well with e-commerce outside of China and there's no reason they can't continue to be there. Some of the interesting developments are going to be how successful they are in India, how successful they are in Latin America, in Africa."
Luria added: "For them to sustain the levels of growth they have right now, with China approaching saturation, south-east Asia is only going to carry them for so long before they have to get into some of those other markets in order to sustain this growth."
In its Alibaba stock price prediction, WalletInvestor indicates that the share price will continue to rally in the coming years, reaching $384 per share by December 2021 and more than doubling from the current share price to $657 by October 2025.