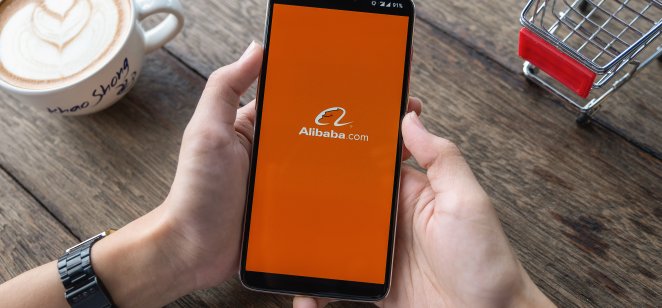 Started in 1999, Alibaba (BABA) has grown from a small Chinese e-commerce platform to a diversified global company with over $56 billion in annual revenue and a market capitalisation of more than $556 billion.
Alibaba operates its business in four key categories. The core commerce business includes companies like Tmall, Freshippo, Alibaba.com, and Taobao, among others. In the first quarter, this category surged by 19 per cent to more than $13.2 billion. The Alibaba Cloud business grew by 58 per cent to more than $1.72 billion.
The digital media and entertainment segment is made up of businesses like UC, Youku, Tudou, and Alibaba Pictures. Its revenue grew by 5 per cent to $840 million. Finally, the innovation initiatives segment, which includes businesses like Alios and Amap, skyrocketed in revenue by 90 per cent to more than $323 million. In total, the firm's revenue grew by 22 per cent in the first quarter.
As a diversified company, Alibaba competes with several big names in the industries it is a part of. For example, its Alibaba Cloud business competes with Amazon's (AMZN) AWS and Microsoft's (MSFT) Azure while its Youku business competes with YouTube indirectly. Still, the company has a substantial market share and an impenetrable moat in some of the businesses it operates in like Tmall and Taobao.
With all this in mind, what is BABA stock: buy or sell?
BABA stock analysis: is Alibaba still a good bet amid the latest Covid-19 pandemic?
Alibaba has been a success story mostly because of the evolution of the e-commerce industry in China. In the past quarter, the company's gross merchandise volume accelerated to more than $1 trillion.
Over recent years, Alibaba has become an essential part of the lives of Chinese manufacturers and consumers. Producers use its platforms because of its significant scale while consumers visit its sites because of the large variety of merchandise.
While the firm has always been compared with Amazon, the two are generally different companies. For example, Alibaba focuses mostly on consumer-to-consumer and business-to-business transactions. As a result, it does not handle the products being sold in its platform. It also does not have the large warehouses that Amazon has in countries it operates in. So while Amazon has more than 800,000 employees, Alibaba has only around 100,000.
The coronavirus pandemic has had a mixed impact on Alibaba. The company's revenue has surged as more people in China shop online, while its cloud platform has seen more demand as more companies in China embrace cloud computing and remote work.
On the other hand, some businesses like Alibaba Pictures and ele.me have been suffering. The lockdown and eventual slowdown in most countries, coupled with increased costs, could affect the firm negatively.
Fortunately, its strong balance sheet will likely help cushion the company. The company's latest disclosures showed that it had more than $51 billion in cash and short-term investments and about $17 billion in debt.
Another challenge for the company and its Alibaba stock price trend is the recently passed US Senate Holding Foreign Companies Accountable Act, which was aimed to prohibit foreign firms from being listed in US exchanges. The issue has been exacerbated by the recent Luckin Coffee (LC) scandal and the ongoing tensions between China and the US.
Alibaba stock price analysis
Alibaba launched one of the biggest initial public offerings back in 2014, raising more than $25 billion. The firm also raised more than $11.2 billion from investors when it listed its shares in Hong Kong in 2019.
Since its listing in 2014, the firm's stock has soared by more than 130 per cent, and its market cap has surpassed the $566 billion mark. During the same period, Amazon's stock has grown by more than 600 per cent, while the S&P 500 (US500) has gained almost 50 per cent.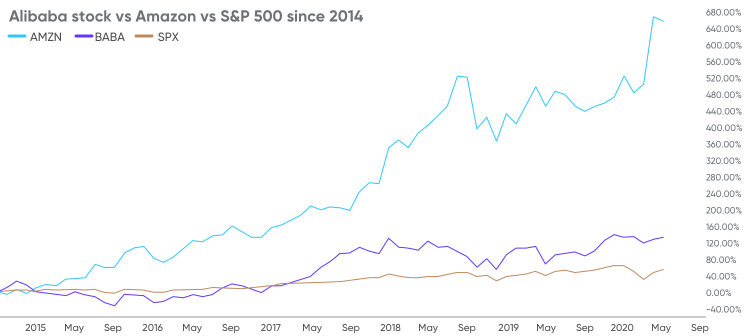 YTD, BABA's stock has declined by more than 4 per cent while the S&P has declined by 6 per cent. In the meantime, Amazon has soared by almost 30 per cent.
Alibaba has done well for several reasons. First, investors love the company for the big moat it has in the e-commerce industry. Second, they love the fact that it is audited by PwC, the American audit company, unlike other Chinese firms listed in the US. Third, they appreciate the growth of its new initiatives such as cloud computing. According to Gartner, its cloud business is growing faster than Azure, AWS and Google Cloud.
Fourth, Alibaba has a track of excellent growth. Its annual revenue has skyrocketed from $8.4 billion in 2014 to more than $71 billion in 2019. Similarly, the company is known for often beating analysts' quarterly forecasts.
At the same time, BABA's valuation is relatively cheaper than that of Amazon and other American technology companies. At the current valuation, BABA has a forward PE ratio of around 19 compared to Amazon's 64 and Alphabet's 25. It has an EV to EBITDA of 20 compared to Amazon's 32.
This is even with BABA's reasonable revenue growth and higher margins. In the most recent quarter, BABA had a gross and EBITDA margin of 36.5 and 36.2 compared to AMZN's 26 and 12 respectively. This discrepancy is partly because of the risks involved in investing in Chinese companies.
BABA stock future predictions from sell-side analysts
Analysts have mixed opinions about Alibaba. On the one hand, some believe that American investors should not pour their cash into any Chinese companies. For example, in a recent statement, Larry Kudlow, the National Economic Council director, said that nobody could confidently invest in Chinese companies. The White House also unveiled measures to prevent the government retirement fund from investing in Chinese stocks, including Alibaba.
On the other hand, some believe in the firm's bright future. In a recent note, analysts at Nomura boosted their target from $240 to $249 while those from Susquehanna increased theirs to $275. Raymond James analysts are the most optimistic, believing that the shares will jump by 40 per cent to $290.
In general, according to Marketbeat, the average Alibaba stock price prediction target among analyst is $246.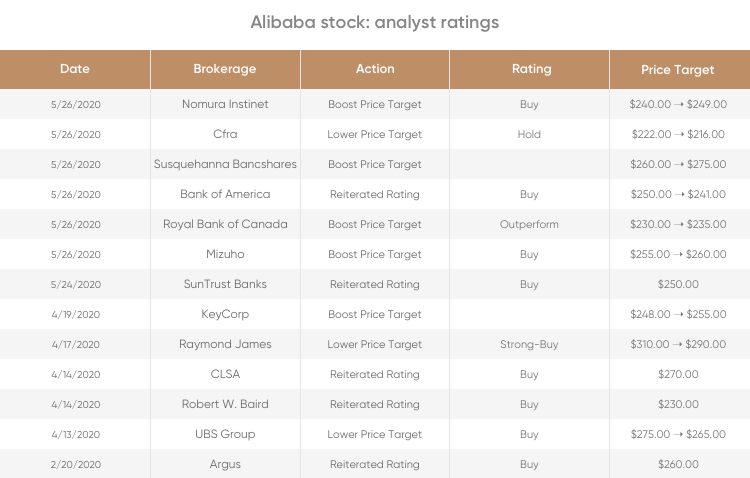 Another Alibaba share price forecast 2020 provided by WalletInvestor estimates that the stock price will end the year at $211. The website expects the shares to bounce back in 2021 and end the year at $235.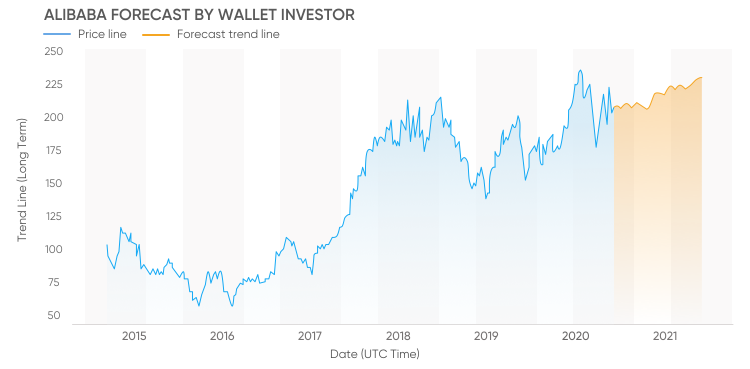 BABA stock forecast: a technical outlook
Let us now conduct a brief Alibaba share price forecast using technical analysis. Alibaba stock declined to a YTD low of $170 in March and has recovered to the current $207. On the chart below, the price is slightly above the 50-day and 100-day exponential moving averages. It is also slightly below the 23.6 per cent Fibonacci retracement level. It has formed a morning star pattern, which means that the price may attempt to retest the previous high of $220.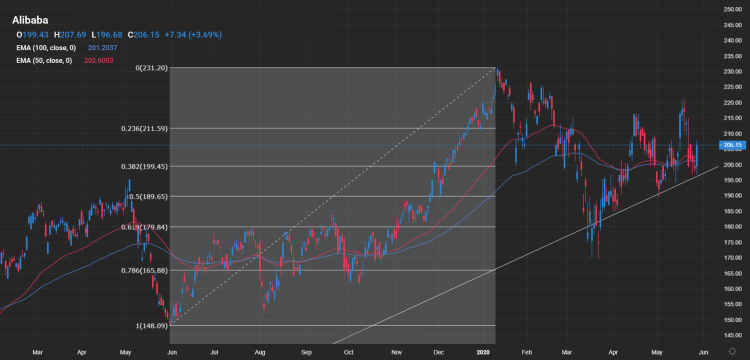 Conclusion: is the BABA stock outlook gloomy?
The performance of Alibaba stock price will largely depend on how fast China and the global economy recovers. Fortunately, recently released economic data show that business activity in most countries is improving. It will also depend on whether a coronavirus drug or vaccine will be developed. Most importantly, the performance will be influenced by the ongoing trade tensions between the United States and China.