Advanced Micro Devices (AMD) stock price primed for Tuesday report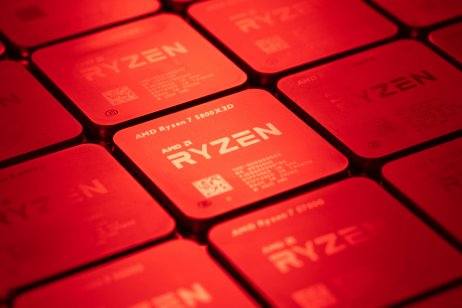 Investors will get another channel check on the global chip industry as semiconductor products maker Advanced Micro Devices (AMD) reports fiscal first-quarter earnings on Tuesday after New York markets close.
Last week Intel (INTC) CEO Pat Gelsinger said the current global chip shortage "will last into 2024 now."
Under the guidance of CEO Dr Lisa Su, AMD has boosted its datacentre CPU division and added new capabilities such as programmable and data-processing chips as the world's demand for data grows.
Advanced Micro Devices (AMD) stock price
AMD stock is down 40% from its all-time high of $147.87 reached in November last year.
Founded in 1969, Advanced Micro Devices (AMD) is one of the world's leaders in the microprocessor industry. Its products include accelerated processing units, graphics processing units as well as chipsets, System-on-Chip products and server processors.
AMD chips also power video game consoles such as Sony's (SNE) PlayStation and Microsoft's (MSFT) Xbox.
The company operates across two divisions: the Computing and Graphics segment and the Enterprise, Embedded and Semi-Custom segment.
What is your sentiment on AMD?
Vote to see Traders sentiment!
Key numbers
AMD has reported nine consecutive quarters of double-digit revenue increases.
Analysts expect the Santa Clara, California-headquartered company to report adjusted earnings per share (EPS) of 91 cents on revenue of $5.01bn (£4bn, €4.8bn), according to figures widely available on financial news sites.
"We expect AMD's Q1 print to continue the strong execution the company has seen for the last few years," Cowen Managing Director and senior research analyst Matthew D. Ramsay wrote in a note obtained by Capital.com.
As it released its prior set of earnings in February, AMD said it expects first-quarter revenue to be "approximately $5.0bn, plus or minus $100m" with a 4% quarter-on-quarter increase expected to be driven by higher server and client processor revenue.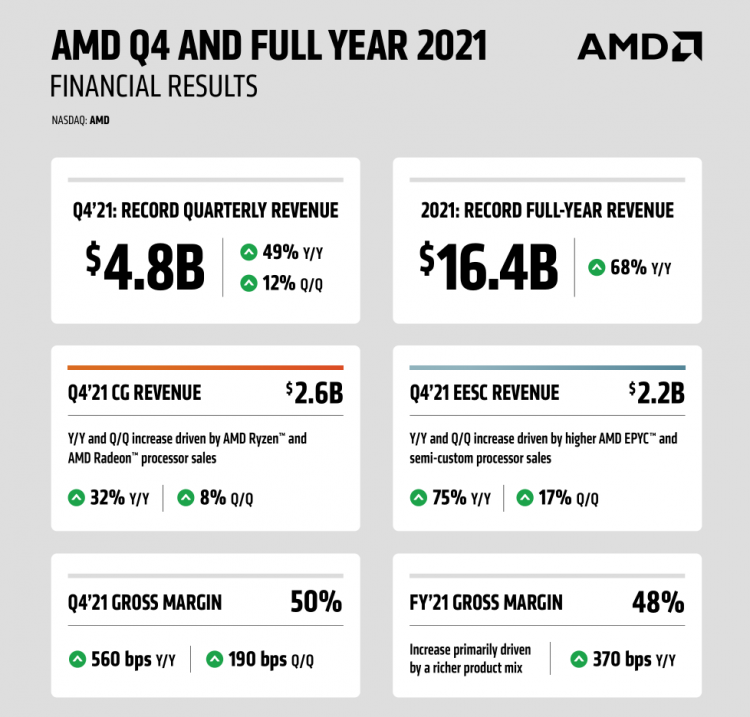 AMD
Datacentre chips
Investors will want to see if strong demand for AMD's EPYC data centre processors has continued into 2022.
Cloud computing services offered by the likes of Amazon (AMZN), Alphabet (GOOG) and International Business Machines (IBM) use EPYC chips to run their servers.
"We believe AMD's window of opportunity for share gains within the $70bn+ high-performance Compute [market] remains firmly open for at least 2+ years, with the cap on share gains significantly higher than a year or two ago," Cowen's Ramsay wrote.
"With strong enterprise demand seemingly set to continue (despite macro concerns) and with AMD, in our view, still better positioned heading into the next generation of server parts vis-a-vis Intel, we believe AMD can both outperform in this segment for some time and even potentially offset weakness in other segments by shifting materials to EPYC production," Matt Bryson at Wedbush Securities wrote in a note.
Latest deals
Last month, AMD bought Pensando for $1.9bn, adding the privately-held company's data packet processor systems and services to its Data Centre Solutions business.
In February AMD completed its $35bn acquisition of Xilinx, which makes programmable chips known as field-programmable gate arrays (FPGA) used in high performance computing such as AI neural networks and machine learning.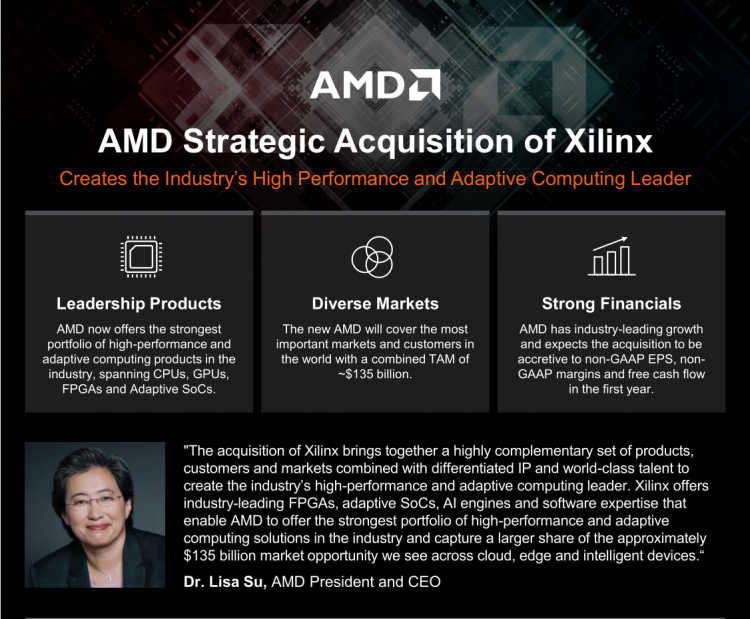 AMD
"With Xilinx closed, we expect management to guide total company revenue growth well north of 50% for the year inclusive of 3.5 quarters of Xilinx revenue," Cowen's Ramsay wrote.
"With Intel having purchased FPGA-peer Altera back in 2015 for $16.7bn, we view this deal as a way for AMD to bolster its product portfolio with the leading FPGA franchise to drive growth and better diversify its revenue," Morningstar equity strategist Abhinav Davuluri wrote in a research note.