Activision Blizzard Microsoft deal struck at 'bargain' price to protect ATVI CEO, claims Swedish pension fund lawsuit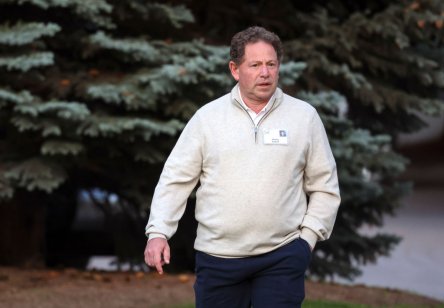 Content
From frat house behaviour claims to regulatory problems, the $69bn (£59bn) takeover by Microsoft (MSFT) of gaming giant Activision Blizzard (ATVI), hit a further bump in the road this week, after a Swedish state-run pension fund sued ATVI and said the takeover is rigged.
The complaint, which contains 205 pages, claims that the merger between MSFT and ATVI was contrived in order to exploit ATVI sexual harassment claims and protect its CEO Bobby Kotick.
The document, which was released on 10 November, failed to move ATVI's share price, in fact it was up on the same day by 2% and over the last four weeks the group's share price has risen 4%.
Despite this latest news, MSFT CEO, Satya Nadella said in a recent TV interview that he was confident the deal would move forward.
"We have been in gaming for decades," Nadella said.
"We will be in gaming going forward."
What is your sentiment on ATVI?
Vote to see Traders sentiment!
Activision Blizzard (ATVI) share price chart
'Frat house' behaviour
Nadella continued: "Our entire goal is to bring more options for gamers to be able to play [on every platform] and for publishers to have more competition," Nadella told CNBC.
"Microsoft isn't a conglomerate, I want to be very clear. It's not about sort of gaming here and productivity here."
Neverthless, Nadella's confidence in the deal has not stopped the latest lawsuit from a pension fund, which has accused Kotick, plus current and ex-members of the ATVI board of deliberately engineering an under-priced deal in exchange for conditions that would allow Kotick to remain at the helm, until the transaction closed.
For years, claims of 'frat house' behaviour had been reported, and the complaint states that Kotick negotiated a deal with Microsoft that would help him avoid liability for the years he spent leading the toxic work environment.
Kotick is allegedly one of the senior executives involved in the claims and managed to swerve a wave of firings that were dished out to others.
The proposed class action, which was made public in Delaware's Chancery court, claims that Microsoft knew ATVI and Kotik were "weak and wounded" and the tech giant used this scandal to get Activision Blizzard at a bargain price. The Swedish Pension fund said MSFT saw this as an opportune time and followed a sham process.
Did MSFT

exploit ATVI's vulnerable position to help Kotick 'save his own skin'?
"Microsoft knowingly exploited the harassment scandal and its commercial leverage over Activision precisely to offer Kotick a way to save his own skin," the lawsuit says.
"It conspired with Kotick and the board to help them evade the personal and professional consequences of that scandal."
The lawsuit claims the deal was "hastily negotiated" and would allow Kotick to avoid any accountability, by allowing him to stay as CEO, as well as handing him a $400m pay-out, along with other perks.
The complaint states that despite Activision shareholders approving the transaction in April, they were unaware of certain details prior to voting. Microsoft claims it did due diligence, which according to the lawsuit means it had full knowledge of the scandal and helped to cover it up.
This lawsuit is not the only issue that ATVI and MSFT have to deal with right now.
Microsoft (MSFT) share price chart
EC regulators launch phase 2 probe into MSFT takeover
The European Union competition watchdog announced last week that it will pursue an in-depth investigation into the acquisition.
Regulators announced last week that the tech company had not offered any remedies to the European Commission (EC), which is looking into the legality of the takeover. As a result, the commission has decided conduct a Phase 2 investigation.
Microsoft only commented in a statement that it was continuing to work with the European Commission to address valid market concerns.
The EC, which opened its initial probe back in September, believed it may reduce competition in the markets for gaming console users, personal computer distribution, videogames, and PC operating systems.
It added that it is concerned that Microsoft may foreclose access to Activision Blizzard games to other game distributors, especially the publisher's most successful franchises such as Call of Duty.
"We must ensure that opportunities remain for future and existing distributors of PC and console videogames, as well as for rival suppliers of PC operating systems," the Commission said.
"The point is to ensure that the gaming ecosystem remains vibrant to the benefit of users in a sector that is evolving at a fast pace."
The move to an in-depth phase 2 investigation is a lengthier probe and is a sign that the regulator is concerned the deal could restrict competition within the bloc.
The EC said it has 90 working days, until 23 March, to decide.
Sony (SNE) share price chart
UK's CMA investigate deal
Meanwhile, the UK's Competition and Markets Authority (CMA) has also launched its Phase 2 investigation into Microsoft and on 15 September the group said:
"The CMA has referred the anticipated acquisition by Microsoft Corporation of Activision Blizzard, Inc. for an in-depth investigation."
Microsoft has until 1 March to reply to the CMA's concerns.
Microsoft hopes the acquisition of ATVI will help drive better competition in the market among some of its heavyweight peers such as Sony (SNE).
But Sony is far from happy about the deal, and it has already voiced concern over rights to the popular war game Call of Duty (CoD).
For Sony, the manufacturer and owner of PlayStation - the main rival to Microsoft's X-Box - the key conflict is whether MSFT makes CoD an X-Box exclusive once the takeover happens.
Back in September Microsoft offered to allow Sony to keep the game on PlayStation for three years - an offer that Sony said was "inadequate on many levels".
On Monday, MSFT seemed to revise this offer and said it would allow multiplatform use for CoD for 10 years. SNE has yet to comment.
The acquisition of ATVI is plagued with problems right now and this lawsuit not only adds to both companies woes, but also presents a deeper issue of company culture – that may be hard for ATVI to shake, even if the deal reaches completion.