Aclarion IPO to fund lower back pain diagnostic software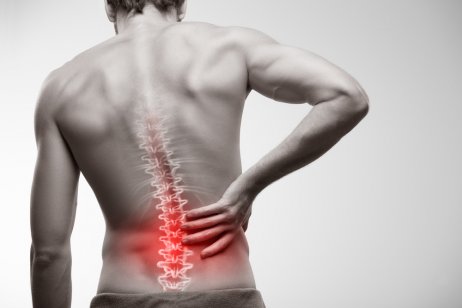 Aclarion, a California company that created a software application designed to help doctors diagnose the cause of lower back pain more effectively and less invasively, filed its Form S-1 for an initial public offering (IPO) on 5 January.
Based in San Mateo, Aclarion was founded by Drs Jeff Lotz and David Bradford. Both inventors are researchers from the University of California, San Francisco, and specialise in spine treatment. Aclarion CEO Jim Peacock is also one of the founders.
Resolving lower back pain is no small feat – Aclarion maintains that only 10% of those afflicted ever learn its root cause.
The IPO lists a proposed maximum aggregate offering price of $48.3m (£31.9m). The company hasn't yet set the share price or determined the number of shares to be offered. Aclarion intends to trade on Nasdaq under the ticker ACON.
Identifying which disc is the culprit
In its prospectus, the company said its technology has the potential to reduce health-care costs incurred in treating lower back pain, while also improving patient outcomes.
"We believe one of the biggest issues driving the cost of treating low back and neck pain patients to the top of the list for health-care spending is that there (are) no objective, cost-effective and non-invasive diagnostics to reliably identify the source of a patient's pain. We believe the poor surgical outcomes for DLBP (discogenic lower back pain) are largely due to difficulties in reliably and accurately diagnosing the specific spinal discs that are causing pain."
Aclarion's software is called NociScan-LS (LS stands for lumbar spine). Its technology currently focusses on helping surgeons figure out the optimal surgical procedure to perform on patients suffering from pain in the lumbar spine, which includes the five lowest vertebrae: L-1 to L-5.
Eventually, the company hopes to enhance its technology so it could assess the cause of neck pain too, but first it must conquer the technical challenges presented in gathering data from cervical discs, which are much smaller than lumbar discs.
No more needles
The company hopes its method will replace the need for provocation discogram tests. Although accurate, these tests are invasive, painful and potentially harmful to patients. During the procedure, a patient is awake while a physician inserts a needle into each disc to determine which ones are causing the same back pain they are experiencing. But Aclarion said this process can lead to otherwise healthy discs degenerating more quickly.
Alternately, magnetic resonance imaging (MRI) can be used as a non-invasive and painless diagnostic tool. But while MRIs can identify abnormal structures and tissue dehydration, Aclarion said they can't reliably distinguish which specific discs are causing the pain.
MRS instead of MRI
The NociScan-LS software harnesses the data gleaned from a magnetic resonance spectroscopy (MRS), a non-invasive diagnostic tool used to analyse the chemical makeup of intervertebral discs. The software turns that data into biomarkers. A biomarker, or biological marker, is an objective medical measurement that captures what is going on inside a cell or an organism. Aclarion has discovered that certain chemical biomarkers are associated with the structural integrity of lumbar discs, and degenerative pain can develop when that structure is compromised.
"By providing physicians information about whether a disc has the chemical and structural makeup consistent with pain or not, we believe the treatment plan for each patient will lead to more efficient and targetted care that will in turn result in lower costs and healthier patient outcomes," the IPO prospectus said.
"The data from spectroscopy is useless without technologies that can process the data. Aclarion has developed proprietary signal processing software that transforms spectroscopy data into clear biomarkers."
After Aclarion's software processes the patient data, the clinician is provided with a report that explains how to interpret the results so a treatment plan can be devised.
Proprietary algorithms
The biomarkers were exclusively licensed by Aclarion from the University of California, San Francisco, and "are the key data inputs for our proprietary algorithms that, when applied, determine if an intervertebral disc is consistent with pain."
Aclarion has already been granted 21 US patents for its technology and has six more pending. It also holds 17 foreign patents and another seven are pending. Its intellectual property portfolio includes patents assigned to Aclarion, plus patents exclusively licensed from the Regents of the University of California, the school's governing board.
An MRS can be conducted using MRI equipment that has been modified with applicable hardware and software. One challenge for Aclarion will be finding ways to increase the number of machines that already have these modifications in place, and to that end, it plans to collaborate with manufacturers such as Siemens to offer discounts on spectroscopy software to its customers. The MRS software ranges in price from $25,000 to $50,000.
Five-market focus
Initially, Aclarion is focussing its sales efforts on five markets: New York City, Los Angeles, Dallas, Denver and St. Louis.
The National Institute of Health (NIH) has selected Aclarion to participate in its Back Pain Consortium (BACPAC), a $150m research study established to explore the effectiveness of various methods used for treating lower back pain.
Originally incorporated in Delaware in 2008 under the name Nocimed, the company changed its name to Aclarion in December 2021.
The company plans to use $2m of the IPO proceeds to repay a promissory note issued in June 2021. It intends to earmark the rest of the money for market and product development, clinical research to demonstrate the technology's safety and efficacy, administrative expenses, and other general expenses.
Maxim Group will be the sole book-running manager for the offering.
Read more: HBO and HBO Max will offer wider range of content in 2022, AT&T executive says