A record 62 companies added to FTSE Russell 2000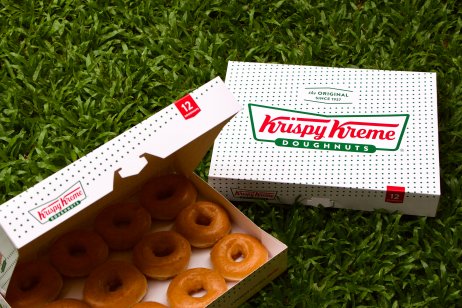 The London Stock Exchange's popular FTSE Russell 2000 index is adding a record 62 companies to its index, which could cause a slight price bump for names such as Krispy Kreme.
The 62 companies all recently priced initial public offerings (IPOs) amid a rush of such deals over the last quarter and will be officially added to the index effective at Monday's open.
Other companies being added include online payments company Flywire, cancer therapies development company Cyteir Therapeutics, outpatient mental health care company LifeStance Health and grill makers Traeger and Weber.
Risk-off market
Despite inclusion in the index, the companies are seeing share prices fall Monday morning amid a broader risk-off tone in the market.
Krispy Kreme and Traeger opened down by around 1% to 1.5%, which is in line with moves on the Dow, S&P 500 and Nasdaq indices. Yet, the companies are performing better than the overall Russell 2000 index, which is trading down by around 2.5% this morning.
Weber, on the other hand, saw its shares open nearly 4% down Monday morning at a price of around $14 a share, which is back to its original IPO price after popping 21% to around $17 per share in August.
Benchmark investors
Investment managers and institutional investors use the index as a benchmark for their investment strategies in the small-cap space, which means those investors will become forced buyers of these stocks.
Approximately $10.6trn in assets are benchmarked against Russell's US indexes including the popular iShares Russell 2000 exchange traded fund, which boasts a 61% total return rate over the last 12 months ending 30 June.
Compared with large-cap stocks and ETFs, small-cap stocks are typically riskier and trade with more volatility, which means investors expect larger rewards for their risk. Indeed, the iShares Russell 2000 ETF delivered a negative 11% return in 2018 but bounced back with positive 25% and 19% total returns in 2019 and 2020, respectively.
Russell criteria
Companies added to the Russell 2000 will remain a part of the index for at least a year representing just under 10% of all publicly traded US companies with a total market cap of $3.5trn.
The index is trading up nearly 15% year to date closing at 2,236.87 on Friday. Over the last 52 weeks the index peaked at 2,360 and hit lows of 1,432.
Here is a list of companies added to the Russell 2000 today
ABOS – ACUMEN PHARMACEUTICALS
ABSI – ABSCI
ADGI – ADAGIO THERAPEUTICS
AOMR – ANGEL OAK MORTGAGE
AVTE – AEROVATE THERAPEUTICS
BASE – COUCHBASE
BHG – BRIGHT HEALTH GROUP
BLFY – BLUE FOUNDRY BANCORP
CNVY – CONVEY HOLDING PARENT
COOK – TRAEGER
CRBU – CARIBOU BIOSCIENCES
CTKB – CYTEK BIOSCIENCES
CURV – TORRID HOLDINGS
CVRX – CVRX
CYT – CYTEIR THERAPEUTICS
DAWN – DAY ONE BIOPHARMACEUTICA
DIBS – 1STDIBS.COM
DNAY – CODEX DNA
DNUT – KRISPY KREME
ELYM – ELIEM THERAPEUTICS
ERAS – ERASCA
EVCM – EVERCOMMERCE
EWCZ – EUROPEAN WAX CENTER
FA – FIRST ADVANTAGE CORPORAT
FLYW – FLYWIRE
FXLV – F45 TRAINING HOLDINGS
GLUE – MONTE ROSA THERAPEUTICS
GRPH – GRAPHITE BIO
IAS – INTEGRAL AD SCIENCE HOLD
ICVX – ICOSAVAX
IMGO – IMAGO BIOSCIENCES
IMRX – IMMUNEERING
INST – INSTRUCTURE HOLDINGS
INTA – INTAPP
IPSC – CENTURY THERAPEUTICS
JANX – JANUX THERAPEUTICS INC
KLTR – KALTURA
LAW – CS DISCO
LFST – LIFESTANCE HEALTH GROUP
LYEL – LYELL IMMUNOPHARMA
MLNK – MERIDIANLINK
MXCT – MAXCYTE
NUVL – NUVALENT
OB – OUTBRAIN
OMGA – OMEGA THERAPEUTICS
OMIC – SINGULAR GENOMICS SYSTEM
PECO – PHILLIPS EDISON & COMPAN
PWSC – POWERSCHOOL HOLDINGS
RLYB – RALLYBIO
RPID – RAPID MICRO BIOSYSTEMS
RXST – RXSIGHT
SERA – SERA PROGNOSTICS
SGHT – SIGHT SCIENCES
SNPO – SNAP ONE HOLDINGS
TKNO – ALPHA TEKNOVA
TNYA – TENAYA THERAPEUTICS
VERA – VERA THERAPEUTICS
VERV – VERVE THERAPEUTICS
WEBR – WEBER
XMTR – XOMETRY
XPOF – XPONENTIAL FITNESS
ZVIA – ZEVIA PBC
Read more: Weber reports 8.8m revenue – its fifth straight quarterly record