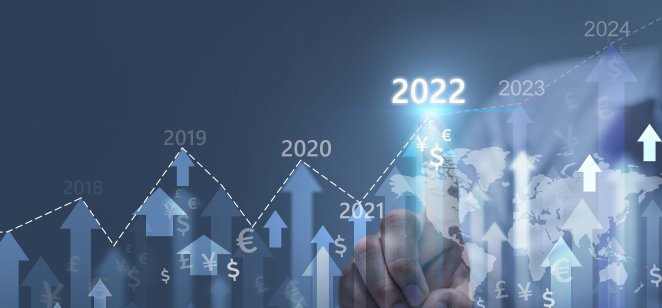 Even before 2022 has arrived, it already has all the hallmarks of an eventful year for the forex market – with prospects from interest-rate increases and stimulus cuts, to macro risks such as new Covid-19 variants and stagflation.
Will the US dollar continue to flex its muscles, or has the market already priced in the Federal Reserve's future rate hikes? Will the euro continue to be pinned down by an extremely accommodative European Central Bank, or will Frankfurt alter its course?
Will the British pound be able to shake off Brexit risks and catch up with its peers? Or will the commodity currencies, such as the Australian dollar or Canadian dollar, continue to gain from the improving terms of trade?
These are only a handful of the themes covered by experts and analysts in their 2022 outlooks for global currency markets.
Analysts see strong dollar, EUR/USD at 1.10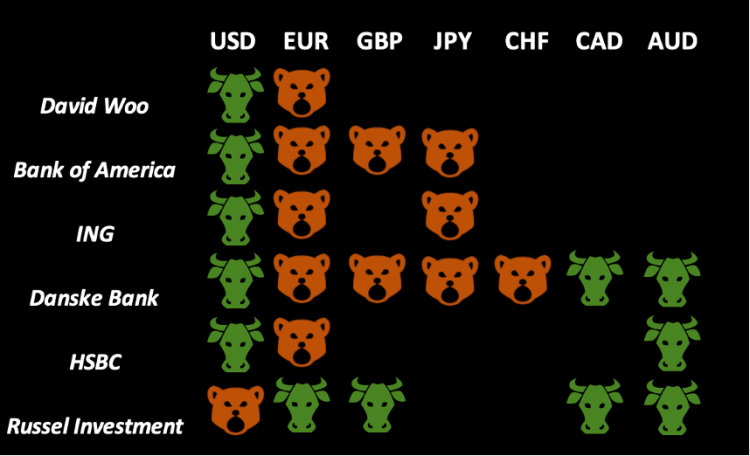 Bull & bear FX table – Credit: Capital.com
US inflation will continue to stay high due to the massive money-supply growth fuelled by pandemic stimulus policies, prompting the US Federal Reserve to tighten monetary policy aggressively, David Woo, founder and CEO of David Woo Unbound, a new global forum devoted to economic and financial analysis, said in an interview with Capital.com.
The Fed's policy of pumping money into markets via asset purchases, known as quantitative easing (QE), may come to an end as early as March – resulting in a broad appreciation of the US dollar in the first half of 2022, according to Woo, the former head for global rates, forex and economics at Bank of America. He sees the EUR/USD pair trending down in the new year to 1.10, a level not seen since May 2020, from current levels near 1.1270.
Chris Turner, head of research at ING, anticipates that the dollar will remain strong next year as the Fed frontloads rate hikes on the back of a positive US output gap, while commodity currencies will remain supported by improving terms of trade. The EUR/USD will likely fall to 1.10, while the GBP/USD hovers around 1.34 and the USD/JPY may overshoot to 120, according to the Dutch bank.
Dollar boosted by hawkish Fed
The FX research team at the Bank of America (BofA) sees markets getting jittery next year because of the withdrawal of the enormous pandemic policy support. BofA forecasts the Fed to begin raising rates by 25 basis points in June and continue with similar quarterly increases until early 2024, while the Bank of England (BoE) may disappoint. The EUR/USD should fall to 1.10, while the USD/JPY will rise to 118, according to the US bank. The firm has raised its 2022 year-end estimates for the EUR/GBP to 0.89 from 0.86, as Brexit risks remain undervalued.
Danske Bank analysts believe there is little monetary tightening priced into the USD, CAD, GBP, and AUD, which are projected to appreciate versus low-yielding assets and funding currencies, such as the JPY and CHF. The Nordic bank recommends short positions in EUR/USD and GBP/USD, as well as long positions in NZD/SEK and USD/NOK. It is, of course, important to make your own decision about taking short or long positions because analysts's predictions can often be wrong.
HSBC predicts the USD will extend gains gradually as the short-term yield differential widens against currencies, such as the EUR and JPY. The Australian dollar (AUD) may benefit from a hawkish surprise from the Reserve Bank of Australia, whereas the NZD and CAD have already priced in a significant portion of upcoming monetary tightening, according to the bank.
Russel Investments holds a contrarian view, expecting the dollar to weaken as global economic leadership shifts away from the US and prospects for an early Fed tightening cycle dissipate. Analysts at the asset manager believe the euro is undervalued and will profit the most, and risk-sensitive currencies, such as the British pound, Australian, New Zealand, and Canadian dollars are also expected to appreciate more.
5 themes to watch in forex markets in 2022
1. QE tapering and rate hikes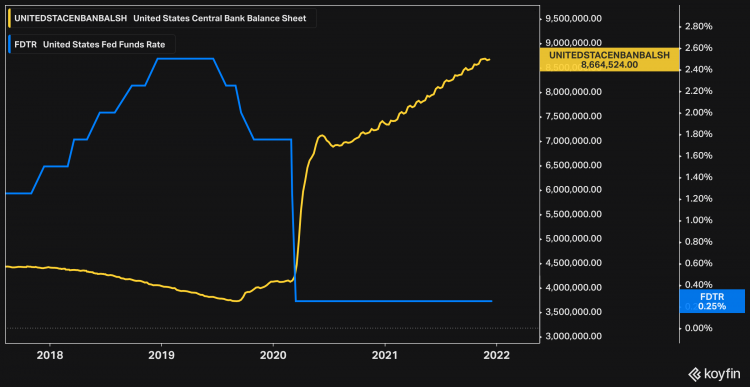 Fed's balance sheet size and Fed funds rate as of December 2021 – Credit: Koyfin
The Fed is seen to be approaching the end of its ultra-accommodative monetary policy as inflation proved to be more persistent than predicted and US labour markets showed a strong recovery after the pandemic.
At its December meeting, the Fed announced it would double the pace of reducing monthly asset purchases of Treasuries and mortgage-backed securities, meaning that the tapering programme will end earlier than expected in 2022. In addition, members of the FOMC indicated a median preference for three interest rate hikes in 2022 and 2023 and two more in 2024.
At the end of 2021, the Fed's balance sheet was worth $8.6trn, more than double what it was before the pandemic began.
2. Inflation, global energy crisis and supply-chain bottlenecks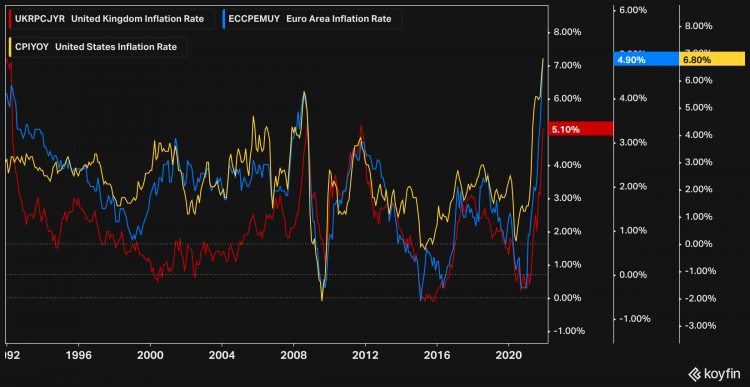 US, UK and euro area consumer-price index inflation rates (y/y %chg) – Credit: Koyfin
Inflation has hit multi-decade highs in the US. In November 2021, the annual pace of consumer-price increases rose to 6.8% – the highest level since 1982 – while core inflation, which excludes food and energy prices, reached 4.9% – the most since 1991.
Price pressures are not confined to the US. A similar trend is spreading across the world due to global supply-chain bottlenecks and higher energy costs.
In the euro area, a decade of deflationary pressure has given way to the largest increase in consumer prices since 1990, while inflation in the UK has reached highs last seen in 2011.
3. Rising bond yields in advanced economies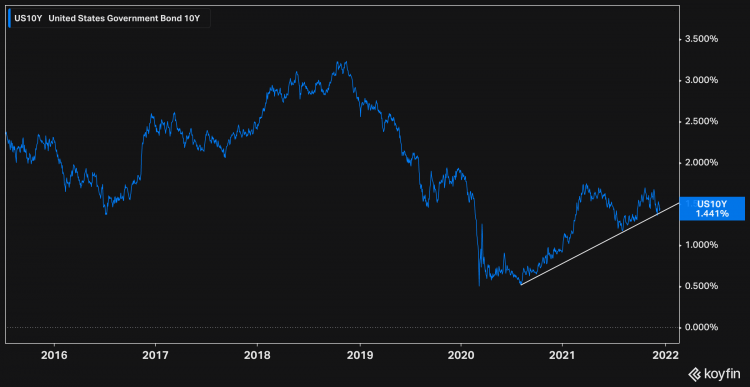 US 10-year Treasury yield (2016-2021) – Credit: Koyfin
Increased inflation and central banks shifting to a more hawkish stance all imply that bond investors now want a greater yield to compensate their risk of investing in government debt.
The yield on the 10-year US Treasury Note has fluctuated between 1.40% and 1.70% in the last quarter of 2021, yet it remains low in comparison to the years preceding the pandemic.
4. Battle against Covid-19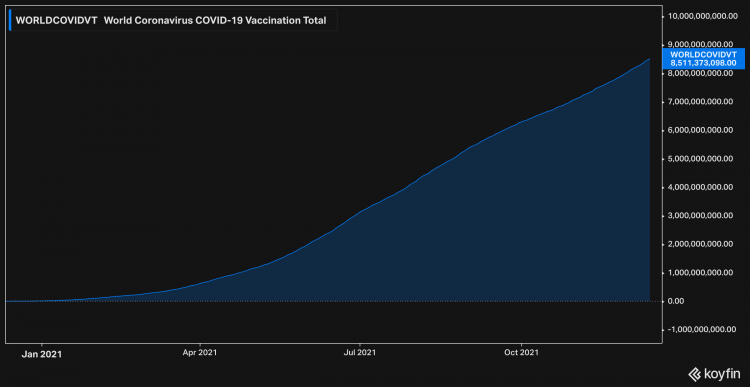 World Coronavirus Vaccination Total – Credit: Koyfin
The world is still battling a pandemic and the discovery of new variants, such as Omicron, poses additional challenges to policymakers and economic activities.
Although widespread vaccination programmes have reduced hospitalisations and fatalities from Covid-19 in recent months, the danger of new infectious strains undermining vaccine efficacy remains a concern.
Should countries tighten mobility restrictions to contain waves of infections, it might negatively affect investor sentiment towards risky assets, such as high-beta currencies.
5. Stagflation risk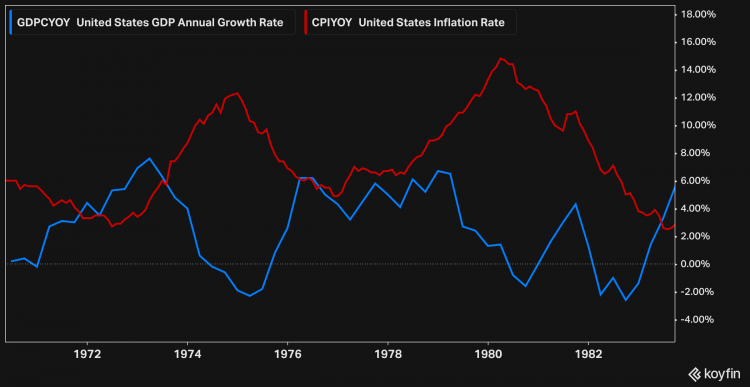 The US stagflation during 1970s-1980s – Credit: Koyfin
What if inflation proves persistent and economic activity takes a hit from supply constraints and tighter financial conditions? That might indicate that the global economy is approaching a period of stagflation, similar to what the developed world faced during the 1970s' oil crisis.
Forex traders must pay close attention to the commitments made by central banks throughout the world to combat inflation. Currencies backed by "behind the curve" monetary policies may lose value in comparison with currencies backed by more hawkish policymakers.