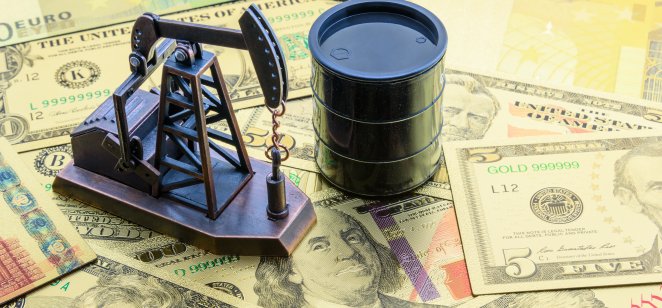 The impact of West Texas Intermediate hitting $100 a barrel will have a strong effect on the US economy with trucking and airlines having to deal with an increase in fuel costs and those with low incomes finding their purchasing power further eroded.
It's a question of when, not if a barrel of West Texas Intermediate will hit the $100 mark, according to analysts. WTI opened 2022 at $75 a barrel, but the price hovered at above $91 Monday.
The only winner in higher prices may be producers, said Andrew Lipow, president of Lipow Oil Associates.
"Higher oil prices benefit producers and are detrimental to consumers, especially those where fuel costs are a large part of their expenses…" Lipow told Capital.com
Trucking costs keep rising
Higher fuel costs are always a worry for trucking companies and independent drivers, but with the diesel prices heading to the highest levels since 2014 that concern is now in overdrive.
On road diesel fuel has jumped nearly $1.11 since last year, according to a US Energy Information Administration release Monday. Last week, the fuel used by millions of truckers jumped 6 cents to an average of $3.85 a gallon.
For owner-operator trucker Larry Masters even an increase of a few pennies is hard on his bottom line.
On Monday morning, the South Carolinian was at the Royal Farms Truck Plaza in Bridgeport, Delaware, filling up his rig. As the pump's digital numbers spun rapidly, Masters said truckers "are busier than ever, but we aren't getting ahead because of the cost of diesel."
$800 to fill up
When the pump clicked signaling his two 120-gallon tanks were full, the total was more than $800. "I wasn't completely empty," he said.
Inside, after ordering chicken and purchasing a Coke Zero, Masters explained some back-of-the-envelope budgeting truths. The last few weeks, he's witnessed oil prices creeping up.
Now, with prices at their highest since 2014, Masters is informing his vendors he'll most likely hike his price as his costs increase. On Monday morning, Masters was in the start of a 900-mile haul from Dover, Delaware, to Montgomery, Alabama.
He told Capital.com his price is $3,300 for the two-day run. He estimates that diesel will cost $1,500. leaving him $1,800. But he said considering his truck payment, upkeep, road tolls and other necessities, he'll clear less than $700. A year ago, he said he'd clear between $1,000 and $1,200 on a similar run.
Masters, dressed in jeans, a flannel shirt with a cross hanging around his neck, predicted if diesel continues to skyrocket, more truck drivers will exit an industry that is already suffering from a severe shortage of drivers.
"You can't raise a family in this job anymore," the father of two said, before adding with a grin that his oldest daughter is headed to college this fall.
Higher cost of flying
Higher fuel costs results in increases in operation expenses, which in turn results in a decline in demand for air travel and cargo.
"With oil prices reaching their highest levels since 2014, airline profits are being squeezed," wrote J.P. Morgan Lead U.S. Airlines and Aircraft Leasing Equity Analyst Jamie Baker in a note.
"Management teams attempt to recapture higher input costs from customers through revenue initiatives – which usually mean price increases for customers," Baker said.
This will hit US airlines the hardest because, unlike European and Asian airlines, domestic carriers do not hedge or have insurance in place for higher oil prices
At 4:30 p.m. EDT Monday, jet fuel was trading at $33.99 a gallon, up 0.34%.
Lower-income earners
Perhaps, no other segment of the US economy is hit harder by skyrocketing gas prices than people with lower incomes.
"Lower income groups are vulnerable to higher energy costs," Paul Donovan, an economist at UBS, told Forbes. "There could be some peculiar indirect effects," to oil hitting $100 a barrel.
A barrel hitting the $100 mark would not only accelerate inflation, he said, but also slow down the US's high job turnover rate and slow the Great Resignation currently hitting millions of employers.
Donovan also said for people aged 16 to 24, who have been reluctant to reenter the labor force, "gasoline is a disproportionate amount of spending for this group. Higher oil prices may encourage a return to the conventional jobs market."
John Friedman, an economics professor at Brown University and a co-director of Opportunity Insights, told CNBC low earners saw an almost 40% job disappearance rate in the last 1.5 years, according to Opportunity Insights.
Some winners
Last week when WTI was on the cusp of breaking $90 a barrel, a flurry of client notes went out predicting a date when oil would hit the $100 mark and just how high it would go.
Goldman Sachs led the way, by predicting the $100-per-barrel mark would come in Q2 2022, given the "surprisingly large deficit" in the oil markets and demand remaining high despite the last round of Covid.
Oil levels, the firm explained, hit their lowest in the summer of 2000, but this summer's levels could go lower. With OPEC+ members resisting calls to spike prices and its failure to meet output goals, could drive the prices up even higher.
$125-a-barrel possible
JP Morgan predicted by Q4 of this year, prices could reach $125 a barrel given a number of factors.
All the reports agreed the winner is big oil. At the closing bell Monday, petroleum stocks were up.
ExxonMobil jumped 1.20% to $82.39, Chevron was up nearly 2% to $138.55, BP PLC closed at $33.36, up 1.46%, and Shell PLC was up 1.14% to $55.73.
However, on Monday, Commerzbank warned in a client note, of a possible upcoming price correction.
"In our opinion, a somewhat more pronounced consolidation or even correction would be well overdue after seven weeks of rising prices. The fact that the RSI is in overbought territory should also sound the warning bells. Having said that, this has often happened over the past three weeks without leading to any significant price correction."
Read more