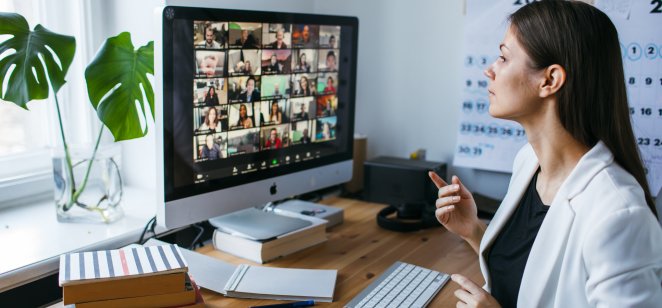 Zoom's stock price dropped more than 6% in after-hours trading Monday even though the US video conferencing company reported that its earnings beat estimates.
San Jose, California-based Zoom posted adjusted earnings per share (EPS) of $1.11, up from 66 cents a year earlier, the company said in its latest earnings report.
Analysts polled by Dow Jones had anticipated adjusted EPS of $1.09.
Zoom's stock closed down 3.59% or $9.02 at $242.28 following regular trading hours Monday before falling further to .
Pandemic benefit
Zoom boosted its net income to $340.3m (£248.6m) from $198.4m in the third quarter of 2020, when the Covid-19 pandemic was prompting more people to work from home. Total revenue increased 35% year-over-year to $1.05bn from $777.2m.
"We are well on our way to becoming an indispensable platform for enterprises, individuals, and developers to connect, collaborate, and build in the flexible hybrid world of work," said Zoom founder and CEO Eric Yuan in a news release accompanying the earnings report.
For accounting purposes, the latest reporting period served as Zoom's third quarter of fiscal-year 2022.
Revenue rises
Zoom said 2,507 customers contributed $100,000 in trailing 12-months revenue, up 94% from the same period a year earlier.
The number of customer companies with more than 10 employees rose 18% to approximately 512,100.
Zoom expects to generate total revenue of $1.051bn to $1.053bn in its fiscal fourth quarter. The company anticipates full fiscal-year revenue of $4.079bn to $4.080bn.
54% growth
Yuan said the full fiscal-year revenue range corresponds to approximately 54% year-over-year growth.
"We believe our global brand, innovative technologies, and large customer base position us well for the future," he said.
Zoom's stock closed down 3.59%, or $9.02, at $242.28 following regular trading hours Monday.

Read More: Agilent Technologies (A) falls 4% on fiscal year EPS mis