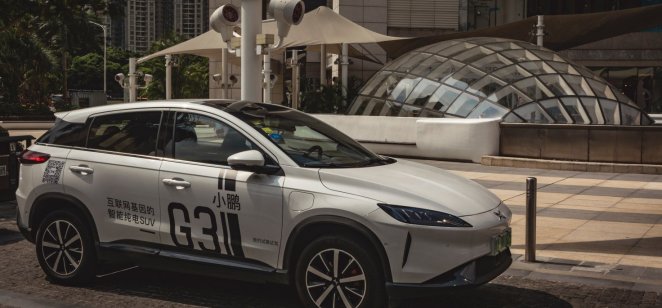 Content
Xpeng Motors is the newest electric vehicle (EV) company to become a public company. It joins US-based Nikola Motors that went public in June and Lordstown Motors that went public as part of a SPAC transaction.
Xpeng stands out as it is a China-based company that designs, develops, manufactures, and markets smart electric vehicles for domestic consumption. The company produces two vehicles, an SUV called the G3 and a four-door sports sedan called the P7.
Xpeng Motors (XPEV) was founded in 2015 and now competes head-on against America-based Tesla Motors that pledged to invest billions of dollars to remain competitive in the Chinese market and support many local jobs.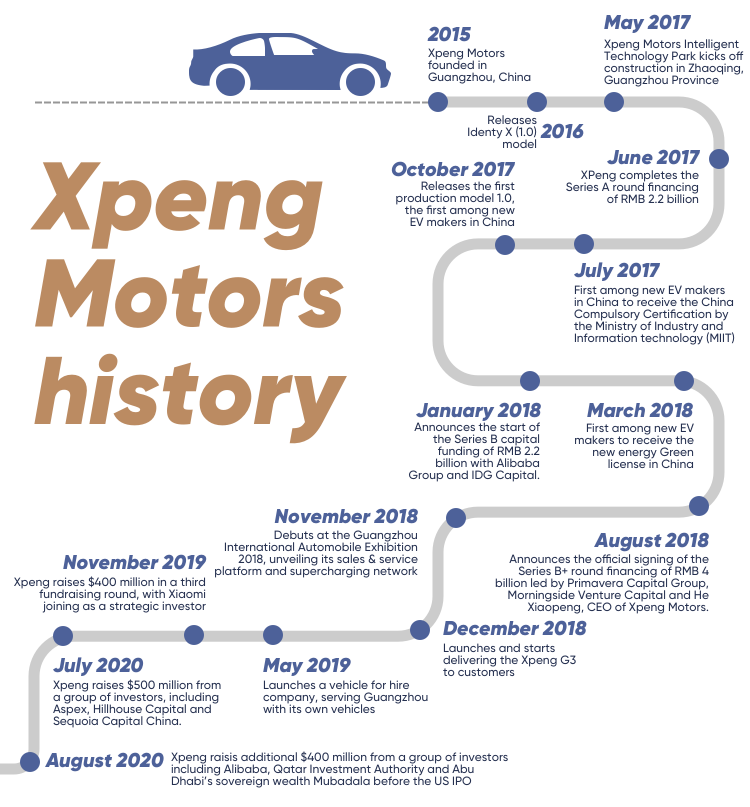 Xpeng Motors IPO details
Below is a summary of some of the more important details from Xpeng Motors' initial public offering file, known as a Form F-1.
Xpeng Motors plans on raising $1 billion as part of a US IPO process through the sale of 85 million American Depositary Shares (ADS). The company has already raised $1.6 billion via private financing rounds and its list of investors includes Chinese private equity firms and e-commerce behemoth Alibaba.
Half of the capital raised through the XPEV IPO will be used for R&D, 30 per cent will be allocated towards selling and marketing, and 20 per cent for general corporate purposes, including working capital needs. The company has no present plans to declare a dividend and expects this position to remain unchanged for the foreseeable future.
The XPEV stock IPO date is not currently set but sources close to the matter point TO a Thursday 27 August debut.
Financial highlights
As part of the Xpeng Motors IPO process, we do know a great deal about the company's financials. Below are some of the more notable financial metrics.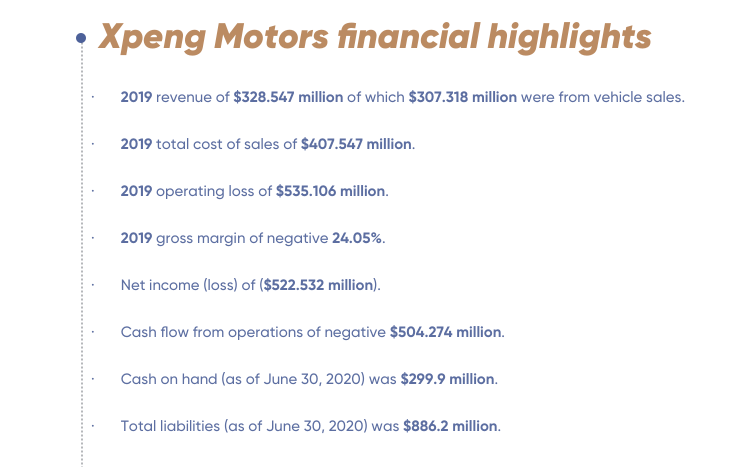 Business update: first half of 2020
Investors evaluating the Xpeng Motors initial public offering will likely be paying close attention to the company's performance in the first half of 2020. This may offer a better representation compared to 2019 as recent performance is more relevant for any investment decision, especially for a company operating within a hyper-growth segment.
The company said in its regulatory filing that revenue from vehicle sales in the first half of 2020 was down from $173.24 million last year to $129.3 million. Deliveries fell from 7,165 Smart EV units to 5,499 units.
Management attributed its year-over-year decline to: 1) 2019 deliveries include fulfilled orders that were placed in the prior year, and 2) deliveries in 2020 were impacted by the pandemic.
Net loss for the six months of 2020 did improve from $277.51 million in the first half of 2019 to $112.6 million.
The case for Xpeng Motors stock
The bullish case for Xpeng Motors stock is based on the company's direct exposure to the world's largest passenger vehicle market. Demand for vehicles in China is expected to continue growing from its already large base as more Chinese people move into the middle class and the government continues to invest and improve the transportation infrastructure.
Based on IHS Markit data, and highlighted by Xpeng Motors, sales volume of passenger vehicles in China totaled 21.1 million units in 2019 and is expected to rise to 25.9 million units by 2025.
| | |
| --- | --- |
| Long position overnight fee | -0.0500% |
| Short position overnight fee | 0.0140% |
| Overnight fee time | 21:00 (UTC) |
| Spread | 0.00600 |
| | |
| --- | --- |
| Long position overnight fee | -0.0141% |
| Short position overnight fee | 0.0041% |
| Overnight fee time | 21:00 (UTC) |
| Spread | 1.5 |
| | |
| --- | --- |
| Long position overnight fee | -0.0500% |
| Short position overnight fee | 0.0140% |
| Overnight fee time | 21:00 (UTC) |
| Spread | 60.00 |
| | |
| --- | --- |
| Long position overnight fee | -0.1297% |
| Short position overnight fee | 0.0928% |
| Overnight fee time | 21:00 (UTC) |
| Spread | 0.005 |
As the Chinese government continues to promote and emphasise the importance of more sustainable practices, the Chinese market could ultimately dwarf the US market in terms of EV sales.
In fact, China accounts for 45.1 per cent of global EV sales volume and is already 3.5 times larger than the US market. Data from IHS Markit also points to an expected compounded annual growth rate of China EV sales of 29.4 per cent through 2025.
Xpeng Motors should also benefit over the coming years from improving economies of scale, especially in battery cost. The average price of a lithium battery cell was $131 per kWh in 2019 and is projected to fall by a compounded annual rate of 10 per cent for the next three years, thereby generating incremental profit per unit sold.
The case against Xpeng Motors shares
Perhaps if the Xpeng Motors IPO date was in early 2019, the EV maker would have an easier time making its pitch to investors. The company faces two major headwinds unique to 2020 that have more to do with its country of origin than the actual business.
The XPEV IPO certainly comes at a time of heightened scrutiny. The Trump administration is paying extra close attention to Chinese based firms as part of what could be the early stages of a new "cold war." Chinese companies that don't fully comply with the Public Company Accounting Oversight Board by the beginning of 2022 could be delisted.
Why the average investor would take on this level of risk that doesn't exist elsewhere is a very valid point and worth considering.
XPEV will also be pitching its investment case to investors that are wary of all Chinese firms. Whether this is justified or not can be debated but increased investor concern has its fair share of merits.
Luckin Coffee, described prior to its 2019 IPO as the Chinese Starbucks, admitted in 2020 to defrauding investors through bogus sales numbers. TAL Education, another US-listed Chinese stock, also admitted in 2020 to fabricating sales.
These are far from outliers.
Notable hedge fund manager Jim Chanos of Kynikos Associates commented on CNBC in 2020 that there are just too many cases of fraud from Chinese companies and investors should simply stay clear.
"You have to avoid these Chinese companies like the plague – I'm sorry" he said. "I don't know how many times investors have to be burned in these companies that are just too good to be true."
Conclusion
So should investors be buyers of the Xpeng Motors IPO? There is no one size fits all answer. Perhaps investors might feel it is prudent and reasonable to allocate a small portion of their portfolio to the XPEV IPO.
Selling a very small amount of other holdings that soared in 2020 is a decent diversification tactic.
But at the end of the day, potential XPEV stock investors should be reminded that the pandemic could continue to adversely impact the business. As such, believers in the long-term potential of EV vehicle sales, especially in China, could pick up Xpeng Motors shares at a lower cost in a few months if there is little sign of the health crisis improving.
The bottom line, the company has a very bright future in the world's most lucrative EV market and it is playing with a home-court advantage. But its stock faces potential political turmoil in the US and investors have their fair share of American EV makers to choose from instead of Xpeng.
Don't forget that with Capital.com you can trade Xpeng Motors shares through CFDs at the earliest opportunity. You get the ultimate chance to speculate on the XPEV IPO value and try to benefit from its stock fluctuations. You always have a chance to profit from either an upside or downside movement: hold a long position – believing the price will go up, or a short position – speculating the price will go down. Don't miss a chance to trade another popular EV stock in 2020.
Read more: billion Nikola IPO and the future of the 'Tesla of Trucking'