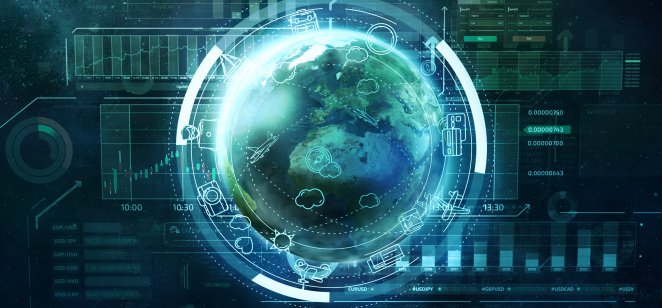 Non-fungible token (NFT)-based crypto XMON has surged over 95% to $50,597.27 in the last month. Meanwhile, the broader cryptocurrency market has suffered a dip of late, with bitcoin (BTC) and ether (ETH) losing over 10% and over 20%, respectively, in the same period.
In 2021, XMON saw a rise of over 3,000%. However, the token is not listed on major crypto exchanges such as Binance and Coinbase.
What is XMON coin? Let's look at the project and the latest predictions for 2022 and beyond.
0xmons: Experimental NFT art project
0xmons is an experimental NFT art project, according to its website. 0xmons are Pokemon-inspired digital collectibles built on the Ethereum network, Each 0xmon is a non-fungible token with a unique image, name, characteristics and story.
"It's 33% playing around with NFTs, 33% improving
machine learning
algorithms, and 33% developing a creative outlet for this glitchy, Cthulhu-esque aesthetic," wrote Owen Shen, 0xmon creator, in the project's
first blog post
dated March 2021.
Shen calls himself a "serial builder". He's developed multiple blockchain projects, including a peer-to-peer NFT trading marketplace, NFT Lottery platform and NFT minting site.
0xmons is built on the Ethereum network. 0xmons' NFTs are listed on OpenSea, the world's biggest NFT marketplace, with a total trade volume of about 2,400 ETH, equivalent to about $7.45m, as of 19 January.
What is the XMON coin?
XMON coin is the native token of the 0xmons NFT project. XMON coins can be used for staking on the 0xmon ecosystem to earn tokens. The coin can also be used to acquire and breed 0xmons.
Total supply of XMON is capped at 10,000, with about 1,200 tokens distributed in an airdrop to early participants. Unlike other native tokens, XMON is not a governance token, according to 0xmons website.
There were 1,494.92 XMON coins in circulation on 19 January, data from CoinMarketCap showed.
"Voting tokens in general have several problems, and I'm skeptical of community-based governance 'just working' by default. Many projects are looking for good governors, but governance is a costly task, both in terms of time and effort," said Shen in a blog post.
"To that end, 0xmons is currently more like a personal art project of mine that I've opened up for participation from others, rather than a protocol governed by the crowd."
XMON analysis: NFT boom driving the coin's price
Over the past one month, the XMON token has outperformed most big names in the cryptocurrency world. XMON's value nearly doubled from around $27,000 in mid-December to $50,597 on 19 January.
XMON's outperformance comes on the back of a booming NFT market.
Currently, the cryptocurrency market is in a lull with bitcoin prices hitting a near 4-month low of $39,650 on 10 January. Trading volumes are also muted, reaching lows not seen since July, reported Arcane Research. A faster-than-expected hike in interest rates has had a negative effect on risk assets across the globe, including equities and cryptocurrencies.
In contrast, data from Dune Analytics showed monthly NFT transaction volumes on OpenSea running close to the $3bn mark.
2021 was a breakout year for NFTs. The total traded value of NFTs hit a record high of $23bn. Not only did the digital creative assets arrive at renowned art auction houses like Christie's and Sotheby's, but 'NFT' was named word of the year by the Collins dictionary.
"Thanks to the euphoria around avatars and art NFTs, the mainstream finally learned the power behind this technology. The rise in the demand for NFTs reinforced by the $22 billion trading volume is only the tip of the iceberg. The potential for these assets is massive and transcends beyond the monetary impact within the industry," said blockchain research company DappRadar in a
report
.
It is important to note that the XMON coin has fallen about 40%, as of 19 January, from a high of $87,017 hit on 11 January.
XMON coin technical analysis
XMON is a highly volatile cryptocurrency. The token has traded as high as over $80,000 to as low as around $24,000 in the last month.
The token's low volume - there are less than 1,500 coins currently in circulation - and its unavailability in major cryptocurrency exchanges could be factors in this high volatility.
Over the past year, XMON has seen a meteoric rise of over 3,000%. The token was trading below $1,500 in September 2021. Since then XMON has surged on the back of improving sentiment and increased transaction in the overall NFT sector in the second half of 2021.
The coin hit an all-time high of $100,348.53 on November 16 2021. It has lost more than half of its value since then, trading at $49,264.65 at the time of writing (19 January 2022).
XMON's market capitalisation stood at about $73.64m, ranking the NFT token at 499 in the overall cryptocurrency market, according to CoinMarketCap. CoinCodex ranked XMON 32 in the NFT token sector, as of 19 January.
Short-term sentiment for XMON based on the technical analysis from CoinCodex was bearish, with nine technical indicators providing bullish signals and 15 bearish signals.
The 3- to 21-day simple moving averages (SMA) and exponential moving averages (EMAs) were bearish, in line with the Hull moving average and the volume-weighted moving average.
The 50- to -200-day MAs and EMAs were giving 'buy' signals, together with the stochastic RSI. The moving average convergence divergence (MACD) and the relative strength index (RSI) kept neutral.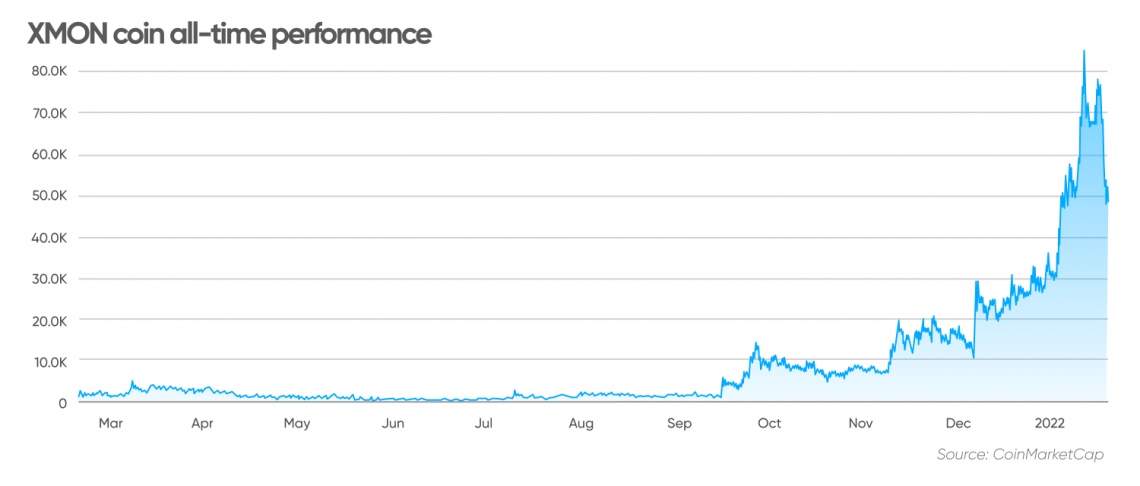 XMON coin future: NFT investing and prospects for NFT sector in 2022
In an exclusive interview with Capital.com, Mikhail Jon Peñalosa, CEO of Philippines-based metaverse development studio Metadhana, called the NFT sector the most exciting development in the blockchain space.
For newcomers in the NFT marketplace, Peñalosa said they need to evaluate two factors before making their first NFT purchase: utility of the digital creative and the community behind it.
DappRadar reiterated that NFT projects are becoming community-driven brands, with the emergence of blue-chip NFTs like the Bored Ape Yacht Club (BAYC) and CryptoPunks. The entry of celebrities like rapper SouljaBoy, DJ Steve Aoki, basketball star Stephen Curry and music artist Eminem into the NFT space has created NFT communities.
"BAYC might be the most critical NFT avatar project besides CryptoPunks. The collection created by Yuga Labs launched on April 30 and started a strong movement on social media platforms. Bored Apes began to be used as avatars on Twitter, and the sense of community within the space felt revamped," said DappRadar.
Meanwhile, CryptoCompare sounded a cautious note for the growing NFT community.
"It is likely that many NFT projects will fail in the next market crash – it is undeniable that the technology in its current form faces significant challenges, most prominently the lack of utility provided to NFT owners," said CryptoCompare in its 2022 outlook report.
"Nevertheless, the NFT market is one of the most prone to manipulation and arguably is the most risky area of crypto. Market participants should tread carefully in this space."
XMON coin price prediction: Targets for 2022, 2025 and 2030
According to a short-term XMON price prediction from CoinCodex (as of 19 January), the value of XMON could fall 22.84% to $ 38,072 by 24 January 2022.
"XMON recorded 17/30 (57%) green days with 37.83% price volatility over the last 30 days. Based on our XMON forecast, it's now a bad time to buy XMON," said Coincodex.
XMON crypto price prediction from Wallet Investor said the token can be a "profitable investment option." Wallet Investor expected the price to surge to $510,965 by the start of 2027.
XMON price prediction from Digital Coin also projected that XMON could gain value over the next few years. Based on historical data analysis, DigitalCoin expected the XMON price to average $67,354.41 in 2022, $78,794.76 in 2023 and $100,380.79 in 2025. By 2029, the cryptocurrency could trade at $100,380.79, the data showed.
Price Prediction's long-term XMON forecast expected the coin to average over $70,975.29 in 2022 and hit $207,371.84 in 2025. Based on deep artificial intelligence-assisted technical analysis, it projected that XMON could soar to an average of $1.26m by 2030.
It's important to keep in mind that cryptocurrency markets remain extremely volatile, making it difficult to accurately predict what an XMON coin price will be in a few hours, and even harder to give long-term estimates. As such, analysts and algorithm-based forecasters can and do get their predictions wrong.
We recommend that you always do your own research, and consider the latest market trends, XMON token news, technical and fundamental analysis, and expert opinion before making any investment decision. Keep in mind that past performance is no guarantee of future returns. And never invest more than you can afford to lose.
FAQs
According to CoinCodex (as of 19 January), the value of XMON could drop by 22.84% to $ 38,072 by 24 January. Meanwhile, Price Prediction's long-term XMON forecast expected the coin to average over $70,975.29 in 2022 and hit $207,371.84 in 2025.
Cryptocurrencies are highly volatile assets, making them high-risk investments, especially newer coins like XMON. Whether XMON could be an appropriate investment for your portfolio depends on your personal circumstances and risk tolerance. You should evaluate the level of risk you are prepared to accept before investing and never invest money that you cannot afford to lose.