World of Women NFT: Breaking its way into a boys' playground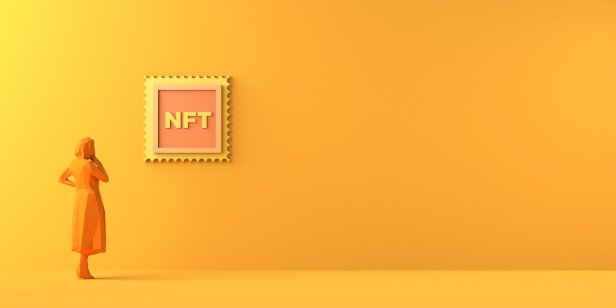 Built with a promise to make Web3 a more inclusive environment, the World of Women (WoW) non-fungible token (NFT) collection has become one of the top-selling NFT collections online.
Backed by world-renowned celebrities such as Reese Witherspoon, Steve Aoki and Eva Longoria, the collection's total market value managed to surge by 2644.68% within a month from ETH20.308 on 24 December 2021 to ETH557.39 on 24 January 2022.
With a new collection on the way and an upcoming project in collaboration with Reese Witherspoon's media company Hello Sunshine, what can we expect next from this empowering NFT project?
What is WoW?
World of Women NFT is a community built to celebrate representation, inclusion and equal opportunities within the world of non-fungible tokens.
Initially founded by a team of four friends, the platform has since grown into a team of nine members all aiming to "create a beautiful, diverse, empowering collection and thriving community".
Led by Yam Karkai, WoW, the NFT World of Women's first-ever collection, was solely created by her and was released on 27 July 2021.
Consisting of 10,000 randomly-generated graphic images of various rarity, the collection lives on the Ethereum (ETH) blockchain as ERC-721 tokens and can only be purchased using ETH coins.
Each NFT can be checked on its rarity level via rarity.tools. Some can be rare, others very rare and very few unique. The entire collection was generated using a special algorithm that randomly merged 11 traits and a combination of 189 features all designed by Karkai herself. For example, Karkai created 14 different skin tones, 23 facial features, 28 eye combinations and 25 different hairstyles among other things.
The project's manifesto states: "Designing a base woman that could be any ethnicity was extremely important for us. As this is a randomly generated project with the aim of promoting diversity and female empowerment, we have taken the following measures very seriously in order to avoid disrespectful results and/or cultural appropriation during the customising process: avoiding elements that are specific to cultures, customs or practises, avoiding/political religious references, avoiding mockery elements, avoiding the creation of any elements that could potentially have hostile or rude innuendo."
Some of the rarest designs include Woman #8317 which is currently selling for ETH11.5863 ($30,719.51, as of 16 March 2021), Woman #4730 currently selling for ETH27.1997 ($72,116.08) and Woman #4791 selling for ETH9.6657 ($25,627.13).
Perks of owning World of Women NFTs include owning the artwork as well as its intellectual property, being able to download the NFTs in super high resolution, gaining access to curated pre-sales and holders-only raffles and discounts.
In addition to bringing balance and representation into the NFT universe, World of Women has also underlined the project's three initiatives:
To support and spotlight emerging artists globally through the launch of The WoW Fund through which 15% of all primary sales were reinvested into cryptoart.

To give back to women-led and sustainability-focused organisations including: She's the first, an organisation which funds and supports local solutions to educate and empower girls across 26 countries; NFT artist Strange Cintia who has been suffering from severe ME/CFS for 20 years and global venture philanthropy fund Rockflower Fund.

To educate and welcome women as well as under-represented minorities into the Web3 and NFT universe.
World of Women NFT is currently (as of 16 March 2021) ranked 20th by total market volume on OpenSea.
World of Women NFT's journey to popularity
Experts unanimously agree that the project stands out in an otherwise male-dominated industry.
"The main reason why the World of Women NFT collection increased in popularity is due to the fact that it showcased just how strong of a female community there is within the crypto sphere."
by
Milko Trajcevski, Invezz
"The main reason why the World of Women NFT collection increased in popularity is due to the fact that it showcased just how strong of a female community there is within the crypto sphere. It empowers women and gives them a glimpse into the possibilities within the world of NFTs," Invezz's crypto advisor, Milko Trajcevski, told Capital.com.
CEO and co-founder of digital platform Agora Images, Octavi Royo Olazaguirre, added that the World of Women NFTs are a first-in-a-lifetime project.
"For the first time in history, there is a global movement of social advancement in women's rights and dignity, this is very important, and this leads the interest and prices," Olazaguirre said.
Meanwhile, NFT artist and Pandimensionals founder PJ Cooper noted that the collection's success "goes beyond the fact it's an inclusive project led by female creators".
"They've not only built a great project with really high quality artwork but have created an enthused and welcoming community from the ground up. The announcement of their second collection that aims to welcome more people into their community with a lower entry price is a testament to their approach and commitment to building an open and inclusive community," Cooper added.
Celebrity endorsement and what's next?
In October 2021, World of Women NFT promised to bring its NFT collection to a number of museums and galleries, release merchandise, collaborate with charity TooYoungToWed, enter the metaverse and even launch a new collection.
Since then, the platform has managed to launch an action for charity TooYoungToWed, partner with Code Green NFT to finance verified citizen-powered solutions to the climate crisis, enter its first step into shared community governance by launching DAWoW and announce the release of its second collection, World of Women Galaxy.
Since the World of Women NFT collection's launch in July 2021, it has been endorsed by a number of famous names including former One Direction star Liam Payne, the Iraqi-American beauty blogger known as Huda Beauty, Belarusian-American entrepreneur Gary Vaynerchuk and American DJ Steve Aoki.
On 16 August 2021, popular American video blogger Logan Paul announced that he had also purchased a set of NFTs from the WoW collection. At the start of January 2022, it was reported that Paul sold his collection for a total of ETH200 (around $765,000 at the time) to the popular NFT play-to-earn metaverse Sandbox.
On 8 March 2022, World of Women announced that it had partnered with Sandbox (SAND) to launch the WoW Foundation that will strive to bring more diversity of thought into the NFT and metaverse space.
Just bought my first NFTs ! I'm learning so much. ????????????Would love to know about amazing women creating #NFTs. Talk to me #cryptotwitter

— Reese Witherspoon (@ReeseW) October 11, 2021
The NFT collection has also been heavily supported by American actress and producer Reese Witherspoon. Since purchasing her first NFTs on 11 October 2021, Witherspoon has launched a full-scale partnership with World of Women through her media company Hello Sunshine. The two are planning to adapt World of Women NFTs into films and TV shows.
NFT World of Women price journey
Each WoW NFT was initially ETH0.07 to mint and the entire collection sold out overnight.
The tokens can now be purchased through auctions hosted on one of the biggest NFT marketplaces, OpenSea.
Due to the attention the NFT World of Women collection received from celebrities as well as other metaverse platforms such as Sandbox, its market volume and price benefitted greatly over time.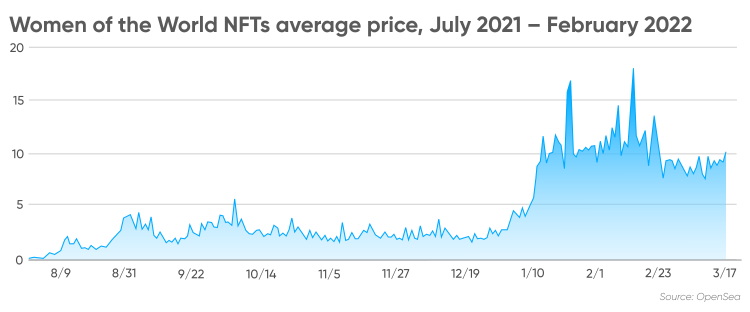 By 24 January 2022, OpenSea estimated that the average price per WoW NFT came to about ETH16.8906, a 24029.42% surge since the initial selling price of ETH0.07.
The average price per World of Women NFT rose to ETH17.9874 by 14 February 2022, however it soon dropped to ETH9.3756 by 16 March 2022, amid negative overall market sentiment triggered by the Russian invasion of Ukraine.
World of Women NFT forecast
While the wider NFT and crypto markets are looking bearish in the past few weeks, co-founder of NFT art gallery Quantus Gallery, Josh Sandhu, noted that the wider negative market sentiment did not have much of an effect on the long-term World of Women NFT prediction.
"With the wider NFT and Crypto market taking a bit of a downturn, it doesn't seem to have had much of an impact on this project. Quite the opposite in fact, and that's something we see in blue-chip NFT projects. If something is a bit uncertain, collectors and investors alike tend to move to projects they feel are going to hold their value. In this case, they've only increased which really goes to show the wider reception that the World of Women is getting," Sandhu told Capital.com.
"As for the future of this project, it's always hard to predict where things are going, but I certainly wouldn't be surprised if the project pushes to the upper echelons of the NFT market," he added.
Invezz's Trajcevski agreed with the upbeat World of Women NFT forecast given by Sandhu, noting that the project's price has potential to increase as time goes on. Agora's Olazaguirre also echoed this sentiment and highlighted that just like traditional art, the collection's value will only increase over time.
While the NFT market, much like the crypto market, can be widely unpredictable, experts agree that because of the generated buzz and strong sense of community around the project it will be hard to bring it down.
"This NFT set, while titled about being about empowering women, is actually seen as empowerment to any form of diversity within the NFT space, which also includes the education and onboarding of the next generation of creators and builders, who can gain equal access to the space. This is due to the fact that all WoW owners are contributors and investors within this mission and have unique beliefs," Tracjevski said.
Meanwhile Olazaguirre noted that the project's most important role is "empowering artistic talent in a new space that has a lot to do with the future and, at the same time, dignifies the role of art, creation and culture that had suffered so much with the arrival of the digital world".
FAQs
Is World of Women NFT a good investment?

Whether World of Women NFTs are a good investment for you depends on your personal circumstances and risk appetite. Non-fungible tokens are high-risk assets. You should do your own research and evaluate the level of risk you are prepared to accept before investing, and never invest money you cannot afford to lose.
What is the future of the World of Women NFT?

Despite wide overall negative NFT and crypto market sentiment, interviewed experts agreed that long-term sentiment on the World of Women NFT prediction is positive due to the project's powerful mission, created buzz and celebrity endorsement.

Experts also noted that NFTs, much like traditional art, have the tendency to grow in value as time goes by, which has also played true in the World of Women NFT collection.
Who is behind the World of Women NFT?

World of Women NFT was created by a group of four friends and has since grown into a team of nine members all aiming to "create a beautiful, diverse, empowering collection and thriving community". The platform's first collection, WoW, was created by digital artist and co-founder Yam Karkai.