World Cup 2022: Could a winter tournament provide a welcome stimulus for stocks?
Subscribe to Weekly Highlights
The major market events for the week ahead right in your inbox.
Subscribe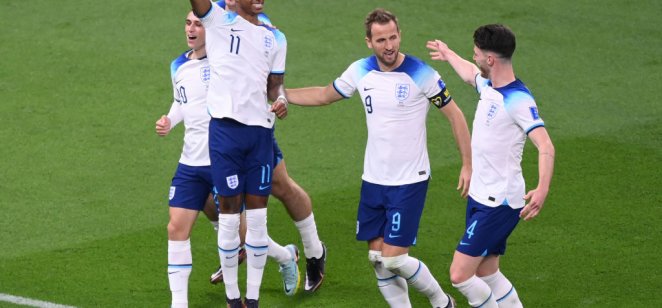 Content
The FIFA World Cup has started and it's already brought excitement and tension: from Saudi Arabia beating Argentina to England winning their first match against Iran 6-2. But the tournament has come at a strange time: usually synonymous with the summer months, BBQs, beer gardens and Box Parks, the 2022 World Cup is slightly different.
Beating off bids from the US, Japan and South Korea, Qatar won the right to host the 2022 World Cup – the first Arab nation to hold the event. And as well as being surrounded by controversy, it's also been pushed back to November, to avoid the extreme heat that Qatar faces in June.
We know that the host nation benefits economically but what about other countries – like the UK, which has teams from England and Wales participating in the event?
The FTSE 100 (UK100) has seen a boost this week and since the month-long tournament started on Sunday, 20 November, it has risen by 1%.
But will moving the tournament to a winter schedule lead to an own goal, or will stocks receive a kick?
What is your sentiment on UK100?
Vote to see Traders sentiment!
FTSE 100 (UK100) share price chart
Red card or winning goal for stocks like (AO.)?
Some retailers and analysts are forecasting a win for UK companies due to the games.
AJ Bell analyst Danni Hewson wrote in a note: "Pub operator Marston's saw its shares enjoy a timely boost after it announced in October how sales had topped pre-covid levels and that it was in prime position to take advantage of a restriction free Christmas as well as a boost from World Cup trading."
"Offering consumers, a warm place to share an affordable drink with friends and family is quite the USP, and if the business can keep costs down it should keep its punters coming through the doors."
Marston's (MARS) stock price has been up over 1% since the games began.
Electronics brand AO World (AO.) said it also expects to see some growth because of the World Cup, with the CEO saying that sales of television sets could get a boost.
"Any World Cup gives our business really positive momentum around sales for things like TVs ... the further they (England) go in the competition, normally the more TVs we sell," AO World founder and CEO John Roberts told Reuters.
AO.'s stock price has soared by 23% since the start of the tournament.
Gaming and betting groups Rank (RNK) and Entain (ENT) also said last month that they expect to see a boost.
"The key thing stopping investors from panicking about sluggish overall progression for the business is the World Cup. Traditionally this attracts an elevated level of betting from sports fans, for many it might be the only gambling they do this year," AJ Bell investment director, Russ Mould wrote in a note.
Rank's share price has risen by 16% since 20 November and Entain has been up by 2%.
AO World (AO.) share price chart
Back of the net? – not just yet
But some are questioning whether the World Cup, which traditionally helps boost the economy and the markets, will provide the same stimulus to UK stocks that it tends bring every four years, given the economic backdrop of a cost of living crisis, and higher costs for companies.
Pre-tournament, many analysts had predicted that UK TV channel ITV (ITV), would score from increased competition between companies to claim prime advertising real estate during games.
"A winter World Cup may not be popular with some football fans and the game's schedulers, but it could prove a timely boost for ITV during what could otherwise be a harsh winter," said Mould.
However, ITV shares have fallen nearly 7% after it forecast only disappointing ad revenue growth for the period - still boosted by the World Cup, but not by as much it would have seen from a summer tournament.
Black Friday and Christmas sales
Given that the Christmas season is approaching, how much of any sales boost can be attributed to the World Cup tournament? That's a difficult question to answer, but Friday, 25 November is Black Friday - traditionally the kick off of the US Christmas sales period - which has now been co-opted by many other countries, including the UK.
In the case of AO., some skeptics might say its stock price increase this week is down to the Christmas period. But when you look at AO's stock price for the same period last year, it was actually down by 19%.
Indeed, some analysts remain sceptical about the markets seeing a stimulus from the World Cup.
"Two-time British Prime Minister Harold Wilson famously argued that he lost a General Election in 1970 because England threw away a 2-0 lead in a World Cup quarter-final against West Germany in Mexico that took place just before the ballot," Mould told Capital.com.
| | |
| --- | --- |
| Long position overnight fee | -0.0064% |
| Short position overnight fee | -0.0059% |
| Overnight fee time | 22:00 (UTC) |
| Spread | 0.15 |
| | |
| --- | --- |
| Long position overnight fee | -0.0308% |
| Short position overnight fee | -0.0137% |
| Overnight fee time | 22:00 (UTC) |
| Spread | 0.17 |
| | |
| --- | --- |
| Long position overnight fee | -0.0308% |
| Short position overnight fee | -0.0137% |
| Overnight fee time | 22:00 (UTC) |
| Spread | 0.23 |
| | |
| --- | --- |
| Long position overnight fee | -0.0308% |
| Short position overnight fee | -0.0137% |
| Overnight fee time | 22:00 (UTC) |
| Spread | 0.20 |
"FIFA awarded Qatar the tournament in 2010, the tournament takes place every four years and pubs, and bars are usually busy in the run-up to Christmas anyway, so everyone has had plenty of chance to see this one coming," Mould added.
Mould highlights that from an investment point of view, it is a bit of a stretch to argue that sales, profits, cashflows and share prices will get a sustained boost, even if Budweiser is a key sponsor of the event.
"Traders may try to whip up a story, but investing is about the long-term competitive position of a business, its management acumen, balance sheet strength and operational and financial performance over a lengthy period, with valuation then the ultimate arbiter of investment return."
"The football will have a finite impact upon some of those facets and none on others, in all likelihood," Mould concluded.
Entain (ENT) share price chart
World Cup awards host nations an assist
There is no doubt, however, that the tournament helps assist countries when it comes to growth, especially the host nations.
A PwC report said: "The World Cup is not only an auspicious strategic instrument as a stand-alone occasion, but it is also a vehicle for achieving a thriving economic landscape beyond 2022, and an integral part of the bigger picture set forth by the 'Qatar National Vision (QNV) 2030'."
Rituparna Majumder, industry principal, economic analytics practice, Frost & Sullivan, highlights in an interview that the previous two World Cups in 2014 and 2018 generated $4.82bn ($4.03bn) and $4.64bn in revenues respectively.
"As per the FIFA's annual report 2020, the total FIFA World Cup Qatar 2022 revenue budget amounts to $4.66bn."
There are five key revenue categories for FIFA, the first and largest area comes from broadcasting rights, which contributes 56% to revenue, followed by marketing rights at 29% and hospitality, ticket sales, licensing rights and other revenues, which is 15%.
Nevertheless, the World Cup does provide a bit of a boost to the markets, and the hope is that the sun shines on England and the team makes it through the tournament.
There is also a feel-good factor to the games that tends to really come out during the summer months, with people flocking to pubs or hosting parties at home.
This creates growth, with money flowing through the till.
But the timing of this event, has meant that it could be a more muted affair, especially for retail, hospitality, and the travel sector.
"No doubt brewers, bar owners and pub landlords will be hoping for more of a feel-good factor and a welcome increase in trade during the four-week football festival," Mould told capital.com.
The likes of Deliveroo (ROO), however, have seen a stock price decline since the World Cup began and it's shares have fallen 5% since the 20 November.
Deliveroo (ROO) share price chart
But it's not just UK stocks that could score a

hat-trick
Investment bank, Baird has predicted which US stocks they think will win.
According to Baird, previous World Cup finals attracted over 1.1 billion viewers, that's more than 5x that of the 2022 Super Bowl.
"Despite some controversies surrounding the games, we believe the event could increase time spent and usage of mobile apps with game highlights, online betting, and soccer video games. While key matches could temporarily distract consumers from shopping (e.g., USA vs. England on Black Friday), we don't expect a meaningful impact on overall holiday spending with one exception: sporting goods/sports apparel categories should get a lift in countries winning key matches," the analysts said in a note.
Analysts expect ecommerce giants Amazon (AMZN), eBay (EBAY) and Alibaba (BABA) to be boosted. In addition, it's also predicted that Google (GOOG) and Meta (META) will see some positive stock price movements because of the tournament leading to high traffic on its sites.
With the World Cup now on our doorstep and the controversies that its brought playing out before us, stocks may start to see some growth because of the games. But perhaps this stimulus may not be as big as expected or what the markets have been used to seeing in previous years.
However, as we approach the Christmas season, filled with parties, festivities, and football, the latter part of this year could provide some welcome relief for many stocks, which have struggled throughout the year due to a harsh economic climate.
Related reading