Wizz Air (WIZZ) suffers as Ukrainian ambitions dented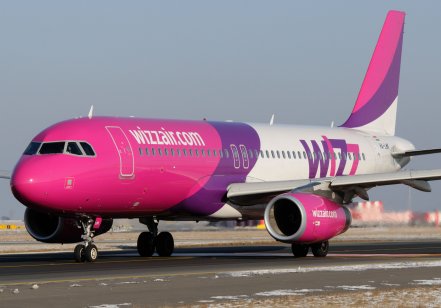 The airline sector had a torrid time as travel all but stopped due to the Covid pandemic. But what further headwinds does the sector now face as the Russia-Ukraine conflict rolls on?
True, it is hard to see the direct impact on flights from Western airports to popular destinations – for instance to Majorca or Barbados – but what about airlines like Wizz Air (WIZZ), which is based in Hungary and shares a border with Ukraine?
Wizz Air's share price has been hit incredibly hard over the last month. A glance at the share chart shows that on 15 February 2022 – before Russian troops advanced into Ukraine, the stock price was 4,549p – exactly one month later the stock price stands at 2,718p.
The challenge for all airlines – particularly those in the 'budget' category – is how to maintain competitive prices while juggling higher input costs.
Ukraine expansion plans
But Wizz Air has the additional challenge of not only being on the Ukraine border but by its own admission, pinpointing Ukraine as an important part of its growth plans.
In 2019, Wizz Air announced a massive expansion in Ukraine – with seven new routes opened up from Odesa and Lviv.
The reason for this expansion was that pre-pandemic, the numbers looked good.
In the first seven months of 2019, WIZZ carried nearly 1.3 million passengers on its low fare routes to and from Ukraine, which represented almost a doubling of traffic year-over-year.
Expansion in Ukraine was evidently central to Wizz Air's plans to grow its fleet significantly, but that is now all in doubt.
Wizz Air finally suspended all flights to Ukraine and to Russia until further notice at the end of February – almost a week after rival airlines Swiss Air and Lufthansa had taken similar action owing to concerns over passenger safety.
Time will tell how long these suspensions will last, not to mention the impact on earnings. And who knows what Vladimir Putin's plans are for other former Eastern Bloc countries that border Ukraine such as Hungary.
Susannah Streeter. senior investment and market analyst at Hargreaves Lansdown, says the conflict in Ukraine (necessitating long detours around the region) and fears that renewed optimism within the travelling public will be severely dented, has led to a big slide in airlines and travel sector stocks.
"Wizz Air had already been dented by fears about the impact of Omicron on sentiment and the invasion has sent investors scurrying, after such high hopes for a revival in business".
She adds: "Wizz Air shares have now fallen 43% year to date, as confidence in the airline's ability to boost bookings in the immediate future has evaporated. The highly volatile oil price is also fast turning from a headache to an intense migraine for airlines, with fuel costs likely to become a greater burden if the geopolitical tensions continue to stay heightened.
Ordinarily the fact that Wizz Air is focused on eastern European routes would be seen as a benefit, Streeter argues, as it has a near monopoly and can keep costs very low by flying into smaller airports, away from central hubs.
"But its proximity to the conflict now is seen as a big drawback, with alternative Eastern European holiday spots not likely to gain popularity and confidence in the travelling public likely to stay depressed, if war continues to rage on the doorstep,'' she says.
What is your sentiment on EZJgb?
Vote to see Traders sentiment!
Oil prices and 'hard talks'
Danni Hewson, financial analyst at AJ Bell, illustrates just how quickly various factors are impacting the sector right now.
"What a difference a week makes. The price of a barrel of brent crude has been steadily falling back, talks, even if they're "hard" between Russia and Ukraine, are underway and the UK has announced the lifting of the last of the Covid travel restrictions. All those factors have come together to help airline stocks pair back some of the losses they've incurred since the invasion of Ukraine began at the end of February," Hewson says.
Hewson points out that while Wizz Air, with its Hungarian base precariously close to Ukraine, is still 35% down on where its shares were at the start of the year, it's actually easyJet that has experienced the biggest fall in its stock price.
"The sector as a whole has been fighting to position itself for summer 2022, ready to start clawing back some of the huge losses it incurred during those lean pandemic years. War isn't good for confidence, and there will be people putting off booking their summer holidays while they wait and see exactly what will transpire in Ukraine," she says.
There will be investors who rushed to sell shares in the airline sector as the first Russian troops stepped onto Ukraine soil, while others will have balked when the oil price surged above $100 a barrel. And yet more, Hewson argues, will have been considering how the cost-of-living crunch will offset the simple need of people to get away from the humdrum for a few days of blissful escapism.
The flipside is that there are many families who still have pent-up savings and even more for whom a holiday isn't a luxury this year but a necessity.
"Life is hard and getting harder and airlines will be under pressure to try and keep costs down in order to make sure every seat is filled. Because that is the real enemy, airlines aren't optimists and half full just won't cut it when fixed costs are so high," Hewson explains.
Intense competition between airlines
Competition will be fierce at every level, Hewson insists. From cheap and cheerful package deals to exotic all-inclusives; from no-frills city breaks to transatlantic luxury jaunts, "Airlines are jostling for position with their elbows firmly tucked out".
Hewson concludes: "While war dominates the front pages, and some routes will remain closed, the biggest issue for all airlines will be getting the cost ratio right.
"Many airlines have gambled that hedging is the way to go when it comes to their fuel. But how will the resurgence of Covid in China impact those oil prices, will they keep on falling? If they do, then the fully unhedged Wizz Air might come out on top, but there are plenty of variables to consider and a whole lot of flying hours ahead."