Wizz Air (WIZZ) in recovery but still suffers operating loss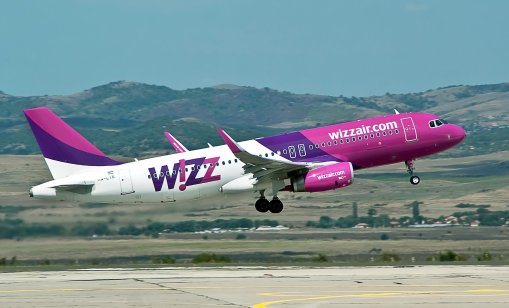 Budget airline Wizz Air remains "cautiously optimistic" that the beleaguered industry will continue recovering from the impact of Covid-19.
The Hungary-based company revealed passenger numbers significantly exceeded 2019 levels during the three months to the end of December 2021.
But it also reported a €213.6m ($241m) operating loss for the period due to travel restrictions affecting demand and the cost of ramping up its workforce, fleet and routes.
Impact of Omicron
According to József Váradi, the airline's group chief executive, Wizz Air carried 7.8 million passengers in the quarter, with a load factor – the percentage of available seating that was filled – of 77.1%.
"The emergence of the Omicron variant and renewed travel restrictions impacted our trading performance late in the quarter and we expect demand in January, February and part of March to be impacted by ongoing travel uncertainty," he said.
As such, Váradi anticipates the operating loss for the fourth quarter to be slightly higher than the €213.6 operating loss declared for quarter three.
What is your sentiment on WIZZ?
Vote to see Traders sentiment!
Cautious optimism
Despite the short-term headwinds, Váradi is cautiously optimistic for a continued recovery into spring and near-full utilisation from summer 2022 onwards.
"We continue to back our strategic choices to invest in our fleet, grow our bases and routes, and lower our unit cost in order to take advantage of the market created in the wake of Covid-19," he said.
He also highlighted the recently acquired portfolio of slots at Gatwick airport that will enable Wizz Air to have a base of five aircraft with access to customers in the crucial London and South of England market.
The airline dilemma
According to Russ Mould, AJ Bell's investment director, Wizz Air's results "perfectly illustrate" the sector's predicament.
"Passenger numbers are picking up and there are more bums on seats per available plane," he said. "Unfortunately, the business is still loss-making, which is unsustainable in an industry that has high fixed costs."
However, Mould pointed out that the company's investments were likely to help it secure an even bigger slice of the aviation market.
"Fortune favours the brave and there are growing signs that Wizz Air, and other airlines, could be in a stronger position in the coming months," he said.
Sector recovery
Mould also believes investors looking for areas that have potentially been oversold might explain why aviation stocks appeared in demand on Wednesday.
"British Airways owner International Consolidated Airlines flew 5.6% higher, Deutsche Lufthansa gained nearly 5%, EasyJet advanced 3.6%, and Jet2 moved up 3.2%," he said. "Wizz Air was the laggard, albeit still rising 1.6% off the back of its latest results."
However, Mould doesn't believe the sector's recovery will be easy, with high oil prices translating into more expensive fuel costs. It's also unclear how airlines will respond to the competitive environment.
"Will they go for all-out price war to fill planes in the important summer period, or will they argue pent-up demand means consumers might pay up if it gets them a long-missed fortnight away?" the investment director said.
Confidence shaken
Susannah Streeter, senior investment and markets analyst at Hargreaves Lansdown, believes fresh travel restrictions and resting requirements have shaken the confidence of the travelling public.
"Planes are taking the strain, with the seven-day average number of UK daily flights in the week ending 16th January at 51% of the level seen in the equivalent week in 2020, before Covid hit," she said.
However, there are reasons for optimism. "Compared to the bleak winter of 2021, when the UK went back into a long lockdown and there were mass cancellations across the board, there has been an improvement," she added.
Strong demand for aircraft
The latest Global Market Forecast from aircraft manufacturer Airbus for 2021 to 2040, seen by Capital.com, also offers positive news to the industry.
It predicts a full recovery of air traffic between 2023 and 2025, as well as the accelerated retirement of older, less fuel-efficient aircraft.
This translates into a need for 39,000 new-build passenger and freighter aircraft.
"As a consequence, by 2040 the vast majority of commercial aircraft in operation will be of the latest generation, up from some 13% today, considerably improving the CO2 efficiency of the world's commercial aircraft fleets," it stated.
Passenger growth
The Airbus report also highlighted how passenger traffic has "demonstrated its resilience", despite nearly two years of lost growth over the Covid-19 period.
It expects a return to annual growth of 3.9% per year, driven by expanding economies and commerce around the globe, including tourism.
"The middle classes, who are the likeliest to fly, will grow in number by two billion people to 63% of the world's population," it stated. "The fastest traffic growth will be in Asia with domestic China becoming the largest market."
Key buy recommendations
In a recent report sent to Capital.com, Gerald Khoo, an analyst at Liberum, highlighted three airline stocks on which he currently has 'buy' recommendations.
IAG
Khoo pointed out that optimism coming with November's reopening of the US-Europe routes has given way to fears over renewed restrictions, triggered by the Omicron variant.
However, the analyst said these were yet to impact key long-haul routes. "We remain optimistic that summer 2022 could still offer a more normal travel environment," he added.
easyJet
A "reinforced balance sheet" could give the airline scope to "seize post-pandemic opportunities" as slots at key primary airports become available.
"We anticipate easyJet reallocating capacity and capital to areas of existing strength and strong returns," said Khoo. "This implies better returns once capacity returns to pre-pandemic levels."
Ryanair
According to Khoo, Ryanair's ambitious medium-term growth plans, and its access to new aircraft deliveries, have seen it bet on a strong recovery in Summer 2022.
"Recent share price weakness creates a more reasonable entry point into a long-term structural winner, albeit with greater risk in the short term, given the uncertainty created by the Omicron variant," the analyst said.