Will the crypto market decline continue in 2022?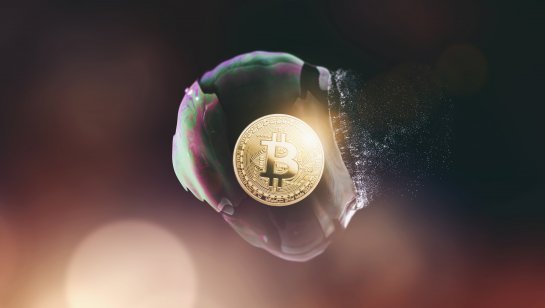 The year 2021 brought more than $2trn (£1.47trn, €1.76trn) of inflows into the cryptocurrency market, but $1trn of that has already been lost. As 2022 advances, the market appears a little more settled... so, has the crypto crash peaked, or is it likely to resume in 2022?
The cryptocurrency market boomed as money flowed into the markets: at the beginning of 2021, the total market cap was less than $800bn, but by November, it had reached $3trn. But as monetary policymakers became more hawkish, the market was hit by outflows that took the market cap down below $2trn.
Where does it go from here? Some market watchers are predicting its trajectory based on historical parallels.
Bitcoin (BTC) and the rest
In 2021, bitcoin's market dominance – or its share of the cryptocurrency market capitalisation – shrunk by half, as a plethora of new crypto projects and new products such as non-funglible tokens (NFTs) flooded the market.
Bitcoin started the year with a 70% market share, which fell to 39.5% – representing a three-year-low.
Analysts from cryptocurrency intelligence firm CryptoCompare believe that in this year, the wheat will be separated from the chaff.
In a report, CryptoCompare authors wrote: "New projects that expand the use cases of crypto will lead to declining bitcoin dominance, whereas projects with no added value will eventually capitulate and lead to an increase in bitcoin dominance.
"Thus, an intriguing question to pose to a market without a blow-off top is through which mechanism will unproductive assets cease to receive funding?"
Historically, when hype in the market was followed by a burst, the 'weeds' of the market were temporarily hit, as in the examples below; this year may well reveal a similar trajectory.
What is your sentiment on ETH/USD?
Vote to see Traders sentiment!
The 2017 boom/2018 bust
Bitcoin saw its dominance decline in 2017 during a period of hype surrounding a horde of initial coin offerings (ICO). This was followed by BTC crashing by 60%.
"There were some incredibly important projects. However, they were very rare – only a few meaningful projects a year," Pantera Capital blockchain and cryptocurrency investor Paul Veradittakit writes.
"By the end of the year, we were getting 50 white papers a week. Obviously, it's impossible to come up with 50 genius ideas each week, every week. Most of these projects were not useful," he adds. "The market didn't know that yet A huge amount of money went into them."
Bitcoin – the oldest cryptocurrency on the market – started the year 2017 at $921 and ended it at $13,062. In February 2018, BTC was trading in the $7,000s.
Seasoned market watchers will be aware of cyclicality in the market, where bear and bull runs repeat after four years. Could the history repeat itself?
The 2000s dot.com crash
"It is important to note that this dynamic is not necessarily applicable to just crypto – the dot.com bubble burst of 2000 saw an abundance of poor internet companies collapse," analysts from CryptoCompare say.
During the so-called dot.com-bubble era from the mid-1990s–2002, the hype around internet companies attracted large inflows into the emerging sector. The boom was followed by a bust, and by 2002, shareholders had lost some $5trn.
Some firms died off, but several of those whose business models were successful enough to survive emerged from the collapse to become some of the world's biggest companies by market capitalisation.
CryptoCompare analysts comment: "Internet firms such as Amazon, which at the time proved to be adding value to the ecosystem, were greatly harmed during the burst, but still managed to survive and persevere. Amazon saw a 95% decline in its stock price from its peak in 1999 to its low in 2002."