Wickes (WIX) share price forecast: where next for the UK home improvement retailer?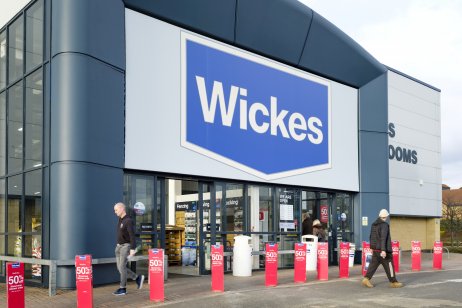 Wickes, the UK home improvement retailer, became a standalone company on the London Stock Exchange in April this year, after demerging from builders' merchant Travis Perkins.
It has 232 stores serving local tradespeople and do-it-yourself enthusiasts. The business also offers so-called 'do-it-for-me' services to help bring home projects to life.
However, the share price has endured a pretty rough ride since the demerger – despite Wickes delivering better-than-expected interim pre-tax profits and declaring its first dividend.
The stock is currently at £2.36 a share, which is around 10% lower than the closing price on the first day of trading after the demerger. So, what has happened?
Here we examine the company's finances, discuss what's next and consider whether its shares are 'buy' or 'sell' contenders at their current level.
Wickes stock price analysis: downtrend continues
Shares in Wickes started trading at £2.50 on their first day of trading on 28 April 2021 and had risen to £2.63 as the market closed. A 5% increase wasn't a bad start.
The stock's highest closing price came in June when it reached £2.77, but the price has been pretty much in decline ever since.
Its lowest point came in mid-September when shares sank to £2.32. Since then, it's slowly edged back up to its current £2.36 level.
Such a performance is clearly disappointing and particularly so when compared to the fortune of Travis Perkins. The former parent company's stock has risen around 10% over the same period.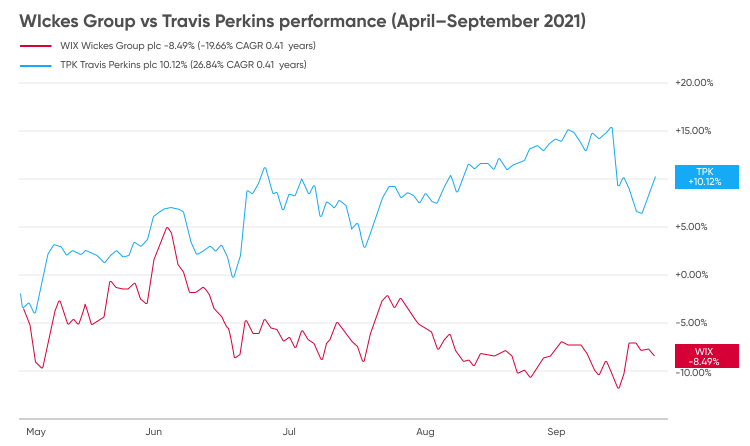 Wickes's share story: the demerger
The demerger story started in December 2018, when Travis Perkins unveiled a long-term strategy to simplify the group and introduce a streamlined cost structure.
The following July, it announced its intention to demerge Wickes. However, the process was put on hold in March 2020 due to Covid-19 and was restarted a year later.
In the lead-up to the demerger's completion, the move was portrayed as a win-win scenario for both businesses.
Nick Roberts, CEO of Travis Perkins, said it was an important step towards simplifying the group and enabling his company to focus on trade customers.
"The separation will allow both businesses to allocate capital to drive growth and further enhance their market leading positions," he said.
Meanwhile, CEO of Wickes, David Wood, said it would be a "transformational moment" for his business.
"The results we delivered during this period are evidence of the strength of our unique proposition, digital capability and efficient operating model, which has enabled us to respond rapidly to the changing demands of our customers," he explained.
Wickes share analysis: WIX price has lost a little of its sparkle
Danni Hewson, financial analyst at AJ Bell, agrees the Wickes share price has "lost a little of its sparkle" but believes the company's biggest problem is not Travis Perkins.
"Investors' seeming disinterest seems a little harsh when you consider the DIY store's first set of figures which came in above expectations, saw it raise profit forecasts and deliver shareholders their first dividend," she said.
Hewson suggests unenthusiastic investors are being influenced by longer-term issues and concerns.
"They may be considering whether the post-pandemic DIY boom is sustainable and whether the much-discussed global supply issues will have a knock-on effect later in the year," she added.
Wickes fundamentals: latest earnings
Wickes recently released a strong set of interim results, covering the 26 weeks to 26 June, 2021.
It said revenue was up 32.5% to £812m, with adjusted pre-tax profits of £46.5m, comfortably ahead of the £45m guidance that had been given.
In a statement, the company declared its first interim dividend of 2.1p per share, and said it expected full-year profits to be towards the upper end of market expectations (£67m-£75m).
CEO David Wood branded it a "strong first-half performance", underpinned by its attractive digitally led, service-enabled proposition.
"In our first set of results since demerger, we have delivered an increase in sales and profits as we continue to help the nation feel house proud," he said.
Wood also pointed out that a strong relationship with suppliers meant that Wickes has "navigated inflationary pressures and raw material constraints well" – and that this remained the case.
Wickes stock outlook: reasons for positivity
Looking ahead, David Wood argued that external factors continued to indicate strong growth opportunities in the wider home improvement market.
"An ageing housing stock, continued property transactions and growing consumer confidence are all driving customers to improve their homes," he said.
Wood also believes the lockdowns experienced over the past 18 months have changed the attitudes of many people.
"The increased time spent at home has fuelled the desire to renovate and refurbish – not only from homeowners – but also amongst rental tenants and the millennial generation," he added.
What is the Wickes stock price prediction?
Are Wickes shares buy or sell? There is a difference of opinion when it comes to the outlook for Wickes. Based on the Wickes Group share price forecast by just one analyst, MarketBeat suggests the stock could reach 420p in the next 12 months.
Two analysts surveyed by TipRanks also back a positive Wickes stock prediction. The stock got a "Moderate Buy" smart score rating and a 366.50p average price target based on positive investor sentiment and technical analysis data.
However, algorithm-based analysis by Wallet Investor suggests that the share price is likely to go the other way, with a 3.8% fall to 233.9p on the cards for the coming year.
Keep in mind that analysts' forecasts can go wrong. They are based on the stock's past performance, which never guarantees future results. We encourage our traders to conduct their own due diligence before making any trading decision.
Wickes (WIX) share price forecast: analyst sentiment
In a broker note, Sam Cullen, an analyst at Peel Hunt, argued the company's share price was far too cheap given its quality and the market backdrop.
"Given the latter and the group's balance sheet strength we think the case for enhanced shareholder returns, either through a special dividend or buyback, will look increasingly compelling should the shares fail to re-rate," he said.
Wayne Brown, an analyst at Liberum, believes delivering upgrades in the current environment is impressive.
"It reflects Wickes' well-balanced, digitally led, market-leading customer proposition supported by what we see as long-term structural RMI tailwinds," he said.
He also sees Wickes as one of the best ways to play the UK RMI (renovation, maintenance, improvement) trade.
"The shares remain far too cheap for the high-quality growth, upgrade momentum and strong cash generation on offer," he added.
In a separate report focused on its digital capabilities, Brown said Wickes had transformed into a "digitally led" and integrated product and services business.
It noted that "two-thirds of customer journeys" use a digital channel at some point and estimated around a third of revenue was purely online.
"Having been part of the Travis Perkins group for many years, we believe that Wickes' high quality digitally-led integrated business model remains underappreciated by the market," he wrote.
AJ Bell's Danni Hewson acknowledged that uncertainty could continue to act as a dampener on the stock but remains upbeat about its prospects.
"Slowing economic growth coupled with rising prices must be a concern but our houses have become more than just a place to live," she told Capital.com.
The trend towards hybrid working is a prime example.
"It suggests there's still a lot of growth in the pipeline as we shoehorn offices into airing cupboards or succumb to the lure of the 'Zoom-worthy' book corner," she added. "Wickes looks cheap and while there are never any guarantees there's a lot to like and a lot of potential steady, though not stellar, growth."
Wickes Group: company history
The company's history can be traced back to 1854 and the launch of a modest lumber business in Michigan, USA, by Henry Dunn Wickes and his brother.
The business developed during the property boom that happened in the US during the 1950s with one-stop-shop builders selling a wide variety of construction products.
The first UK Wickes opened in 1972 in Whitefield, Manchester. The concept was a traditional DIY store that sold to the trade. Customers were tradesmen and keen do-it-yourself enthusiasts.
Within 25 years there were 100 stores operating in the UK. The business was then bought by the Focus Group in 2000 and by Travis Perkins, the builders' merchant, five years later, for £950m.
This year – 2021 – it demerged from Travis Perkins plc to become a standalone business on the London Stock Exchange.
Edited by Alexandra Pankratyeva
FAQ:
Is Wickes a good buy?

Whether Wickes is a suitable investment for you will depend on your personal research and trading strategy. You need to perform your own due diligence and decide if the WIX stock meets your needs and appetite for risk.
Why are Wickes shares dropping?

Despite delivering increased revenue and profits, analysts suggest investors may be anxious about a possible economic slowdown and there is less enthusiasm for home improvement.
Will Wickes share go up?

This depends on a number of variables. It's crucial to do your own research to form an opinion of a company's performance and likelihood of achieving analysts' targets. Remember that markets are volatile and past performance of the stock does not guarantee future gains.
Read More: Demerged Wickes sees rise in profit and declares dividend