Who owns the most Bitcoin Cash? 'Bitcoin Jesus' Roger Ver among biggest BCH holders?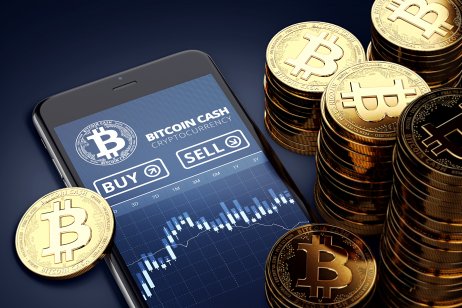 Bitcoin (BTC) is currently the most valuable cryptocurrency. However, it is not without its issues. It permits a relatively small number of transactions per second, limiting its utility for payments.
To meet this concern, bitcoin cash (BCH) was launched in August 2017. It is a peer-to-peer digital currency that emerged from a Bitcoin hard fork.
Bitcoin cash is one of the top 30 coins today (2 September), with a market capitalisation of $2.21bn, according to CoinMarketCap.
Even though the goal of cryptocurrencies is decentralisation, a few large holders, known as whales, can control a considerable portion of the supply. As a result, whales have a significant effect in determining the direction of a coin's price.
Who owns the most bitcoin cash? Here we take a look at the BCH circulating supply and ownership concentration.
What is bitcoin cash?
Bitcoin cash (BCH) is a decentralised peer-to-peer electronic cash system, independent of any government or financial organisation.
Bitcoin cash, unlike Bitcoin, intends to scale to fulfil the needs of a global payment system and provide a cheaper, quicker method of processing payments.
The bitcoin cash block size was extended from 1MB to 8MB at the time of the fork. It currently (2 September) supports up to 32MB.
A larger block size enables bitcoin cash to process more transactions per second (TPS) while keeping costs very low, thus resolving the payment delays and excessive fees encountered by certain Bitcoin network users.
Bitcoin cash transactions often cost less than a cent, and settlement is almost instantaneous, regardless of the participants's physical location. This makes the crypto helpful for remittances and international trade, and everyday transactions such as grocery shopping.
Because of its cheap transaction costs and fast transaction times, bitcoin cash is also suitable for microtransaction use cases, such as tipping content producers and rewarding app users.
Bitcoin cash also includes smart bitcoin cash (SmartBCH), a sidechain for bitcoin cash that aims to explore new concepts and unleash new opportunities.
SmartBCH is compatible with the Ethereum Virtual Machine (EVM) and the Web3 API. It delivers high throughput for decentralised applications (DApps) in a safe, quick and decentralised way.
What is your sentiment on BCH/USD?
Vote to see Traders sentiment!
Bitcoin cash tokenomics
Like bitcoin, the total supply of bitcoin cash is hard-capped at 21 million coins. Of those, 19.16 million were in circulation at the time of writing on 2 September.
Additionally, similar to bitcoin, bitcoin cash undergoes a halving over time. Block halving occurs every four years. The first BCH halving occurred on 8 April 2020, marking the end of the period in which miners earned 12.5 BCH per mined block and the beginning of the current cycle in which miners receive 6.25 BCH per mined block.
The subsequent halving will reduce the block reward to 3.125 BCH, and is anticipated to occur in January 2024.
The halving policy was programmed into the Bitcoin mining algorithm to combat inflation by preserving scarcity.
Who owns the most bitcoin cash?

CoinCarp data provides substantial information on who owns the most bitcoin cash. As of 2 September, there were 17.12 million BCH holders. It is worth noting that there has been no change in total wallets and ownership concentration in the last month.
At the time of writing (2 September), the largest BCH whale controlled 4.26% of the BCH coin supply. The wallet has the most bitcoin cash, amounting to 893,949 tokens, equivalent to $103,360,479. The second-largest BCH wallet held 288,019 tokens, or 1.37% of the supply.
Huobi Global, one of the leading cryptocurrency exchanges, held 183,687 BCH coins, or 0.88% of the BCH supply, making it the third-biggest BCH holder.
Further analysis showed that Kraken, another leading cryptocurrency exchange, also held a combined 0.29% of BCH supply in two different wallets, amounting to 61,429 tokens.
The stats showed that the top 10 bitcoin cash holders controlled 11.19% of BCH coins. The top 100 holders controlled 28.4% of supply.
It is unclear who exactly owns these wallets. Bitcoin Jesus' Roger Ver, Calvin Ayre and Jihan Wu could hold large amounts of BCH, but there is no evidence to support this.
Chainanalysis data revealed that BCH held for over 52 weeks had declined by an average of 2,900 BCH in the past four weeks.
The longer an asset is kept, the greater the probability that its holders are utilising it as a store of value or are inactive.
During the same period, bitcoin cash, with unrealised profits of 100% or more, climbed by an average of 117.79k BCH a week during the past four weeks – the highest increase in seven weeks.
The bigger the unrealised gain, the greater the likelihood that a person would sell assets in an exchange and realise any profit.
The road ahead for bitcoin cash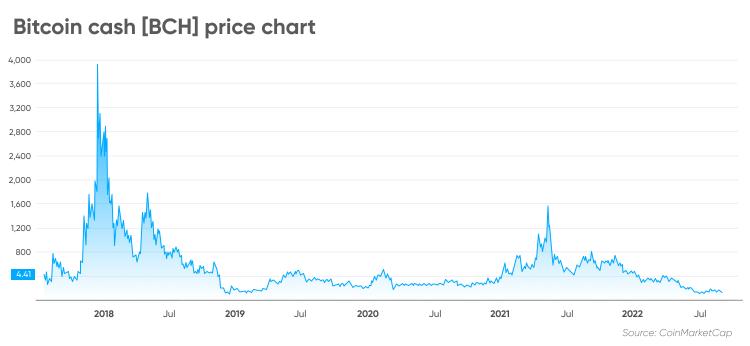 Bitcoin cash has been witnessing a bear market in the past couple of months. As of 2 September, BCH was trading at $116.51, down over 72% year-to-date (YTD), with a market cap of $2.4bn, making it the 29th biggest cryptocurrency.
Volatility in the broader cryptocurrency market worsened during June and July, and many coins declined to their 52-week lows. BCH reached a 52-week low of $96 on 13 July as investors pulled out due to inflation fears and market volatility.
According to Macroaxis, the correlation coefficient between Bitcoin and Bitcoin Cash prices over the last three months is 0.97, indicating a reasonably positive correlation.
This coefficient ranges from -1 to 1, where -1 is the strongest negative correlation, 0 is no correlation and 1 is the strongest positive correlation.
A negative coefficient means that prices of the two cryptocurrencies are going in an opposite trend, while a positive coefficient indicates that prices are moving in a similar direction.
It is fair to say that the BCH price has been moving largely in tandem with the BTC price.
Meanwhile, the development team hasn't shared any meaningful news over the years. In fact, the last official tweet from the bitcoin cash team was in November 2020. It remains uncertain what the future holds for BTC.
The bottom line
Although knowing who owns the most BCH may be crucial, you should always perform your own due diligence before trading, studying the latest news, technical and fundamental analysis, and analyst commentary.
Previous performance does not guarantee future results. And never trade with money you can't afford to lose.
FAQs
Is Bitcoin cash a good investment?

Bitcoin cash (BCH) emerged as a bitcoin hard fork in August 2017. It is a peer-to-peer digital currency that functions as an electronic cash payment system. Since reaching an all-time high of $4,355.62 in December 2017, its price action has been bearish, with the coin presently trading over 98% below the peak.

Whether a high-risk asset like BCH is a good fit for your portfolio depends on your circumstances and risk tolerance. You should do your own research and analysis, taking into account your expertise in the market and attitude towards risk, as well as who owns the most BCH. Remember to never trade or invest money that you cannot afford to lose.
How many Bitcoin Cash are left?

According to CoinMarketCap, bitcoin cash has a maximum supply of 21 million tokens and, as of 2 September, a circulating supply of 19.16 million tokens. This suggests that 1.84 million BCH tokens are still left to be mined.
Is BCH better than BTC?

BTC and BCH are peer-to-peer digital currencies. As of 2 September, BTC has the highest market capitalisation of any coin.

However, cryptocurrency is an inherently risky asset class. You should do your own research and analysis, taking into account your expertise in the market and attitude towards risk, as well as who owns the most BCH. Remember to never trade or invest money that you cannot afford to lose.