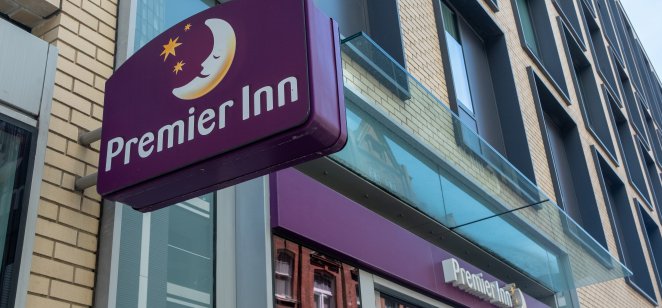 Content
The Whitbread (WTB) share price has been on a downward spiral this year – and sunk even further after the UK hospitality group confirmed chief executive Alison Brittain will leave in 2023.
It means the Premier Inn owner's stock price has slumped 21% from £31.34 in early January to £24.65 during early trading today on the London markets.
But analysts believe now could be an attractive entry point for investors, with the company enjoying strong trading and about to embark on a multi-million pound investment plan.
Whitbread (WTB) share price chart
Strong performance
The Whitbread share price has remained weak over recent months, despite announcing a return to profit and better-than-expected trading.
The company revealed a statutory pre-tax profit of £58.2m for the year ending 3rd March 2022 – compared to the £1bn loss the previous year as sites closed due to the lockdowns.
It has since reported strong trading in the UK and Germany during the first quarter of 2023, with total accommodation sales 235.6% ahead of the same period last year.
Ahead of pandemic levels
Chief executive Alison Brittain said the first-quarter performance was "well ahead of pre-pandemic levels" and the company continued to significantly outperform the market.
"This outperformance is driven by a number of factors, including our commercial and operational focus as well as the strength of our brand and operating model, our direct distribution, national coverage and accelerated independent supply contraction," she said.
She highlighted the quality of its 40 German hotels and pointed out that a further 38 were in the pipeline.
New boss at the helm
Whitbread confirmed yesterday (29th June) that Brittain would be replaced at the helm next year by Dominic Paul, the current chief executive of Domino's Pizza Group.
Its chairman, Adam Frazier, said in a statement: "We are confident Dominic's great track record of growing and transforming consumer brands in the UK and internationally will help to lead Whitbread in the next stage of the group's development."
However, the news received a lacklustre response. In fact, the Whitbread stock price fell around 3% on the day.
A "knee-jerk' reaction
Danni Hewson, financial analyst at AJ Bell, attributed the fall to a "knee-jerk reaction to unexpected change" and uncertainty.
While noting the hotel arm was "powering ahead", she said the food and drink offer was still trying to get back to pre-Covid sales levels.
"The new boss has more than a few plates to keep up in the air, from finding extra cash to attract new workers and keep existing ones happy, to navigating the cost-of-living crunch that's nibbling away at people's discretionary spend," she added.
Upgrades are possible
According to Ivor Jones, an analyst at Peel Hunt, Whitbread's share price has "underperformed a falling market" since the company reported full year figures in late April.
In a recent note, he insisted the strength of trading reported meant there was "potential for upgrades", despite increased costs.
"A UK economic slowdown with full employment is relatively good news for Premier Inn," he said. "A significant proportion of demand comes from people travelling for work who need to be on a variety of sites."
What is your sentiment on WTB?
Vote to see Traders sentiment!
Improving visibility
Anna Barnfather, an analyst at Liberum, has a 'buy' recommendation on the stock and a target price of £33.20, representing a 35% premium over the current £24.66 level.
She pointed out that momentum was gathering and "visibility is improving across all divisions", while UK accommodation sales were significantly ahead of pre-Covid levels.
"The faster than expected recovery has continued into the start of the year with improved visibility into Q2 with 40% booked," she said. "Leisure demand looks strong for the summer and business demand supported by the return of 'white collar' demand."
Further investment
Barnfather also highlighted Whitbread's plans to invest a further £20m-£30m in labour, refurbishment and IT.
Half of this figure is related to "targeted hotspot pay", effectively pulling forward planned pay increases in certain areas where the labour market is tight.
"This accelerated investment should help the business to maintain its outperformance against the more capital constrained Mid and Economy segment peers," she said.
Longer-term resilience
While rising costs of living could leave hotel chains exposed, Premier Inn is likely to be more resilient than most of its competition, according to Charlie Huggins, head of equities at Wealth Club.
"At the worst point in the financial crisis, Premier Inn's like-for-like sales declined by about 8%," he said. "Painful yes, but a far better performance than most hotel chains."
Huggins believes the biggest factor in Premier Inn's favour is its brand. "It's known for offering great value for money and sits firmly in the 'budget category," he said. "This means it's historically benefitted from consumers trading down when they're looking to tighten their belts."
Cost advantage over rivals
Huggins also highlighted Premier Inn's cost advantage over rivals, which he claimed was due to its scale and the fact it owns more than half its hotels, rather than paying costly leases.
"A very high proportion of bookings are made direct too, a far cheaper means of customer acquisition than paying commission to third party online travel agents," he said.
While this doesn't mean Premier Inn is immune to inflationary pressures, especially labour shortages, Huggins believes it has more options than many of its peers.
"That should provide scope for further market share gains, especially if conditions take a turn for the worse," he added.