Binance Smart Chain (BSC): Ethereum's strongest rival?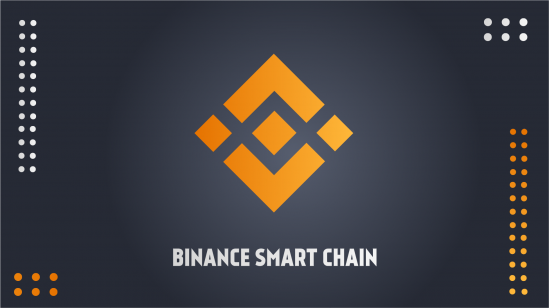 The rise of Ethereum (ETH) as an important infrastructure blockchain on top of which decentralised applications (dApps) can be built has also highlighted the flaws and limitations of its design. This is also happening at the same time as gas fees experienced a jump as network usage increased.
Moreover, the network has also displayed scalability issues resulting in slow transaction-processing speeds during times of elevated congestion. In addition, the proof-of-work (PoW) scheme has proven unfriendly to the environment as a result of the high volume of electricity this model requires for powering the network.
In response to these flaws, the Binance Smart Chain (BSC) has emerged as an alternative to Ethereum by introducing a Proof-of-Staked-Authority (PoSA) protocol – an innovative consensus protocol that is less energy-intensive. It is also cheaper and faster.
In the following article, we'll explain in detail what BSC, how it works and which token powers it. We'll also outline some plausible predictions for the price of Binance Smart Chain (BSC) coins for 2021, 2022 and 2025.
What is Binance Smart Chain (BSC)?
The BSC acts as a parallel network to the Binance Chain – the network that enables the decentralised exchange of the BNB token.
In this regard, the BSC network was designed to support the development of decentralised apps (dApps) that can also connect to the Binance Chain. Moreover, the network's design is compatible with the Ethereum Virtual Machine (EVM), a computation engine that acts like a decentralised computer. It is also responsible for executing smart contracts.
The BSC's compatibility with the EVM allows developers to build smart contracts powered by the network, which facilitates the design of dApps.
Even though they are connected, the BSC runs separately from the Binance Chain's mainnet (an independent blockchain running its own network with its own technology and protocol), which means that a disruption in one of the two should not affect the other.
For developers, the fact that the BSC is compatible with the EVM allows them to easily migrate their Ethereum-powered projects and dApps to BSC in the event they need an alternative to Ethereum's congested network.
What is your sentiment on BNB/USD?
Vote to see Traders sentiment!
How does Binance Smart Chain work?
The BSC utilises a PoSA protocol to operate. This protocol essentially requires that network validators stake a certain number of BSC tokens to participate. As a result, BSC validators are compensated through fees obtained for every validated transaction.
The Binance dual parallel-chain system allows users to make fast transfers on the Binance Chain while using the smart-contracts functionality of the BSC within the same user interface.
Different from the Binance Chain network, which is powered by BEP-2 and BEP-8 tokens, the BSC runs on BEP-20 tokens – a token standard of a Binance Smart Chain, whose architecture is similar to the more popular Ethereum's ETH-20 token. The chains are compatible, which means it is easy to swap BSC's BEP-2 and BEP-8 tokens for its BEP-20 tokens.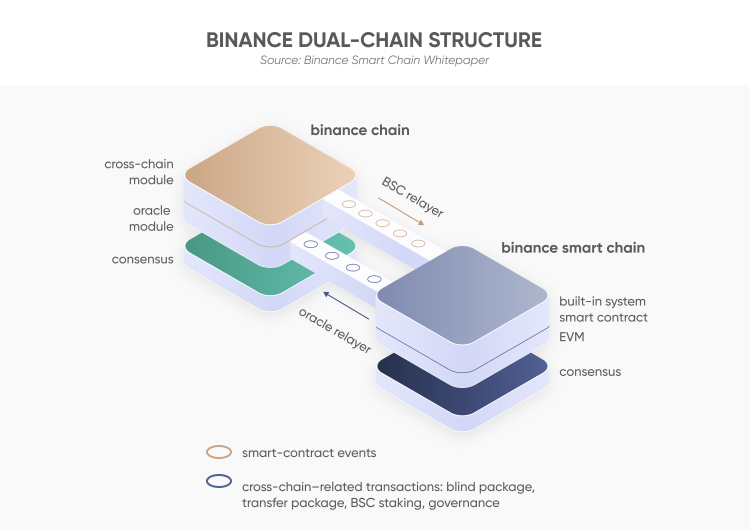 According to data from BscScan, a website affiliated with Etherscan, the Binance Smart Chain (BSC) has seen its number of daily processed transactions surge until reaching a peak of around 13 million transactions in a single day in late July. Meanwhile, the number of daily transactions has declined since then to a range between five and 10 million.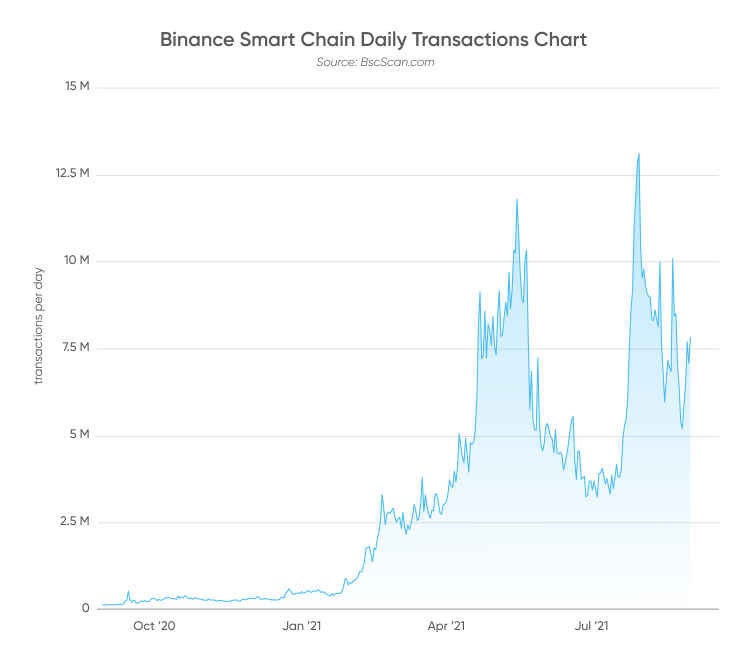 Similarly, the number of daily verified smart contracts powered by BSC appears to have peaked on 18 May when a total of 3,525 contracts were verified and has subsequently declined to around 1,000 and 2,000 contracts verified every day during August. Comparatively, the Ethereum network verified around 100 and 280 contracts during the same period.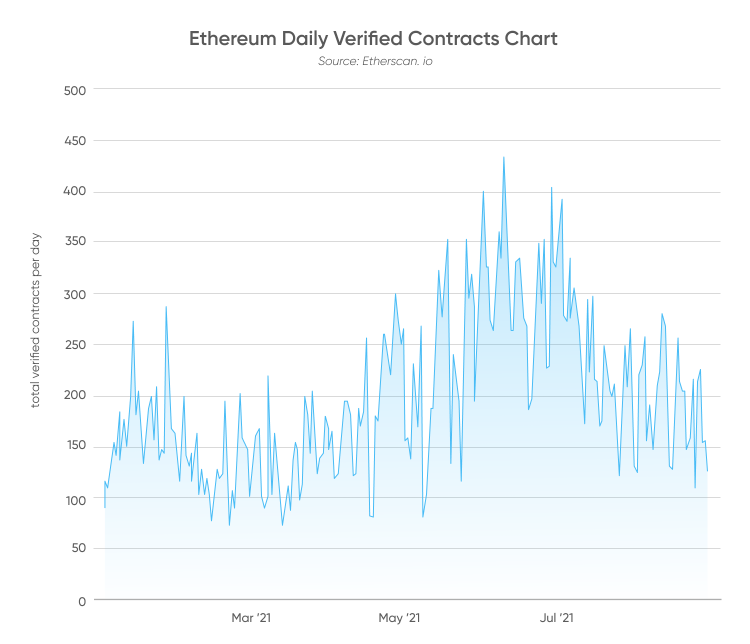 Moreover, the number of unique addresses currently registered with the network has exploded from around 1.4 million in February 2021 to over 91 million as of 29 August.
These statistics show the extent to which the BSC network has been embraced by developers seeking to power their dApps, which has been facilitated by the ease with which applications built on Ethereum can be migrated to the BSC.
Binance coin (BNB) price analysis
The BSC is powered by the BNB token, the Binance ecosystem's native crypto asset. However, this cryptocurrency is turned into a BEP-20 token when assets are exchanged through the BSC.
Therefore, this price analysis will be focused on how the price of the BNB token has evolved lately.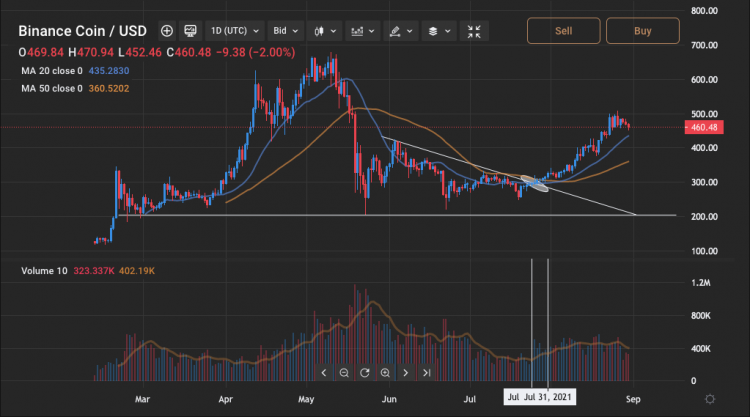 The price of BNB declined from an all-time high of around $692 per coin back on 10 May 2021 to a low of around $211 some 13 days after. Shortly afterwards, it bounced from that low level while it has posted a series of higher lows that have supported the continuation of its latest uptrend in the past weeks.
The chart above shows that the price action effectively reversed a former downtrend on 26 July on breaking a descending triangle formation accompanied by above-average trading volumes.
So far this year, this token has produced gains of around 1,180% for investors, although the price remains 30.8% below its 52-week high.
Binance coin price prediction
This break of the descending triangle and the strong uptrend that has followed have trimmed some of the losses BNB holders experienced during the early May meltdown.
Meanwhile, the higher number of smart contracts processed daily on the BSC shows that there has been an accelerated adoption of the network as a reliable infrastructure blockchain to power dApps.
Even though Ethereum is expected to roll out an upgrade soon that will effectively turn its blockchain into a proof-of-stake (POS) ecosystem, the BSC has led the way in this regard. As the two rival blockchain systems continue to innovate to keep attracting developers, competition is likely to be fierce in future.
At the moment, momentum oscillators are pointing to a weakening in this recent strong uptrend as the Relative Strength Index (RSI) is posting what seems to be a bearish divergence, while the moving average convergence divergence (MACD) has just narrowed its distance with the signal line, and is about to make a cross below.

Based on these readings, the price of the BNB token could decline near any of its two closer supports of $445 (20 SMA) and $368 (50 SMA) for a total 23% downside risk. Even though this seems fairly possible, there is no assurance that this decline will occur and investors should not consider this opinion a recommendation to sell or short-sell the BNB token.
Binance coin (BNB) forecast 2021 - 2022
Even though it is impossible to foretell what will happen with the price of a certain cryptocurrency in the future, algorithm-based forecasts from Wallet Investor are estimating that the price of the BNB token should continue to rise to around $570 by the end of 2021. It is also anticipated that BNB will make a steady climb above the $800 level by the end of 2022.
Meanwhile, according to the algorithm's predictions, the price of BNB may increase to $2,285.7 by 2026, thereby resulting in huge upside potential as long as these targets are hit.
These forecasts are drafted upon performing an analysis of the price trend and should not be considered a recommendation to invest in the BNB token, as a large number of factors could affect the performance of this crypto asset in the short and long term.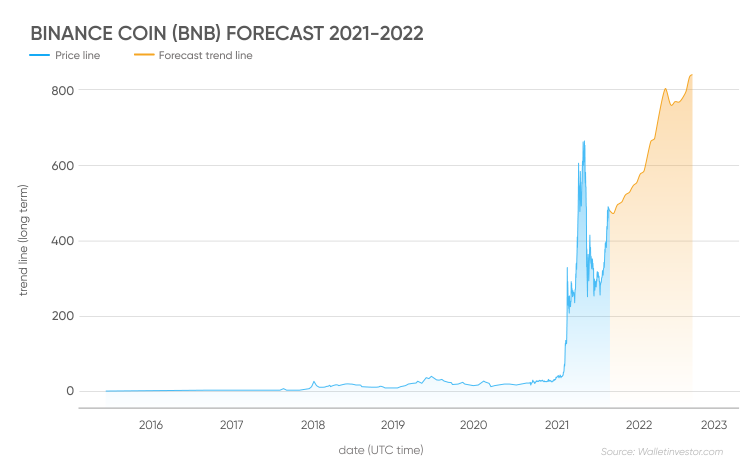 Bottom line
Now that you know more about the BSC, what do you think about the future of the BNB token?
One possible way to predict where the price of a given crypto asset is is to analyse the rate at which its underlying blockchain is being adopted by developers, alongside the adoption levels for more mainstream purposes (such as being accepted as a means of payment by e-commerce stores).
We encourage you to do your own due diligence before making any investment decisions concerning the BNB token. Cryptocurrencies are highly volatile instruments, and investors should only risk money they can afford to lose when exploring this up-and-coming asset class.