WeWork jumps as much as 12% in public debut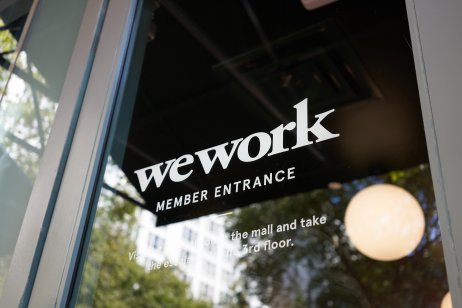 WeWork traded up more than 12% to highs of $13.93 per share in its debut on the public markets.
The co-working real-estate company went public on Thursday through a merger with special purpose acquisition company BowX Acquisition, two years after its initial public offering imploded spectacularly and became the subject of documentaries and a dramatised TV series.
BowX shares closed at $11.18 per share on Wednesday before the stock was delisted from the Nasdaq and relisted on the New York Stock Exchange at $10 per share as WeWork under the ticker "WE." At 2:30 Eastern Time, the shares were trading at $11 per share, up by around 6% on the day.
Softbank's stake
The deal values WeWork at $9bn (£6.52bn), which stands in stark contrast to the $47bn valuations it once flaunted before former CEO and founder Adam Neumann's controversial management style came under fire and the company's business projections proved to be too lofty.
Japanese conglomerate SoftBank continues to be the company's largest shareholder with a 61% stake. Softbank ended up bailing out WeWork after the company withdrew its IPO, sinking $16bn into the efforts, including $11bn of equity investment and $5bn of debt financing and payments to the ousted Neumann.
Some investors worry that any increase in the shares could trigger SoftBank to begin dumping its shares as a way to recoup those earlier costs.
Future performance
During WeWorks' investor day earlier this month, the company reported preliminary third-quarter revenue of $658m.
The company withdrew its IPO in late 2019 and was then met with the challenges of the pandemic as office spaces emptied out in favor of at-home work.
WeWork is looking at new revenue models as well including "All Access" subscriptions that give members access to all of WeWork's locations. Additionally, the company is working to roll out a workplace management platform that will allow landlords the ability to manage flexible spaces themselves.
Read more: WeWork set to go public on NYSE following successful vote
The difference between stocks and CFDs
The main difference between CFD trading and stock trading is that you don't own the underlying stock when you trade on an individual stock CFD.
With CFDs, you never actually buy or sell the underlying asset that you've chosen to trade. You can still benefit if the market moves in your favour, or make a loss if it moves against you.
However, with traditional stock trading you enter a contract to exchange the legal ownership of the individual shares for money, and you own this equity.
CFDs are leveraged products, which means that you only need to deposit a percentage of the full value of the CFD trade in order to open a position. But with traditional stock trading, you buy the shares for the full amount. In the UK, there is no stamp duty on CFD trading, but there is when you buy stocks.
CFDs attract overnight costs to hold the trades, (unless you use 1-1 leverage) which makes them more suited to short-term trading opportunities. Stocks are more normally bought and held for longer. You might also pay a stockbroker commission or fees when buying and selling stocks.