WEJO stock price nosedives on opening day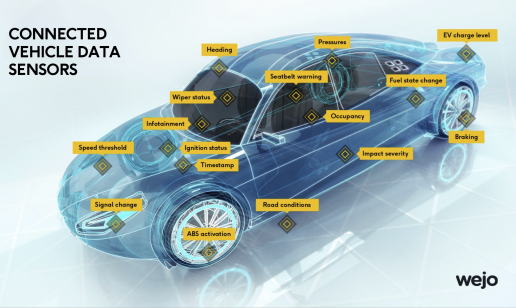 Wejo's stock price plunged more than 20% Friday as the British auto data company went public in the US through a merger with a blank cheque company.
Manchester, England-based Wejo Group valued its share price at $10 and opened on the Nasdaq Global Select market at $13.80. After some brief fluctuations, the stock trended steadily downward.
The opening came a day after Wejo and New York-based Virtuoso Acquisition Corp. announced the completion of their merger in a news release.
A blank cheque firm, also known as a special-purpose acquisition company (SPAC), exists solely for the purpose of targeting another firm and taking it public through a merger, acquisition, or other transaction vehicle.
Wejo receives $225m
Wejo received approximately $225.7m (£167.3m) in cash as a result of the merger and related private investment in public-equity (PIPE) financing, the companies said in the news release.
"This is a monumental day for Wejo and the passionate members of our team who have remained steadfastly committed to our mission of utilising data for good by solving critical mobility challenges," said Wejo founder and CEO Richard Barlow in the news release.
"The closing of our merger with Virtuoso and public market listing provides us with the platform to continue to grow our relationships with (original equipment manufacturers) and Tier 1 partners and customers, while expanding into new marketplaces, including fleet management services, end-to-end insurance, remote diagnostics, roadside assistance, car sharing, and payments."
Barlow will continue as CEO and Timothy Lee will chair the board. Lee co-founded Washington, DC-based public affairs company Hawksbill Group and was General Motors (GM) executive vice president of global manufacturing and chair of GM China.
"Connected vehicle data represents a truly transformative market opportunity for the broader mobility industry, as well as other growing markets," said Virtuoso chairman and CEO Jeffrey Warshaw. "Wejo's advanced platform and proven ability to gather high-quality, in-journey connected vehicle data will further this rapidly developing industry, while also establishing new use cases for connected vehicle data across a variety of new addressable markets."
What is your sentiment on GM?
Vote to see Traders sentiment!
SAM expected to reach $61bn
Wejo estimates that it will have a serviceable addressable market (SAM) of $61bn by 2030, according to a May 2021 company investor presentation. The firm said it has active agreements with 17 original equipment manufacturers and Tier 1 partners.
Wejo's backers include GM, automotive lighting technology firm Hella, and big-data analytics company Palantir.
The company projects net revenue will grow from an estimated $4.3m in 2021 to $764m in 2025 for a compound annual growth rate of 265%.
Adjusted EBITDA will expand from an estimated negative $57m in 2021 to positive $318m in 2025, according to an investor presentation filed this month.
Read More: Bitdeer unveils bn SPAC deal with Blue Safari