Wedbush downgrades EV maker Faraday Future (FFIE)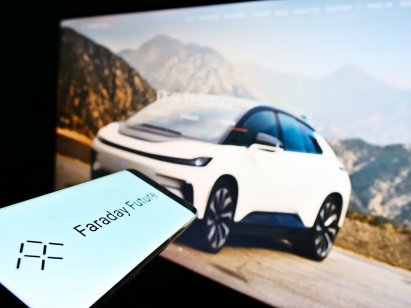 Wedbush Securities downgraded shares of Faraday Future Intelligent Electric (Faraday Future) Wednesday as the electric vehicle (EV) maker faces allegations of inaccurate financial disclosures.
The New York-based advisory firm lowered its rating for Faraday to neutral from outperform on Tuesday 16 November while reducing the stock's price target to $10 per share.
Stock down more than 5%
Faraday's stock fell 4.4% on the Nasdaq Global Select market to close at $8.44 per share.
Los Angeles, California-based Faraday announced Monday that it will not be able to timely file its third quarter financial report with the US Securities and Exchange Commission (SEC) and is currently unable to predict when it will be able to do so.
Faraday's board has formed a special committee to review allegations of inaccurate disclosures, including those contained in a short-selling report by J Capital. The committee has engaged outside counsel to conduct an independent internal investigation to review the allegations.
The company said it is committed to working with the special committee to complete its work and establish "timely financial reporting" as soon as possible.
"Faraday Future seeks to do business in the most ethical and transparent way," said the company in the news release. "As a new public company, the board, as part of its review, is seeking to ensure that the company is adhering to the highest standards of conduct."
J Capital
J Capital has alleged that Faraday did not provide an accurate number of reservations for its FF 91 sport-utility vehicles, and asserted that founder Jia Yueting may have improperly profited from the company's initial public offering (IPO) in July 2021 through a merger with blank cheque company Property Solutions Acquisition Corp.
Faraday paid out $92.3m in "advisory" fees in connection with the merger. "FFIE paid $31.8m to related parties, probably Jia – the company states that 'the vast majority of notes payable and equity have been funded by entities controlled or previously controlled by FF's founder and former CEO,'" J Capital asserted.
"The stock gets put squarely in the investor penalty box until this overhang clears, which for us represents too much risk to stay bullish at current levels," wrote Wedbush analyst Daniel Ives in a research report that he provided to Capital.com.
Massive potential
Ives said the board's review is "a clear risk that changes the Faraday story for the near term."
Faraday said it remains on track to deliver its first FF 91 sport-utility vehicles to customers in July 2022.
Ives said "any business disruption is a negative for the Faraday market share story" as the company competes for EV market share with Tesla, Lucid, General Motors, Ford, and other automakers.
Faraday still has "massive potential" to be successful thanks to a differentiated strategy around its FF 91, FF 81, and FF 71 vehicle models.
"However, (Monday) night's news puts a dark cloud over the story until we hear more from the board's ongoing review," wrote Ives.
New finance head
The company appointed a new Chief Financial Officer on 1 November. Walter "Check" McBride previously served as CFO of Iteris, SRS Labs and Capstone Green Energy.
Read More: Electric carmaker Faraday Futures goes public, raising Read More: Electric carmaker Faraday Futures goes public, raising $1bnbn