Warner Music Group (WMG) stock forecast: Playing victory tunes?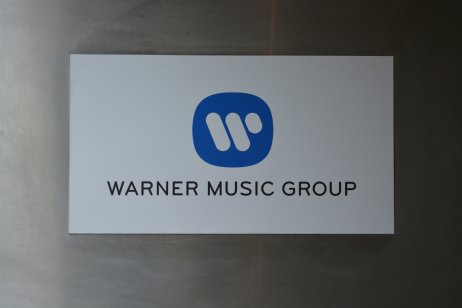 The Warner Music Group Corp. (WMG) launched its initial public offering (IPO) in June 2020. The music publishing industry has remained largely unscathed by the pandemic, and many thought the timing of the IPO opportune.
The company was traded publicly from 2005 to 2011 on the New York Stock Exchange (NYSE) until Access Industries acquired and privatised the musical giant. The company is involved in multiple stages of music production and manages artists, including superstars like Coldplay and Cardi B.
On 15 November, the company reported earnings per share (EPS) up from $0.02 to $0.05 – a 150% increase compared to the same quarter in the previous year. Revenue during the quarter was at $1.38bn, exceeding analysts' estimates of $1.36bn. On a year-on-year basis, revenue for the quarter was up by 22%.
The 15 analysts offering 12-month price forecasts had a median target of $49.00, with a high estimate of $53.00 and a low of $34.00 – a 12.98% increase from the previous 12-month median of $43.37.
The big question is whether this growth trajectory can continue without any major catalysts? Do the company's fundamentals point in the right direction?
In this article, we dig into the company's financials, look at the latest WMG news and check out analysts' stock forecasts.
WMG stock fundamental analysis
Warner Music Group announced on 9 November 2021 that its board of directors had declared a regular quarterly cash dividend of $0.15 a share on Class A and B Common Stock. This implied an approximate quarterly dividend of $77.2m, payable on 1 December 2021 to all stockholders held on record as of the close of business on 23 November 2021. However, the shareholders may find this proposition less attractive than the company's soaring top-line numbers.
On 15 November, Warner Music Group reported financial results for the fiscal fourth quarter and full-year ended 30 September 2021. With quarterly revenue being reported at $1.38bn, it came off as a 22.12% rise on the same period a year earlier. Trailing 12-month (TTM) revenues ended 30 September 2021 stood at $5.3bn, an increase of 18% to its previous year's $4.5bn. This double-digit increase in the top-line across the quarterly and annual results was largely due to the company's 'digital first' strategy and diversifying its offerings into vertical business opportunities of digital fitness and social gaming.
In the last of its fiscal year, net income closed the year up to $307m versus a net loss of $470m in the prior year.
With the transition to profits from losses this year, the basic EPS for the stock stood at $0.05 for the quarter and $0.58 for the year ending 30 September 2021. For Class A basic and diluted shares, this figure stood at a net loss per share of 0.82, for TTM in the same time period in 2020.
The company's current assets amounted to $1.89bn, up on the $1.67bn of a year ago, including cash reserves of $499m. WMG reported long-term debt of $3.34bn on assets of $7.21bn, including $4.0bn in goodwill and intangibles.
An important contributor to the Warner Music stock analysis is its current market capitalisation, which stands at $22.94bn.
WMG share price news
In other WMG stock news, on 21 September 2021, Universal Music Group went public on the Euronext Amsterdam exchange. While the initial investor enthusiasm for UMG stock had a positive influence on the WMG share price, helping it rally to an intraday high of $45.64, in the long run, it could pose a threat. UMG is one of WMG's biggest rivals,
Steve Cooper, WMG's CEO, said during the company's last earnings call that he remains confident of their consistent efforts to broaden revenue generation. Live performances have been very limited during the pandemic, and the company is exploring other avenues to increase top-line numbers. Warner Music Group, through a partnership with video game platform Roblox and in licensing music to TikTok and digital fitness company Peloton, has positioned itself at the center of different digital market segments. The results of these moves are apparent in its double-digit revenue growth of 22.2% in Q4 results, up on annual terms from last year.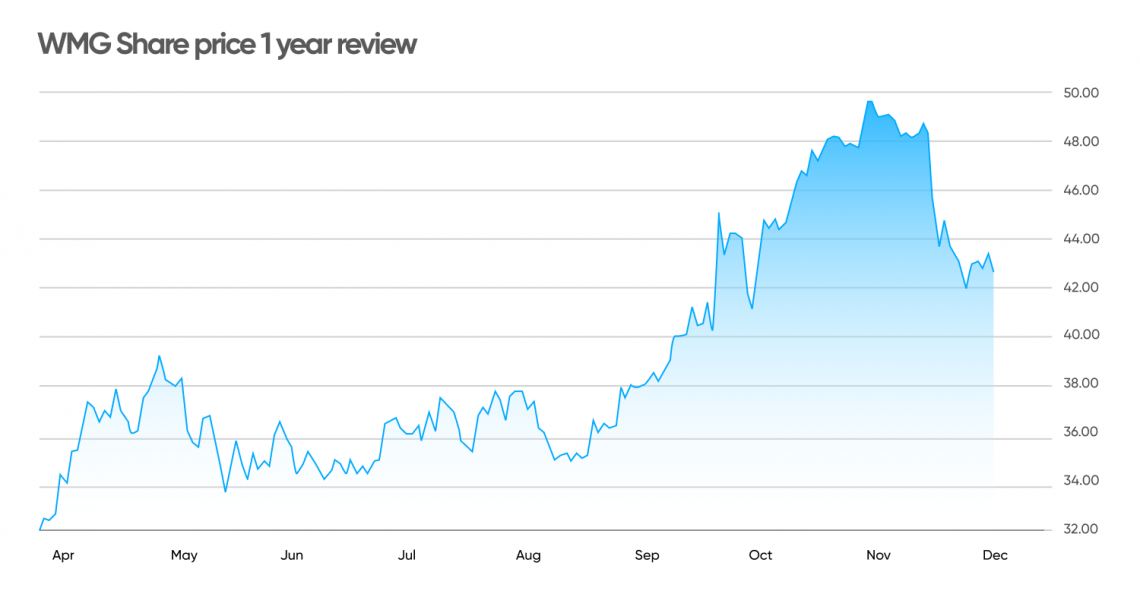 At the time of writing (2 December), the average price target for WMG shares stood at $49.00 a share. The highest price target is at $53.00 a share and the lowest at $42.00. With respect to the Warner Music stock forecast, the company and potentially its market environment have remained bullish in the last 12 TTM.

Concerning market sentiment on Warner Music share prediction, the impact of Covid-19 was covered off by strong growth trajectory in artist services and physical revenue. For the fiscal year ended 30 September 2021, WMG reported a 21% increase from $2.56bn to $3.10bn in recorded music digital revenue.
According to data compiled by TipRanks, of 10 Wall Street analysts covering the stock, seven rate it a 'buy', two recommend 'hold' and one rates it a 'sell'..
Here's a snapshot of what different analysts have said about Warner Music Group stock price forecast:
Meghan Durkin, an analyst at Credit Suisse Group, recently adjusted her stock price target to $50 – 4.17% up from the previous target level of $48. Durkin maintained an 'outperform' rating, anticipating the benefits from a deal with Twitch to begin showing from the first fiscal quarter of 2022.
Following strong Q4 fiscal financial results, Loop Capital and Royal Bank of Canada both increased their price objectives on WMG shares to $45 and $52, respectively. Loop Capital gave the stock a 'hold' rating. Royal Bank of Canada promoted the rating to a 'buy.
Fiona Cincotta, a senior market analyst at City Index, says: "Since going public 18 months ago Warner Music Group share price has had a solid run-up doubling its value. Perhaps this is not surprising given the tailwinds that it has enjoyed this year including a price hike at rival Spotify and strong alternative revenue streams secured through licensing agreements from platforms such as Peloton, TikTok and Roblox. At its all-time high of just over $50, the price was technically overbought so a pullback was on the cards. As long as the price remains over $30 the key 200-day simple moving average (SMA) support, I think a steady grind higher remains possible."
Note that this article does not constitute financial or investment advice. Always do your own research before investing. Your investment decision should be based on your attitude to risk, your expertise in this market, the spread of your portfolio and how comfortable you feel about losing money. Never invest more than you can afford to lose. And keep in mind that past performance is no guarantee of future returns.
FAQs
Is WMG stock a good buy?

WMG has given some solid top-line and bottom-line numbers in its Q4 financial results. Quite recently, it raised a whopping $535m through a senior secured notes agreement. What it proposes to do with this money remains to be seen. While it does hold significant long-term debt of $3.34bn, what could work in WMG's favour is its ability to convert the earnings before interest and taxes (EBIT) to free cash flow.

However, your personal situation should dictate whether you should buy the WMG stock. A lot of factors can contribute to this decision, like your risk appetite, personal investment style, the spread of your portfolio, etc. You must perform due diligence before investing your money in any stock.
Will WMG stock go up or down?

Nobody can predict with 100% accuracy how a stock's price will move. Upward adjustments by analysts to price target and current price trends of staying over the 200-day SMA support are positive indicators for WMG's stock price movement. But things could always change overnight. Whether WMG is a suitable investment for you depends on your investing goals and portfolio composition. You should do your own research and never invest more than you can afford to lose.
Read more: Netflix (NFLX) stock forecast for 2025: End to cable TV?