Wall Street cautious about Hertz (HTZ) return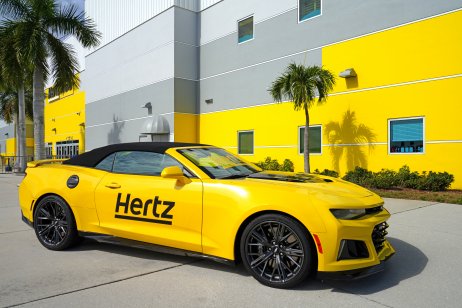 Hertz Global Holdings' stock price edged higher Monday as analysts started or returned to covering the once iconic car rental company as it exits bankruptcy protection.
At noon EDT (UTC-5), stocks inched up more than 5% to $25.35, far off from its 52-week high which was $46 on 2 November. The company's low was on 27 July at $14.15.
Analysts on Hertz
Deutsche Bank analyst Chris Woronka returned to Hertz's coverage with a $34 target price and a buy rating, citing the company's strong ledger.
He said Deutsch Bank "senses is that it will likely take some time for many investors to reengage on the HTZ story," in a research note obtained by Capital.com.
He continued, "The stock was trading off of the major exchanges for nearly 18 months and the company was unable to be visible with the investment community."
However, he wrote, "The potential ability to broaden out the investor base in light of a larger market cap and forward-looking growth initiatives that can appeal to multiple investor groups should be viewed as a positive catalyst."
Overweight rating
At JP Morgan, analyst Ryan Brinkman started Hertz's coverage with a $30 price target and an overweight rating.
"Car rental companies are the best positioned amongst all subsectors within the auto industry at the moment, owing to the semiconductor chip shortage which has caused the price of used vehicles to soar (benefiting fleet depreciation), and which has led to an imbalance of supply and demand for rental cars (leading to sharp increases in revenue per Day)," Brinkman wrote in a note to clients viewed by Capital.com.
Additionally, Barclays' analysts gave Hertz an overweight rating and Morgan Stanley initiated coverage with an equal weight rating.
Pandemic impact
Hertz, which has 12,000 locations worldwide, was hit hard by Covid-19 restrictions, when people could not travel. In May 2020, the Florida-based company filed for bankruptcy protection due to massive debts. In October 2020, it was delisted from the New York Stock Exchange.
After heavy investments from two hedge funds, the company emerged from bankruptcy in June and returned to the financial markets.
In October, Hertz reported stronger-than-expected third-quarter results, as the public returned to traveling.
Read more: Hertz share price falls before move to Nasdaq