Volkswagen shareholders: Who owns the most VOW stock?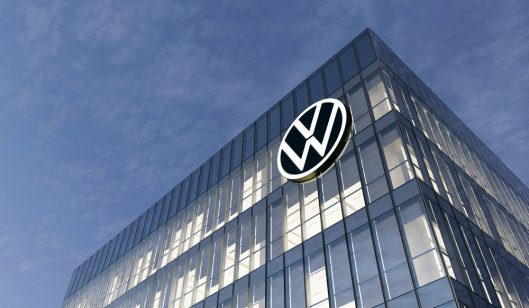 Volkswagen (VOW3) floated Porsche, its luxury car division, on the Frankfurt Stock Exchange (FSE) on 29 September, in one of Europe's largest stock market floats on record.

Porsche was valued at €75bn ($72.6bn) prior to the IPO. Shares rose close to 4% on its trading debut, hitting €86 a share.
Volkswagen has not said how much it will receive from the move. But it has said that it plans to pay 49% of the proceeds to all shareholders in a special dividend. Based on the top end of a potential valuation, Porsche's initial public offering (IPO) could be worth €85bn.
This could potentially be good news for VOW3 shareholders who have seen the company's stock fall by more than 25% year-to-date (YTD).
Volkswagen live price chart
Who are the shareholders of Volkswagen? Who owns the most VOW3 stock, and may benefit from Porsche's share sale windfall?
We took a look at Volkswagen's share performance, as well as its biggest shareholders.
Company history: Flower power to luxury cars
Volkswagen's history began in 1934, when the German government assigned the country's automotive association to design and build a "people's car" or "volkswagen". The task fell in the hands of engineer Ferdinand Porsche.
Porsche presented the first prototype of the VW Series car in July 1935. Two years later, the Gesellschaft zur Vorbereitung des Deutschen Volkswagens (literally "Society for the preparation of the German people's car"), or "Gezuvor", was established on 28 May 1937 in Berlin. It became Volkswagenwerk GmbH in 1938. The company's main plant was built in present-day Wolfsburg.
Volkswagen only produced military utility vehicles until the end of World War II. The company started to expand sales in 1946 when it was turned into a British military-controlled plant following the Allies' occupation of Germany at the end of World War II. It began mass production in the 1950s.
In 1948, Volkswagen produced its iconic Beetle, which gained cult status among the Flower-Power generation in late 1960s. In 1950, the company created the Volkswagen Type 2, a van marketed as a multi-purpose vehicle.
In 1999, Volkswagen became the first German automaker to produce 100 million cars. The company currently has 42 plants globally producing 50 models. The Volkswagen Group has nine brands covering nearly all automobile segments, from small and family cars to luxury and high-performance sports cars.
What is your sentiment on VOW3?
Vote to see Traders sentiment!
Volkswagen's share performance
Volkswagen (VW) went public in April 1961,with its ordinary shares priced at Deutsche Mark (DM) 350. Since its listing, VW has undergone stock splits in March 1969 and July 1998.

The company's shares are traded primarily on the Frankfurt Stock Exchange. Other exchanges that trade VOW3 are Berlin, Düsseldorf, Hamburg, Hanover, Munich and Stuttgart.
VW shares were traded in the form of American Depository Receipts (ADR) on the Nasdaq Stock Exchange until the company terminated all sponsored ADRs in 2018.
VW shares are now classified as preference or ordinary shares. Both types are issued without par value.
After gaining about 51% in 2021, VW stock has fallen in 2022 amid lower production, as the Russia-Ukraine war has worsened already acute semiconductor chip shortages triggered by the impact of Covid-19 restrictions in other markets.
From January to August 2022, VW's deliveries to customers fell 16.2% to 6,325,300 units, from 5,300,600 units in the same period in 2021.

Sales revenue for the first half of 2022 fell by 7.3%, declining to €33.2bn from €35.8bn in the same period last year.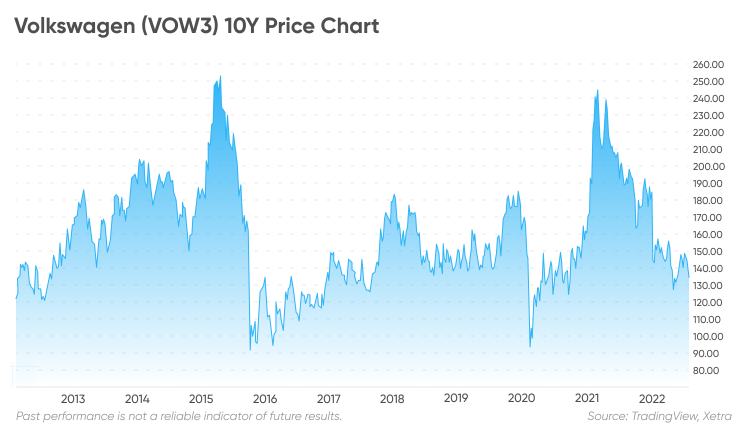 VW's preferred shares were trading at €131.26 ($128), as of 29 September, dropping about 33% in one year, according to the company's share information. The company's ordinary shares were trading at €181.10 ($176), around 34% lower over a year.
Who owns Volkswagen stock?
VW data shows the company has 206.20m preferred shares and 295.08m ordinary shares.
Porsche Automobile Holdings is Volkswagen's biggest shareholder with a roughly 31.9% stake, as of May 2022, according to VW. Foreign institutional investors and the State of Lower Saxony are among other Volkswagen major shareholders, with 27% and 11.8% stakes, respectively.
Other VOW3 shareholders with significant ownership are private shareholders (16%) and Qatar Holding Ltd (10.5%). German institutional shareholders own the remaining 3.3%.
Compared with its German automaker peers such as Mercedes and BMW, institutional investors – foreign and German combined – only hold one third of Volkswagen's ownership.
Mercedes Benz Group (MBG) has 53% of its shares held by institutional investors, while BMW Group (BMW) has a 53.2% stake held by public investors or free-float.
Volkswagen: Biggest institutional shareholders
A company that invests on behalf of others is known as an institutional investor. These companies make investments based on their clients' objectives.
Retail investors are individuals who invest their own money.
Institutional investors can trade large volumes of shares, as they typically have more financial clout than retail investors. This allows them to exert significant influence over stock movements. According to Nasdaq, information on institutional holdings can be used to forecast a company's volatility and value.
Qatar Holding, Vanguard and Blackrock are three institutional shareholders who own the most shares of Volkswagen, based on data from Volkswagen, MarketScreener, and Simply Wall St.
Qatar Holding LLC
Qatar Holding holds around a 10% stake of Volkswagen, or 50.16m shares, worth €6.9bn, according to Simply Wall St.
The company is wholly owned by Qatar's sovereign wealth fund, the Qatar Investment Authority. According to the SWFInstitute, the Qatar Investment Authority owns assets worth $461bn.
BlackRock
New York-based BlackRock (BLK) is VW's second-largest institutional investor, owning nearly 2% of the stock worth €1.3bn, according to Simply Wall St.
Blackrock is the world's largest asset manager, according to Advratings. It has a mix of institutional and retail clients worldwide. Its products include single and multi-asset portfolios investing in equities, fixed income, alternatives, and money market instruments.

In the second quarter of 2022 ending 30 June, the firm had $8.48tn of assets under management (AUM), down from $9.49tn in the same period in 2021, according to Advratings. The company went public at the New York Stock Exchange (NYSE) on 1 October at $14 a share.
Vanguard
Pennsylvania-based investment advisor Vanguard Group was the third biggest Volkswagen institutional shareholder, owning about 1.6% of the stock, according to Simply Wall St, as of 29 September.
Based on Advratings, Vanguard had $7.5trn of AUM, as of 30 April 2022, making it the world's second-largest asset manager after BlackRock.
Vanguard, founded in 1975, provides individual investors, institutions and financial professionals with a wide range of investments, advice, retirement services and insights.
The firm is recognized for its work creating index-tracking mutual and exchange-traded funds (ETFs) that are simple for retail investors to use. These financial products are designed to track the performance of an index that serves as a benchmark, like the S&P 500 Index (US500) or the Nasdaq 100 Index (US100).
Biggest individual shareholders
There is currently no publicly available information on Volkswagen's biggest individual shareholders.

According to the ownership breakdown provided by Simply Wall St., 32.9% of the company, or 164,746,949 shares, are owned by the general public.
Of the rest, 31.4% are owned by public companies, 14% by institutions, 11.8% by state and government entities, and the remaining 10% by venture capital and private equity firms.
A company's shareholder composition should not be the key reason behind your decision to buy a stock. Whether NFLX is a good investment for you should depend on your investment goals, risk tolerance, and the size of your portfolio. It is important to do your own research before making any investment or trading decision. And never invest or trade money that you cannot afford to lose.
FAQs
How many Volkswagen shares are there?

Based on Volkswagen's data, the company has 206.20m of preferred shares and 295.08m of ordinary shares.
How many shareholders does Volkswagen have?

Information on the total number of shareholders is not immediately available. According to Simply Wall St., there are 25 shareholders that own a combined 63.61% of the company.
Who owns the Volkswagen company?

According to Volkswagen, the company is owned by Porsche Automobile Holdings (31.9%), foreign institutional investors (27%), private shareholders (16%), Germany's State of Lower Saxony (11.8%), Qatar Holding Ltd (10.5%) and German institutional shareholders (3.3%)