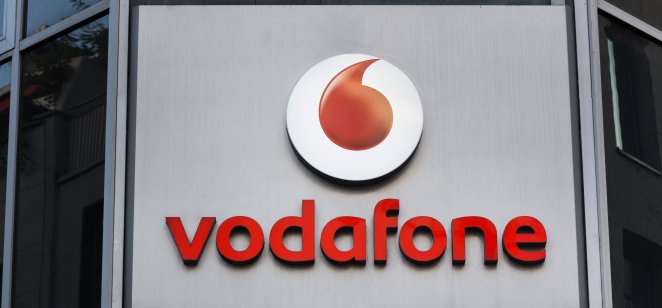 The price of Vodafone (VOD) stock has been on an uptrend since the year started, delivering gains of more than 22% thus far following news that the company is on track to grow its revenues for the full 2022 fiscal year in line with the management's expectations.
Market participants reacted positively to the latest earnings report as shares surged 3.4% on the day that it came out and have remained on an uptrend since then.
What could be expected from this telecommunications stock following this positive trading update? In this article, we will assess Vodafone share news, its price action and fundamentals to outline plausible scenarios for the future.
Vodafone share analysis: Technical views and price drivers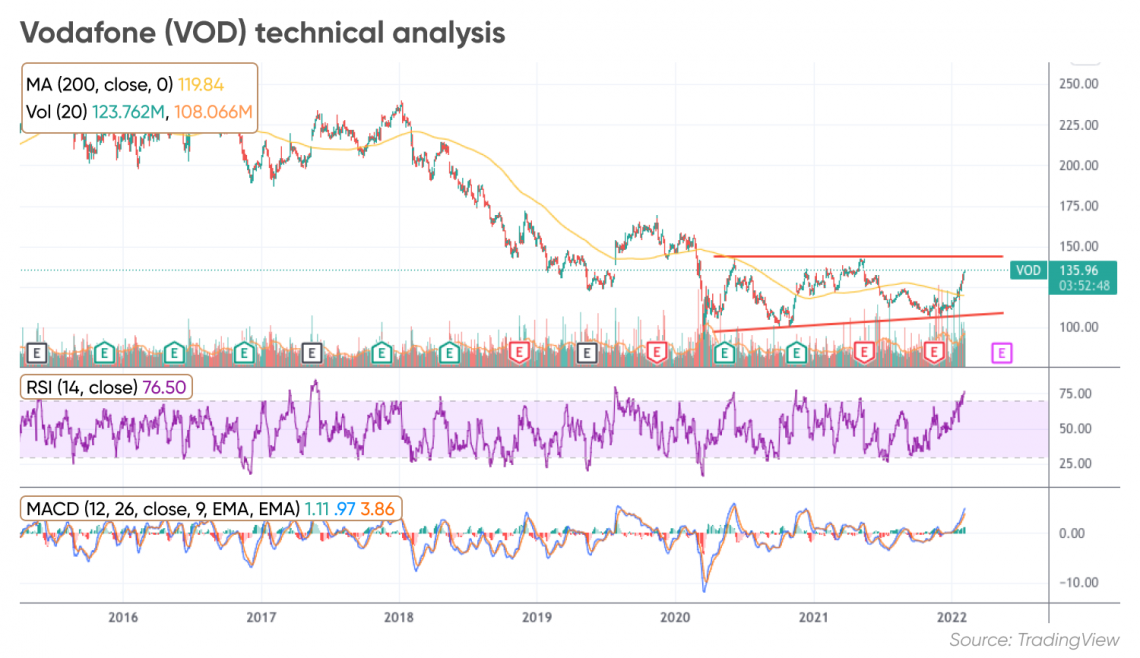 The Vodafone stock value has been in consolidation mode lately as indicated by the chart above. The price action has remained relatively range-bound even though the stock has posted multiple higher lows. However, it has failed to climb above the 144p level a couple of times.
This latest trading update from the firm may catalyse a retest of this important technical threshold with the price already climbing above the 200-day simple moving average.
Momentum also seems positive as indicated by the relative strength index (RSI), which has moved to overbought levels already. The moving average convergence divergence (MACD) is also on an uptrend, posting its highest reading since December last year. The 144p remains an important resistance level to watch.
Vodafone fundamental analysis: Latest earnings
On 2 February, the Vodafone Group published a trading update covering the third quarter of the 2022 fiscal year.
During the three months ending 31 December, the firm reported total service revenues of €9.65bn ($11bn, £8.12bn) resulting in a 3.1% year-on-year jump along with total revenues of €11.68bn – a 4.3% increase compared to the same period a year ago.
Revenues from Germany and UK performed positively while top-line results in Italy and Spain retreated slightly. These are the most important markets for the telecom giant. Meanwhile, revenues from other markets and those of Vodacom jumped 19.8% and 4.4% respectively on a year-on-year basis.
"Our team has delivered another solid quarter, demonstrating the sustainability of our growth strategy and medium term ambition. This performance keeps us firmly on track to deliver FY22 results in line with the higher guidance we set out in November," stated Nick Read, CEO of Vodafone.
Meanwhile, the financial data from the first half of the 2022 fiscal year showed that Vodafone produced operating profits of €2.62bn and net profits after taxes of €1.28bn on total revenues of €22.49bn.
By the end of this same period, the group produced negative free cash flows of €983m. The firm's long-term borrowings stood at €58.1bn back then on total assets of €154.1bn including €5.82bn in cash and equivalents and around €53.4bn in goodwill and other intangible assets.
Vodafone stock currently offers a 5.70% dividend yield. Since the company reported negative free cash flows during the first half of 2021, the risk of a reduction in dividend payments could be elevated.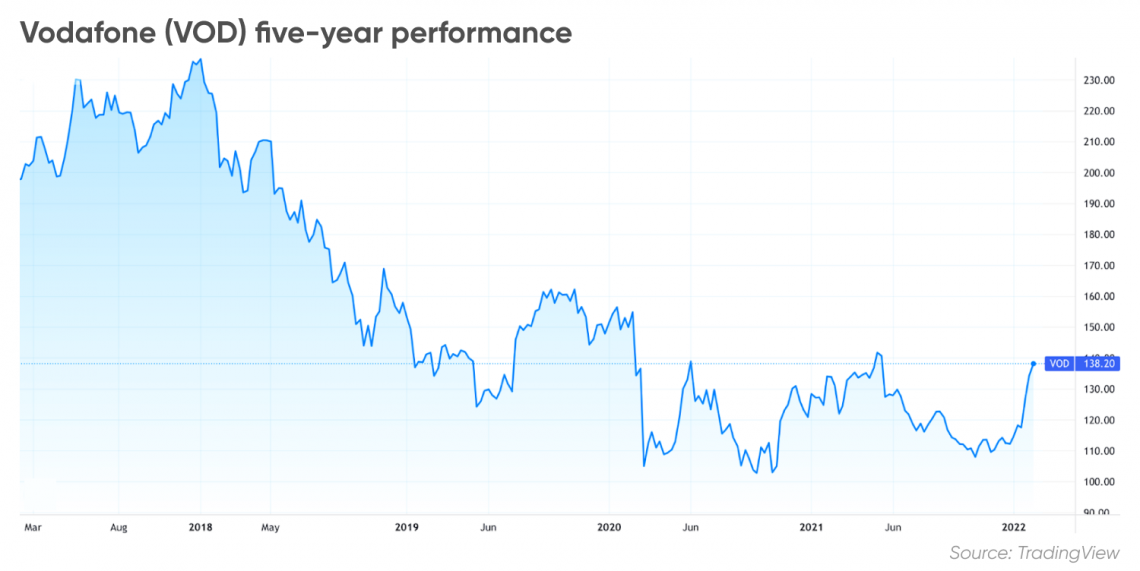 Vodafone stock price prediction: Analyst sentiment
According to data compiled by MarketBeat (as of 9 February), the consensus recommendation for the Vodafone stock was bullish with a total of 11 out of 11 analysts rating the stock as 'buy'.
Meanwhile, the average Vodafone stock price target was set at 169.38p per share resulting in a 23% potential gain compared to the Vodafone stock market price of 137.22p as of 8 February close. The highest estimate among analysts stood at 230p while the lowest was 150p per share.
What is your sentiment on VODl?
Vote to see Traders sentiment!
Shortly after the release of the firm's latest trading update, JPMorgan Chase & Co upped its price target for Vodafone from 165p to 170p.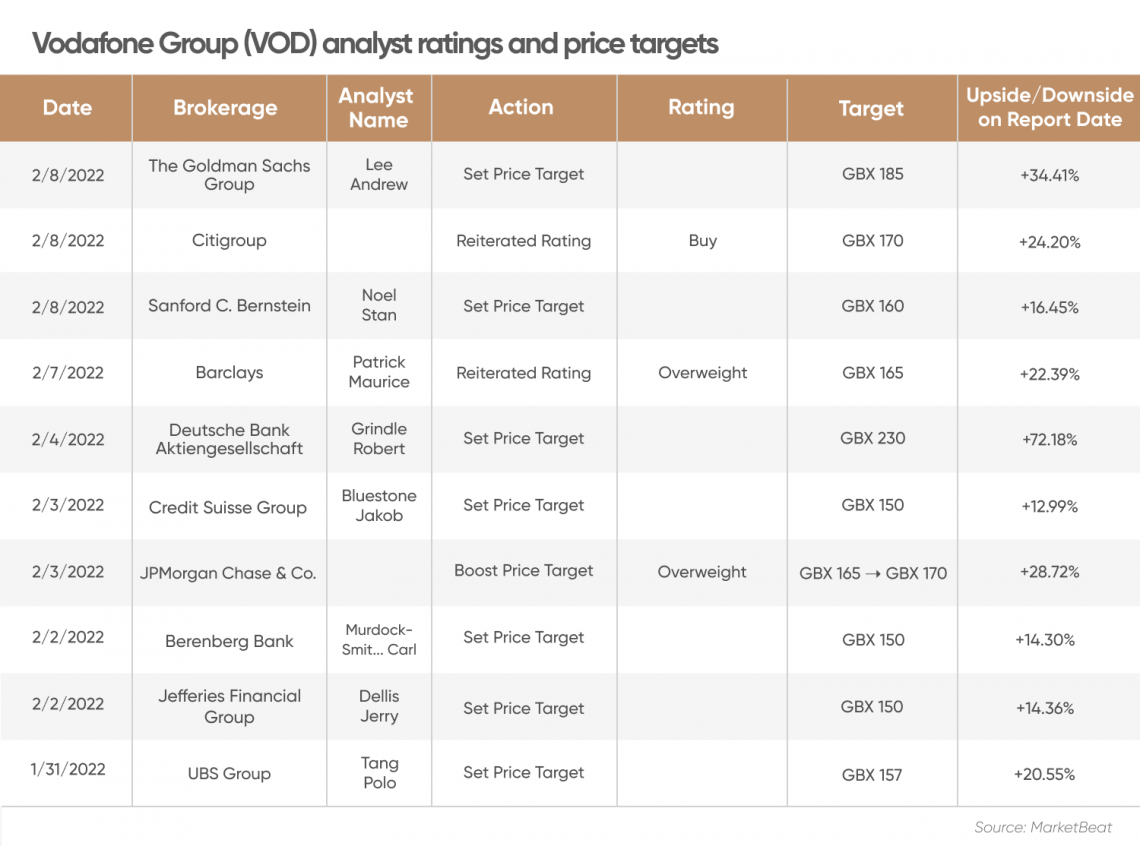 "Rumours have swirled around potential merger partners for Vodafone's operations in the UK, Italy, and Spain, each of which continues to face challenging competitive environments," said Michael Hodel from Morningstar in a note released on 2 February.
He added: "We continue to believe the market has overly discounted the long-term value of Vodafone's assets, and we suspect moves to improve the economics in certain countries will help uncover that value. We don't plan to change our GBX 185 fair value estimate."
Commenting on the Vodafone stock future price and the company's prospects, Susannah Streeter, senior investment and markets analyst at Hargreaves Lansdown, said:
"Investors have been disappointed by returns, particularly from its [Vodafone's] operations in Germany and revenue growth was still a sluggish 1.1% in the third quarter, only a slight improvement on the previous period. Vodafone says it is focused on strengthening momentum in Germany, and it clearly needs a rocket thrust of growth. Part of the overall problem is that Vodafone is such [a] sprawling business, with tentacles stretching through partnerships and tie ups across Europe to Turkey and Africa.
"Simplifying the overall structure has been part of the game plan for management but progress so far had done little to revitalise the share price, which only moved upwards in recent weeks over speculation of fresh deals and the arrival of Cevian Capital to the party. It's hoped the activist investors will help shove management into some faster moves but there will still be the same regulatory hurdles to jump through if more targeted M&A activity is on the cards.''
Vodafone (VOD) share price forecast: Targets for 2022, 2025 and 2027
As of 9 February, third-party algorithm-based forecasting services shared mixed Vodafone share price expectations:
Wallet Investor has rated the current price action of Vodafone stock as bullish based on data from the past 30 days. Meanwhile, its VOD stock forecast suggested the price of Vodafone could decrease to 124.45p by the end of 2022, continue moving down to 108.84p by the end of 2023 and hit 78.09p by the end of 2025. Although the service did not provide targets for 2030, its five-year Vodafone share price forecast expected VOD to trade at 61.62p in February 2027.
Pound Forecast predicted the price of Vodafone stock to close the month slightly higher at an average price of 154p per share, while its predictions for the end of December 2022 and 2023 stood at 156p and 146p per share respectively.
These forecasts were drafted based on an analysis of Vodafone historical share price. They should not be considered a recommendation to invest in Vodafone as many unexpected developments could end up affecting the actual performance of the stock.
When looking for Vodafone stock predictions, it's important to bear in mind that analysts' forecasts and price targets can be wrong. They should not be considered a recommendation to invest in the company.
It's important to do your own research and consider the latest market trends and Vodafone stock news. Always remember that your decision to trade depends on your attitude to risk, your expertise in the market, the spread of your investment portfolio and how comfortable you feel about losing money. And you should never invest more than you can afford to lose.
FAQs
Is Vodafone stock a good buy?

Vodafone is a mature company in a highly competitive market. The firm's debt is quite elevated and its negative free cash flows from the first half of the fiscal year could be a concerning factor. Whether VOD is a suitable investment depends on your own investment objectives – and the opinion based on your own research. Remember, it's important to reach your own conclusion of the company's prospects and likelihood of achieving analysts' targets.
Why has the Vodafone stock price been going up?

The price of Vodafone has been going up in the past few weeks after the company reported strong quarterly results while reaffirming its full-year guidance for the 2022 fiscal year.
Is Vodafone a buy, sell or hold?

The consensus recommendation from analysts for Vodafone stock was 'buy' as per data compiled by MarketBeat on 9 February.
Will Vodafone stock go up or down?

Many factors dictate whether a company's stock price rises or falls. Some of these are dependent on the company's performance, while others are affected by wider macro-economic factors. You need to remember that there are no guarantees as markets are volatile.
Read more: