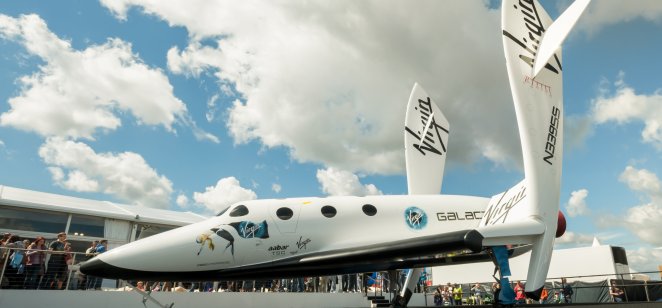 The price of Virgin Galactic stock (SPCE) has been declining for months amid the confluence of various negative catalysts, including setbacks in the firm's operational prospects, a deterioration of the macro environment, and raising up to $500m (£383m) in debt in a recent convertible notes issue.
As a result, at the time of writing (15 March), shares were trading 88% below their 52-week high of $57.51, while they were in losing territory for the year as well, having shed 48.6% of their value since the start of 2022.
On 14 January, the New Mexico-based space travel company priced a $425m convertible senior notes offering carrying a 2.5% annual interest rate at an estimated conversion price of $12.79 per share. Virgin Galactic also granted the initial purchasers of the notes an option to buy up to an additional $75m principal amount of notes.
The announcement was preceded by an 18% drop in the stock price on the day that the offering was announced while the low conversion price indicated that institutional investors had a pessimistic view about the firm's prospects.
Notes were structured to be exchanged by common shares of Virgin Galactic from 1 November 2026 and forward. This means that those who participated in the private placement of the notes believe that the price of SPCE stock could be below that mark by then so they can make a profit once they convert their notes.
Meanwhile, on 15 February, Virgin Galactic announced that it will start selling tickets to the general public at $450,000 per seat. The company would require an initial deposit of $150,000 while the remaining payment would have to be made days before the actual flight takes place.
The market reacted positively to the news as Virgin Galactic stock value jumped nearly 32% on the day of the announcement. However, this uptick did not manage to fully reverse the downtrend and shares are still standing well below their 2021 highs.
What could be expected from this space travel stock in 2022 and forward? In this article, we will be discussing the latest Virgin Galactic stock news along with its price action, fundamentals and analysts' Virgin Galactic stock expectations to outline plausible scenarios for the future.
SPCE stock analysis: Technical view and price drivers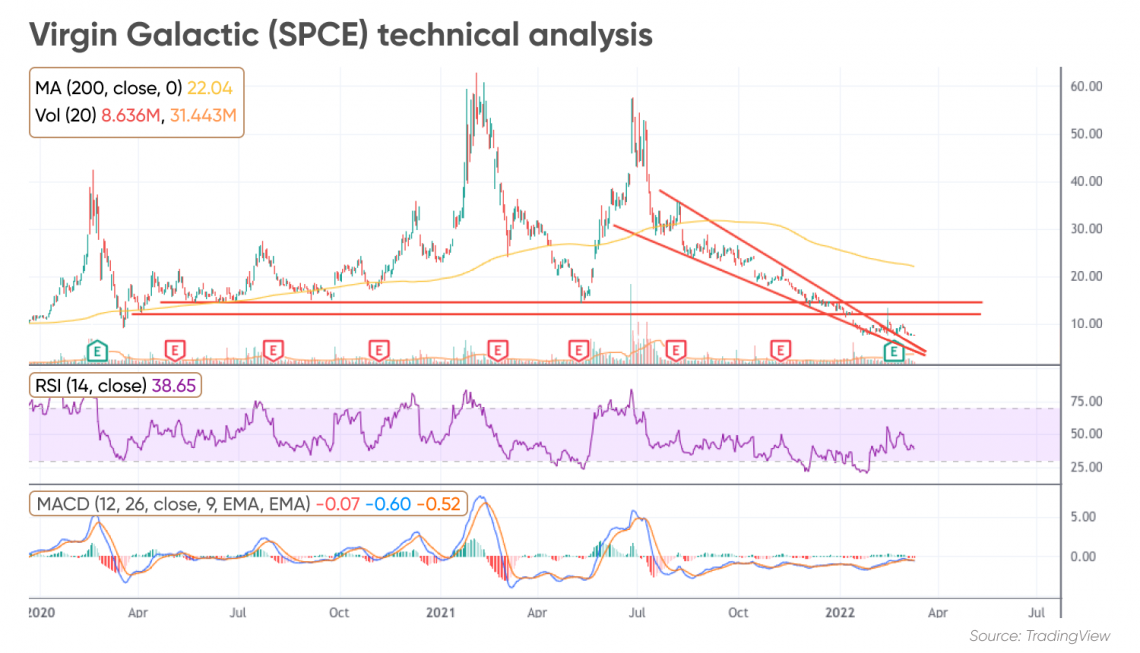 The price of Virgin Galactic stock has been on a clear downtrend but negative volatility has been subsiding as indicated by the falling wedge formation shown in the chart above. This formation is typically bullish although a decisive break of the pattern needs to take place before any conclusions can be made out of it.
Trading volumes have been relatively low since the company announced that it made its tickets available to the general public back in February. On that day, more than 180 million shares exchanged hands – a number that exceeded the 10-day average by nearly 8 times.
Even though a break of the falling wedge formation has not yet led to a reversal in the SPCE trend, the fact that the price has not moved below the pattern's trend lines is a positive indication of the Virgin Galactic stock potential.
As of 15 March, momentum indicators have remained relatively stalled as the Relative Strength Index (RSI) was standing at 35 (neutral) while the Moving Average Convergence Divergence (MACD) has been still negative and slightly below the signal line.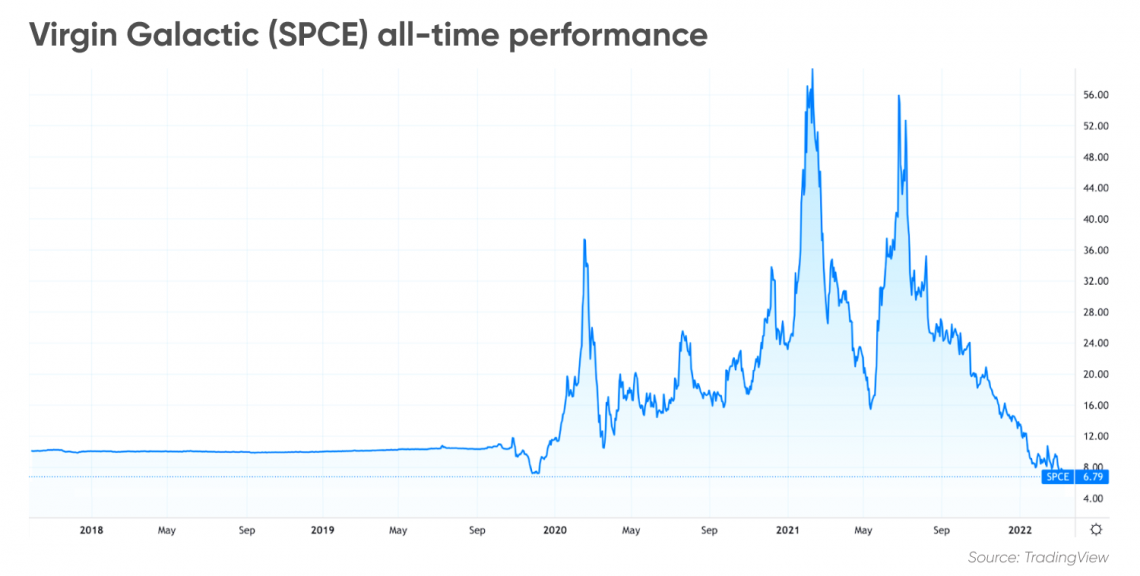 SPCE fundamental analysis: Latest earnings
On 22 February, Virgin Galactic reported its financial results covering the fourth quarter of the 2021 fiscal year.
Revenues for the three months ended on 31 December ended at $141m while operating losses landed at $81.28m compared to $74.34m the firm shed during the fourth quarter of the previous year.
During the entire 2021 fiscal year, Virgin Galactic brought total revenues of $3.29bn and produced GAAP operating and net losses of $319.54m and $354.77m respectively.
What is your sentiment on SPCE?
Vote to see Traders sentiment!
The firm had no long-term debt by the end of the quarter but has now incorporated at least $425m as a result of its latest convertible notes offering. Total assets by the end of the quarter stood at $1.07bn including $603.89m in cash, equivalents and marketable securities.
The company also reported $90.86m in customer deposits, up $7.6m from the figure reported the previous year. In 2021, Virgin Galactic reported negative free cash flows of $235.39m.
Since Virgin Galactic has not yet launched its first commercial flight, any revenue projections are highly speculative. This complicates the task of drafting a Virgin Galactic share price forecast based on the company's fundamentals.
Mikhail Karkhalev, analyst at Capital.com, said: "Virgin Galactic continues to be a loss-making company despite good financial results for 2021, namely a 1,300% increase in revenues and a 45% increase in profits. The rise in the company's stock was mainly due to the hype surrounding the mid-2021 flight."
Virgin Galactic (SPCE) stock forecast: Analyst sentiment
Is Virgin Galactic stock a 'buy', 'sell', or 'hold'? The consensus recommendation as per data compiled by MarketBeat (as of 15 March) was neutral with a total of seven out of 14 analysts rating the stock as 'hold'. Four analysts rated the stock as 'buy' while the remaining three gave it a 'sell' recommendation.
Still, the average SPCE stock price target stood at $21.08 per share resulting in a 210% upside potential based on the last closing price of $6.79. The highest 12-month Virgin Galactic stock prediction from analysts was set at $36 and the lowest at $9 per share.
Several analysts covering the stock lowered their price targets for Virgin Galactic following the release of its fourth-quarter earnings report. This includes Morgan Stanley, Cowen, Susquehanna and Truist Financial, with price targets standing at $10, $15, and $9 and $24 per share respectively.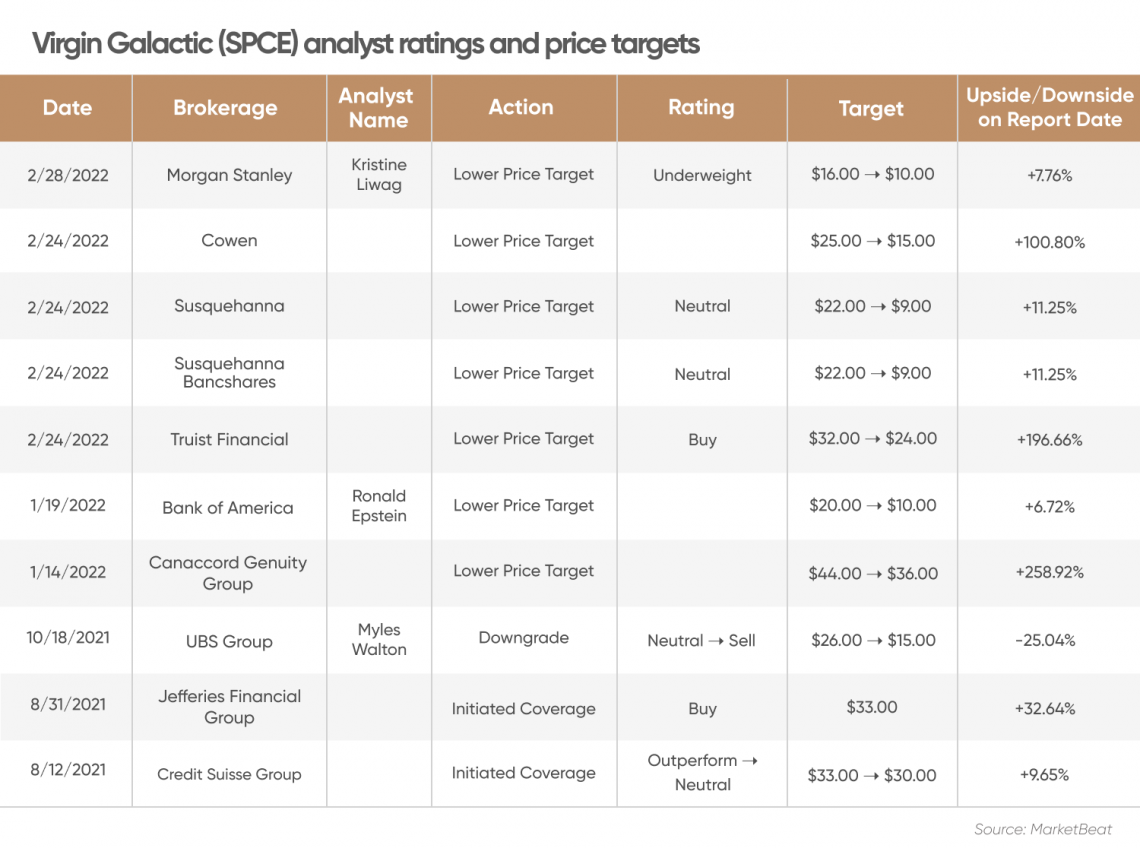 Despite the bullish consensus rating from Wall Street analysts, Karkhalev recommended to consider the Virgin Galactic future stock price with caution:
"There are no real growth figures, which would indicate the solvency and sustainability of the company. To make matters worse, the company plans to issue $425m in bonds, which could dilute shareholder stakes. Whilst the company's future plans and ambitions may be positive, there is little to rejoice about in terms of the underlying facts.
"In addition, a competitor to Virgin Galactic, Space Transportation, which plans to make commercial flights into space by 2025, is already rising in China. Accordingly, we would not expect Richard Branson's shares to rise just yet."
Meanwhile, algorithm-based forecasting service Wallet Investor gave bearish price targets for Virgin Galactic stock (SPCE) as of 15 March. It expected that the price of Virgin Galactic stock could end 2022 at zero, meaning that the company may go bankrupt. Note that the service drafts its Virgin Galactic stock forecast based on technical analysis of the SPCE past performance, without taking into account various fundamental factors.
Still, the question whether Virgin Galactic is a good long-term investment is highly unpredictable considering the firm's unproven business model and its relatively weak finances. There remains a significant risk as investors look ahead to 2025, 2030 and beyond.
When looking for the Virgin Galactic stock projections, it's important to bear in mind that analysts' forecasts can be wrong. None of the opinions in this article should be considered a recommendation to invest in Virgin Galactic. Investors should perform due diligence before making a decision on whether to buy or sell SPCE stock.
It's important to do your own research and always remember that your decision to trade depends on your attitude to risk, your expertise in the market, the spread of your investment portfolio and how comfortable you feel about losing money. You should never invest more than you can afford to lose.

FAQs
Is Virgin Galactic a good stock to buy?

Virgin Galactic is a company that has ambitious goals but that has not yet proven the feasibility of its business model. The company has delayed the launch of its first commercial flights many times and investing in the business remains a gamble as the outcome of this operation depends largely on the company's ability to live up to its promises. A decision to invest in Virgin Galactic must be made only after assuming all the risks and conducting your own analysis.
Why has the Virgin Galactic stock price been going down?

The price of Virgin Galactic stock has been going down amid the confluence of multiple negative news including delays in the launch of the firm's first commercial space flight, the disappointing pricing of a recent convertible notes offering and a risk-off attitude from market participants amid expected changes in the macroeconomic landscape.
Will Virgin Galactic stock go up?

The consensus analyst rating compiled by MarketBeat was bullish as of 15 March, while the algorithm-based SPCE stock forecast from Wallet Investor was bearish. You should perform your own due diligence before making a decision to invest in Virgin Galactic stock.
What is the future for Virgin Galactic?

The future for Virgin Galactic's business depends largely on the company's ability to successfully operate commercial flights to space and to scale its operations to a point that the company can become a profitable endeavor. Whether the management can accomplish those goals or not remains uncertain.
Redad more: