VICI Properties stock forecast: Will bets on Las Vegas hotel properties power up VICI shares?
Subscribe to Weekly Highlights
The major market events for the week ahead right in your inbox.
Subscribe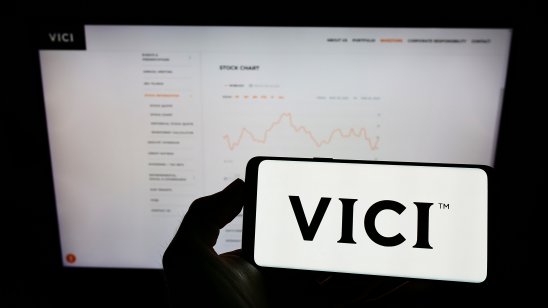 Content
VICI Properties (VICI), a real estate investment trust (REIT) with the largest portfolio on the Las Vegas Strip, has seen its stock gain 4.7% in the past month, after it took full control of two casinos from its joint venture partner Blackstone.
VICI Properties (VICI) live price chart
VICI has expanded its business over the past two years through acquisitions. With the hospitality industry recovering from Covid-19 restrictions, the company has updated its guidance for its full-year revenues.
How has the VICI stock price been performing in the past year, and is there potential for further gains? We look at the latest VICI Properties stock predictions from analysts to help you decide how to trade the stock.
What is VICI Properties?
New York-based VICI is a real estate investment trust (REIT) focused on investing in gaming, hospitality and entertainment properties. Its investments include Caesars Palace Las Vegas, the MGM Grand and the Venetian Resort Las Vegas, three of the most well-known attractions on the Las Vegas Strip.
REITs offer a way for investors to pool their funds to buy stakes in commercial real estate portfolios. They produce regular income streams from the rents they collect on properties they own, which are returned to investors in the form of dividends.
The company was formed in 2017 as a spin-off from Caesars Entertainment as part of its reorganisation in bankruptcy. At the time, VICI owned 19 gaming facilities, approximately 12,000 hotel rooms, and more than 150 restaurants, bars and nightclubs.
VICI's US-wide portfolio consists of 43 gaming facilities, approximately 58,700 hotel rooms and more than 450 restaurants, bars, nightclubs and sportsbooks.
VICI's stock was listed on the New York Stock Exchange (NYSE) on 1 February 2018, selling 69.58 million shares in an initial public offering (IPO) at $20 a share.
What is your sentiment on VICI?
Vote to see Traders sentiment!
VICI Properties gets boost from post-lockdown recovery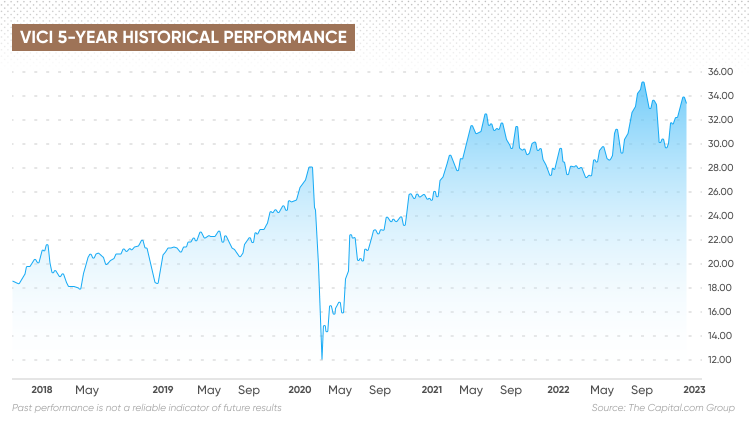 The VICI stock price traded up from the IPO price of $20 to a high of $28.15 a share in February 2020, before falling to $12.21 on 20 March 2020 as Covid-19 lockdowns hit hospitality stocks.
But the share price began to recover with the development of vaccines and restrictions easing, ending 2020 at $25.50.
VICI stock climbed in the first half of 2021, reaching a new high of $32.80 by 11 June.
The share price retreated to $27.21 by early December, and continued to trade under $30 into 2022 as the financial markets came under pressure from rising interest rates and risk-off sentiment.
The price bottomed out at $26.68 per share on 10 May, and climbed to $32.45 on 6 June. Following a dip to $28.13 on 14 June, the stock climbed to a new closing high of $35.53 on 15 August.
VICI traded down to around $29.40 in late September and early October on concerns about the prospects for a recession in the US and continued monetary policy tightening, which has made stocks less attractive to investors.
However, the stock has rebounded since late October, climbing to $34.20 on 30 November and trading around $33-$34 in December (as of 6 December).
VICI has maintained a 100% cash rent collection, including throughout the Covid-19 pandemic, according to an investor presentation. VICI has consistently raised the dividend since its formation, which currently yields around 4.68%. Its third-quarter cash dividend increased by 8.3% year on year to $0.39 per share.
VICI doubles Q3 earnings
On 27 October, VICI reported a 100% year-on-year (YOY) increase in total third quarter revenues to $751.5m. Net income was $330.9m, or $0.34 a share. Adjusted funds from operations (AFFO) attributable to shareholders climbed by 82.8% YOY to $470.7m, compared with an 8.5% YOY increase in Q3 2021.
In August, the REIT announced the $203.9m acquisition of Rocky Gap Casino Resort. It expanded its partnership with Great Wolf Resorts through two loan investments totalling $186m in September.
In October, VICI extended its partnership with Cabot, a developer, owner and operator of golf resorts, for Cabot affiliate CDN Golf Management to manage and operate VICI's four golf courses. Additionally, the REIT announced a loan facility for up to $200m to finance the development of a Canyon Ranch wellness resort in Austin, Texas.
On 1 December, VICI stated it would acquire Blackstone Real Estate's 49.9% stake in a joint venture between the two companies that own the MGM Grand Las Vegas and the Mandalay Bay Resort in Las Vegas for $1.27bn. Edward Pitoniak, VICI's CEO, said of the acquisition:
"We're excited to further our investment in MGM Grand Las Vegas and Mandalay Bay, two of the largest and highest-quality resorts in what we believe is the leisure and convention destination with the most compelling future demand outlook. This transaction also provides us with the opportunity to further grow our partnership with MGM Resorts International as they look to capitalise on the growing vitality of the South Strip."
VICI expects the acquisition to be completed early in the first quarter of next year and immediately accretive to Adjusted funds from operations (AFFO) per share.
On 5 December, VICI has said it will use its Partner Property Growth Fund to provide capital for Century Casinos' expansion in Missouri.
Will these investments pay off in terms of VICI's future share price performance? What is a realistic VICI Properties stock forecast from analysts?
VICI Properties stock forecast: Will the REIT reach new highs?
As of 6 December, the average 12-month price target from 10 analysts that have issued a VICI Properties share price forecast was $36.63, according to data compiled by MarketBeat, indicating upside potential of around 10% from the current level and a fresh all-time high.
The VICI stock forecast estimates range between $32 and $40 a share, with one analyst rating the stock a 'strong buy', eight recommending it a 'buy' and one a 'hold'.
On 30 November, analysts at KeyCorp raised their VICI stock forecast from $33 to $35 with an overweight rating. On 2 December, Deutsche Bank lifted its VICI Properties stock forecast from $37 to $38 a share, according to MarketBeat.
The VICI Properties stock forecast for 2023 based on artificial neural network forecasting tools from PandaForecast.com at the time of writing (6 December) indicated the stock could trade at $37.27 by the end of next year. The VICI Properties stock forecast for 2025 showed the share price rising to $43.80.
If you are looking for a VICI Properties stock forecast to help direct your trading strategy, keep in mind that analysts and algorithm-based forecasters can and do get their predictions wrong.
We recommend that you always do your own research. Look at the latest market trends, news, technical and fundamental analysis, and expert opinion before making any investment decision. Remember that past performance is no guarantee of future returns. And never invest money you cannot afford to lose.
FAQs
Is VICI Properties a good stock to buy?

Real estate investment trusts (REITs) often form part of a diversified portfolio, but whether VICI is a suitable investment for you will depend on your risk tolerance, investing strategy and how much you intend to invest. Always do your own research before making any investment decisions. Remember to never invest more than you can afford to lose.
Will VICI Properties stock go up or down?

No-one can say for sure. The direction of the VICI share price will depend on the health of the US economy and the performance of the company's gaming and hospitality properties, as well as the influence of US monetary policy on market sentiment.
Should I invest in VICI Properties stock?

Investing in VICI or any other stock is a personal decision only you can make based on your personal circumstances. You should do your own research to take an informed view of the stock. Keep in mind that past performance is not a reliable indicator of future results. And never invest more money than you can afford to lose.
Related reading