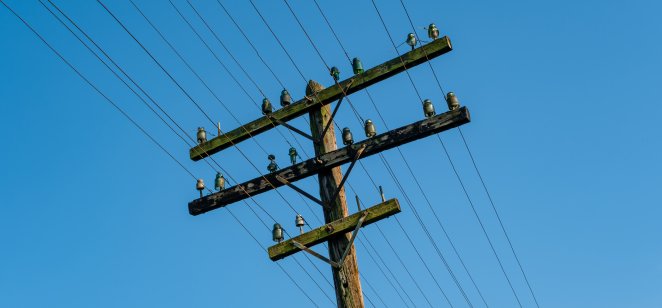 Content
Over the last month, US benchmarks are down again as utility stocks and other consumer staples quickly become the only bright spot for investors in a bear market.
Capital.com analyst Piero Cingari said, "There have been no positive returns in any sectors of the S&P 500 (US500) since the beginning of June, while Healthcare (XLV), Utilities (XLU), and Consumer staples (XLP) declined the least, slipping just 2.4%, 2.5%, and 6.2%, respectively."
"This is an indication that investors are shifting towards sectors that might benefit during economic downturns or even in a recession," he continued. "Investors will favour defensive stocks over cyclical sectors in the coming months."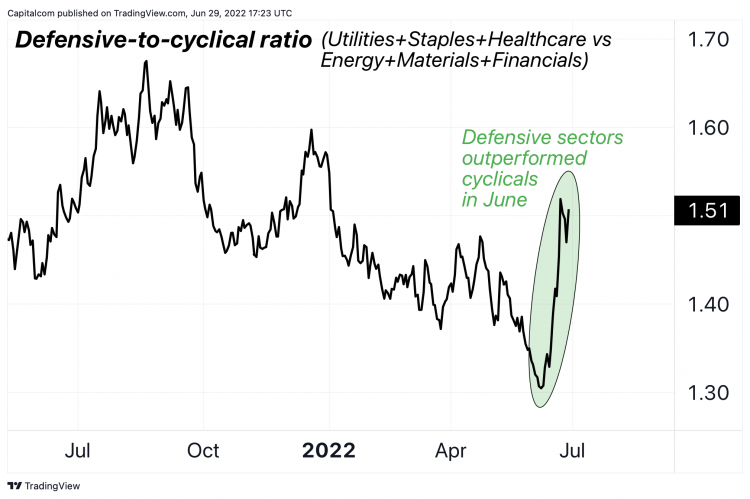 Defensive to cyclical ratio
"On the other hand, the traditional cyclical sectors, which are more vulnerable to growth, have had a very negative month," Cingari added.
What are cyclical stocks?
Cyclical stocks are shares of companies whose business models rely on a robust economy like restaurants and hotels, retail, travel and leisure.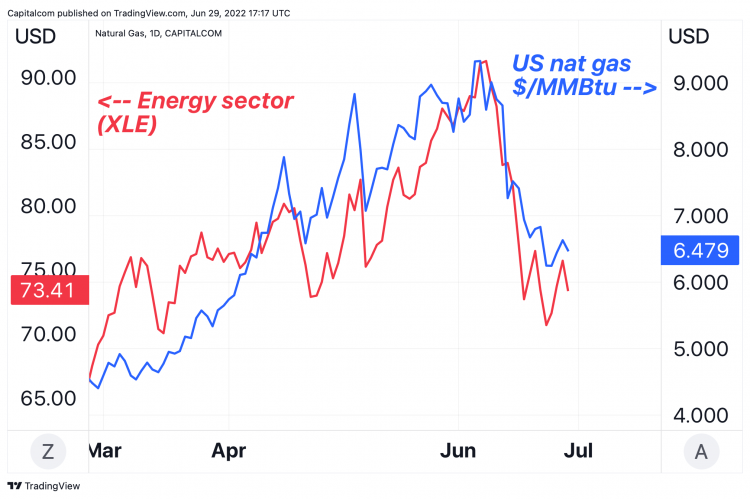 Energy Sector
"Since the beginning of June, Energy (XLE) has been the worst performer, sinking 15%, followed by materials (XLB), down 14% and financials (XLF), with a 10% drop," Cingari said.
"Natural gas prices dropping from a peak of $9.3 per MMBtu to the current $6.5 per MMBtu have caused substantial damage to the energy sector, which had been profiting from rising gas prices," he went on. "As a result, the market continues to price in a US recession, while equities performance trends in that direction."
Wall Street Today: Dow and Nasdaq 100 post session wins, S&P loses again
The Dow Jones Industrial Average (US30) added 80 points, or 0.26%, while the Nasdaq 100 (US100) rose 0.18%, and the S&P 500 (US500) went 0.07% lower.
S&P 500 (US500 price chart
Commodities: Oil at $109 a barrel
Oil futures were higher as West Texas Intermediate slipped 1.97% to $109.56 a barrel.
What is your sentiment on Oil - Crude?
Vote to see Traders sentiment!
In the energy sector, shares of Chevron (CVX) fell 2.01%, ConocoPhillips (COP) lost 3.95%, and Occidental Petroleum (OXY) went 4.21% lower.
Meanwhile, Gold futures lost 0.07% to $1,819.90 an ounce on Wednesday.
Read more: