USD firm post Powell's remarks, commodity currencies rebound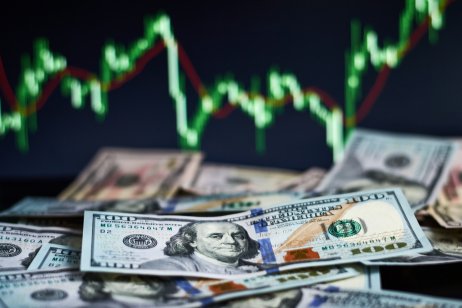 The US dollar recovered yesterday as Federal Reserve Chairman Jerome Powell hinted that the Fed might accelerate its tapering in response to mounting inflationary pressures, which now are no longer viewed as temporary.
This morning DXY index was last at 95.85 (+0.02%) by 10:00 GMT
Low-yielding, such as the euro (EUR), and safe-haven currencies, such as Swiss franc (CHF) and Japanese yen (JPY), which had outperformed on Omicron worries in recent sessions, suffered a significant knock yesterday as the issue of monetary policy divergence with the Fed has been revived.
Risk-sensitive currencies, such as the Australian (AUD) and the New Zealand dollar (NZD) gained ground after Oxford University declared that there is no evidence that vaccines will not protect against severe illness in the case of an Omicron infection.
Meanwhile, commodity-linked currencies rebounded as crude prices rose overnight, with Brent breaking $70 per barrel.
What is your sentiment on USD/NOK?
Vote to see Traders sentiment!
Forex Daily Matrix – 1 December 2021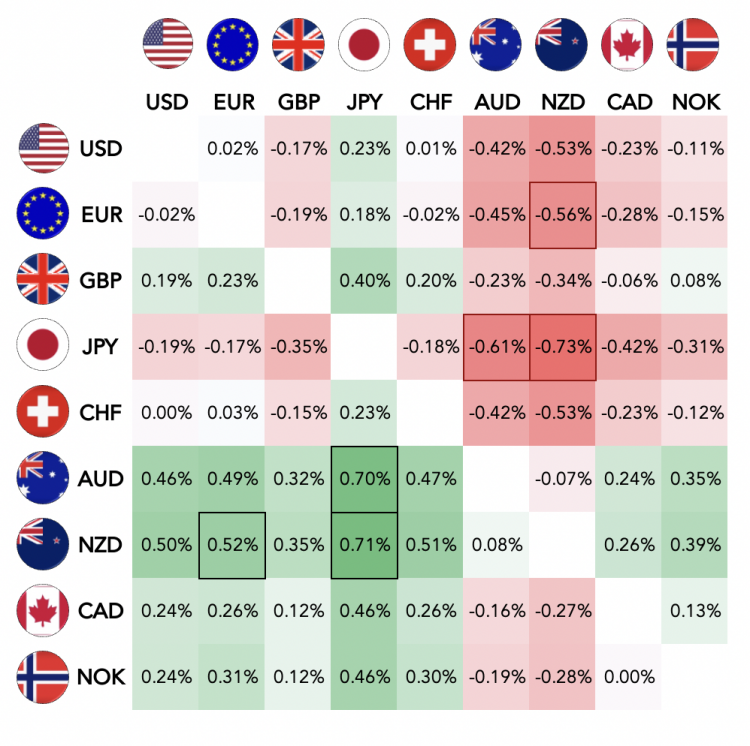 Forex Daily Matrix as of 1 December 2021, 10:00 GMT – Credit: Capital.com
US Dollar
The US Dollar Index (DXY) was last at 95.85, unchanged on the day.
Fed chair Powell clearly shifted the tone yesterday during the Senate hearing, suggesting that it is no longer appropriate to describe inflation as "transitory" and that tapering may be accelerated to address rising inflationary pressures.
Among the data reported today, the attention will be on the ADP's change in private employment in November, which is forecasted at 525 thousand by the consensus. November's manufacturing ISM is predicted to remain unchanged (60.8) from October.
Meanwhile, market expectations for the Fed's first interest-rate hike have accelerated in response to Powell's remarks. US money markets now assign a 50-50 likelihood of a rate rise in May of next year. Yields on the 10-year US Treasury rose by 5 basis points to 1.49%.
Today, Jerome Powell and economist Janet Yellen will testify again in Congress.
US dollar (DXY) technical levels:
52-week high: 96.52
52-week low: 89.212
50-day moving average (1-day chart): 94.51
200-day moving average (1-day chart): 92.47
14-day Relative Strength Index (RSI) (1-day chart): 58.28
Euro
While writing, EUR/USD was at 1.1335, unchanged from its previous close, while the single currency was 0.2% lower against the British pound.
This morning in Germany, October retail sales fell by -0.3% month-on-month (m-o-m), after the previous decline of -1.9% m-o-m.
November's Markit Euro Area Manufacturing PMI came in at 58.4 points, slightly below a preliminary estimate of 58.6.
Yesterday, inflation in the eurozone reached a new all-time high in November, the highest level since the surveys began in 1997.
Headline inflation rose at 4.9% year-on-year (y-o-y) from 4.1%, and well above the consensus (4.5%), while the core measure, net of food and energy, rose to 2.6% y-o-y from 2.1% previously.
EUR/USD technical levels:
52-week high: 1.2349
52-week low: 1.1184
50-day moving average (1-day chart): 1.1524
200-day moving average (1-day chart): 1.1828
14-day Relative Strength Index (RSI) (1-day chart): 42.73
Chart of the day: Euro Area inflation rate hits its all-time highs in November 2021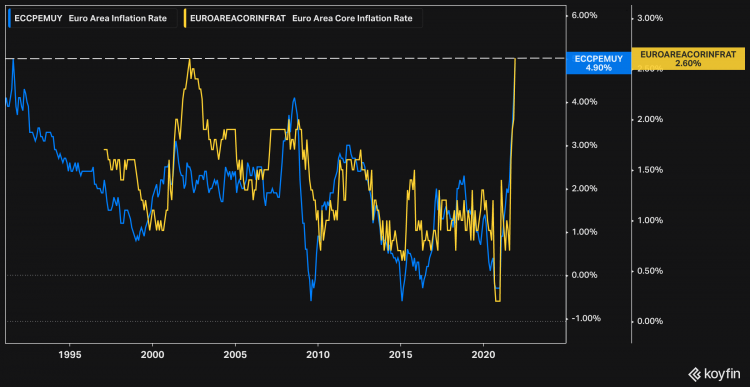 Euro area headline and core inflation – Credit: Koyfin
British pound
Cable (GBP/USD) was last at 1.3325 slightly up (+0.2%) on the day.
Pandemic-related news continues to weigh on sterling. In Scotland, new cases of the Omicron variant have been detected, some unrelated to prior travels, and face mask use has been restored mandatory in England.
Yesterday, Bank of England (BoE) member Catherine Mann said Omicron might harm consumer confidence, undermining the economic recovery from the pandemic's impact.
The BoE Governor Andrew Bailey is due to speak today at 14:00 GMT, although he is unlikely to offer much detail on monetary policy.
On the data front, the final reading of the IHS Markit/CIPS UK Manufacturing PMI was 58.1 in November, marginally lower than a preliminary estimate of 58.2 and up from 57.8 of the previous month.
GBP/USD technical levels:
52-week high: 1.4248
52-week low: 1.3133
50-day moving average (1-day chart): 1.3571
200-day moving average (1-day chart): 1.3811
14-day Relative Strength Index (RSI) (1-day chart): 34.64
Forex Performance Heatmap – 1 December 2021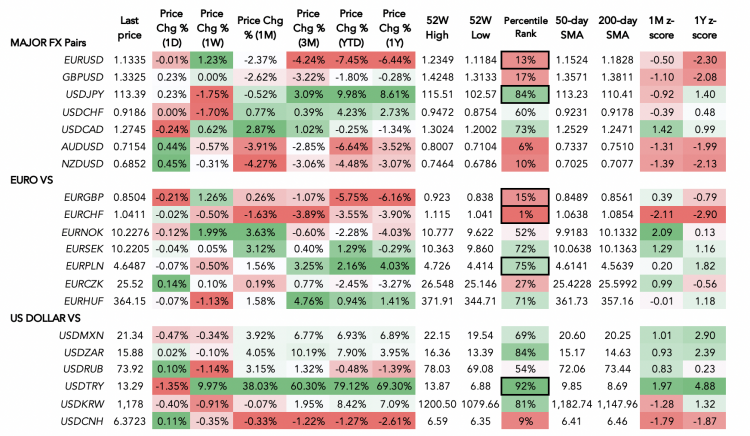 Forex Performance Heatmap as of 1 December 2021, 10:00 GMT – Credit: Capital.com
Other currency pairs (% change from previous close)
Read more: US Fed chair grilled on inflation outlook