USD fails to push higher after CPI beats expectations as traders focus on disinflation
Subscribe to Weekly Highlights
The major market events for the week ahead right in your inbox.
Subscribe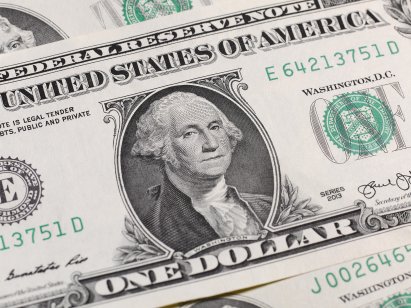 US inflation is more stubborn than markets had hoped. After the surprising strength in the jobs data at the beginning of the month, a lot of focus has been placed on the upcoming data to determine the state of the economy. Consumer prices have risen 0.5% in January, up from the revised 0.1% in December, and the yearly change is 6.4% slightly below 6.5% in December but above expectations of 6.2%. Core inflation has remained unchanged at 0.4% on the month but the yearly figure has also come in above expectations at 5.6% versus the 5.5% expected. Fuel oil and used cars continue to be the biggest drawdowns in price, versus gasoline, gas, and medical services as the biggest drivers.
MARKET REACTIONS
Given the positioning in markets, there was a higher risk for a topside surprise which sees the US dollar pick up some bids. So far the move has been quite muted with little momentum in markets, with the Dollar Index has been remaining pretty much unchanged within the daily range, with a slight bearish tilt. Previous to the announcement, the index had been consolidating for 6 sessions after the bounce higher on the back of the Fed meeting and NFP data earlier this month. A break higher seems to be limited by the 50-day SMA (103.057) so it will be an area needed to be cleared before moving higher.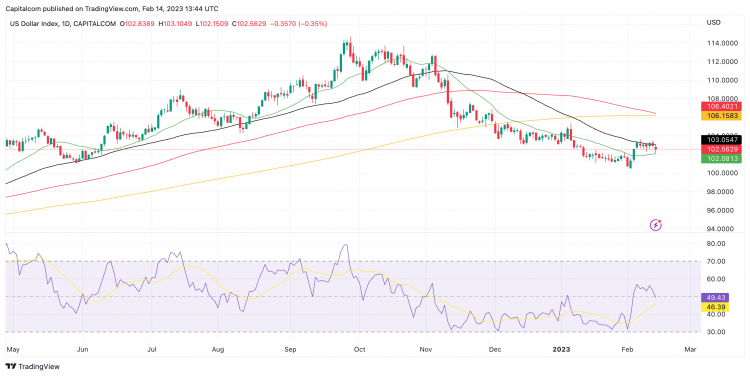 US dollar Index daily chart. Photo: capital.com. Source: tradingview
US equities are close to their daily lows after the data release as it plays against the need for the Federal Reserve to soften its monetary policy stance. The S&P 500 is hovering just above 4,100 after a positive session on Monday but the index has seen a spike to 4,175 on the CPI release as it seems that the fact that the data has managed to drop (marginally) from the previous month has been enough to offer a small sense of relief in the immediate reaction despite the higher-than-expected reading.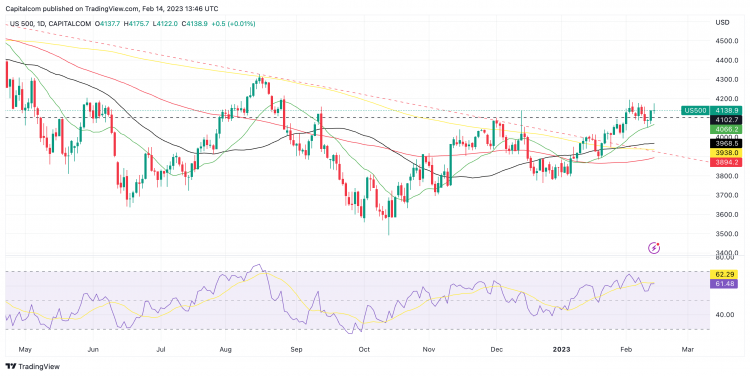 S&P 500 daily chart. Photo: capital.com. Source: tradingview
US bond yields have also dipped after the CPI release despite the positive surprise with the 10-year yield hovering around 4.7%. It is still above its ascending trend line but a close below 3.65% could signal further weakness in US yields, alongside the dollar.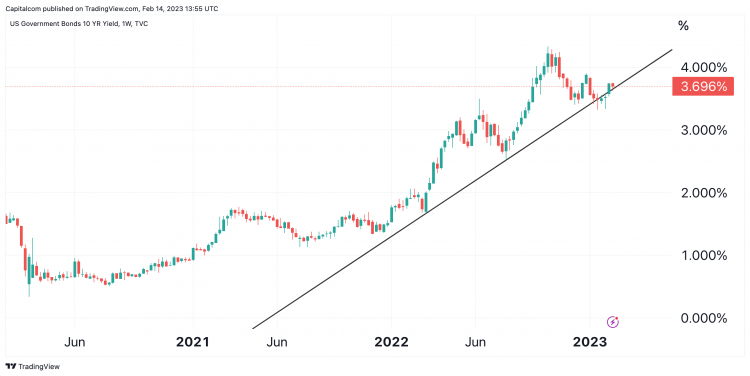 US 10-year yield daily chart. Photo: capital.com. Source: tradingview