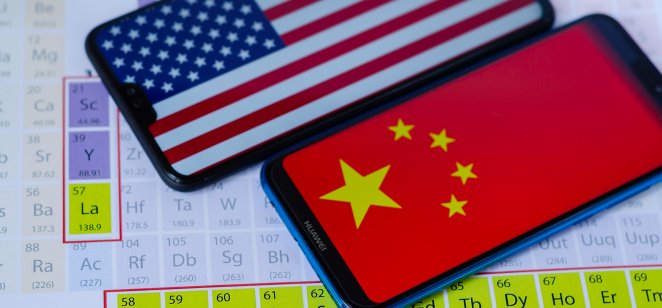 The US Defense Department could start stockpiling rare earths minerals possibly as soon as this week in response to an executive order issued by the Biden Administration in February 2021 as a precaution against supply chain disruptions from events including pandemics, cyber-attacks and climate shocks.
Stockpiling would reduce the US government's long-term dependency on Chinese imports, especially lithium and cobalt. China currently has a near monopoly on 17 rare earths vital in the development of technology devices from smartphones to wind turbines. The Asia nation possesses nearly 80% of rare earths imports, according to US Geological Survey data.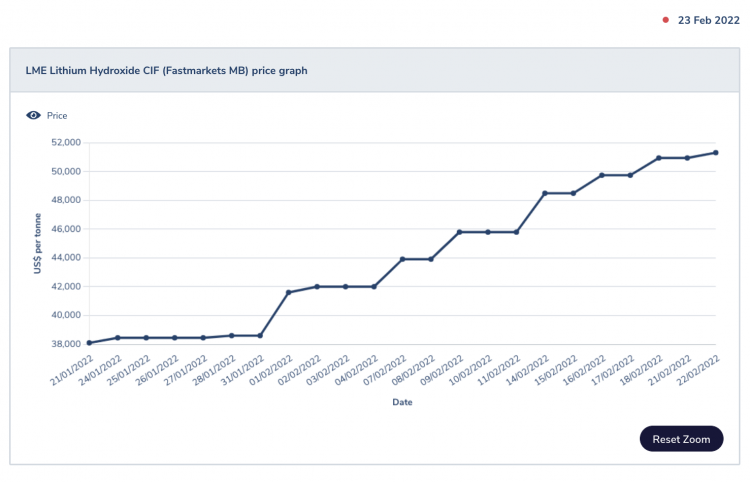 Lithium price chart – Credit: London Metal Exchange
The move comes as the price of lithium hydroxide has jumped 35% in less than a month to $56.75 per kilogram for the week of 17 February from $42.00 for the week of 27 January on the London Metal Exchange. Cobalt has surged as well.
The US has only one rare earths mine – southern California's Mountain Pass. The site is home to the eighth-largest reserves of rare earths used in military equipment, from fighter jets to missiles to night-vision goggles.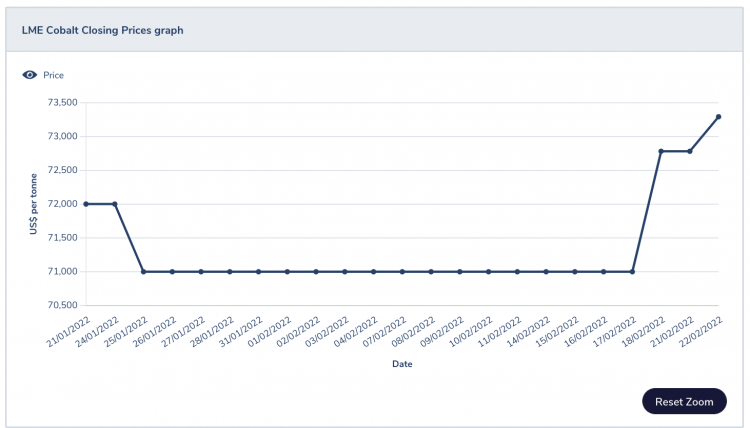 Interdepartmental agreement
The agreement between the Departments of State, Energy and Defense covers certain rare earths along with the type of large batteries used in electrical grids, according to Reuters, which cited two people familiar with the plan.
Efforts to reach those departments for comments by Capital.com were not successful Wednesday morning.
Uses
Major military contractors use rare earths converted into magnets for next-generation weapons research, including the Lockheed Martin F-35 jet and Raytheon Technologies' precision guided munitions.
Lithium is key in the Pentagon's efforts to switch to an emission-free non-tactical vehicle fleet.
Additionally, the agreement directs other government agencies to work together to collect and disseminate unclassified non-fuel minerals used in clean technologies, Reuters reports.
Bipartisan bill
A bipartisan Senate bill was introduced last month aimed at speeding up the timeline of Biden's executive order to break China's stronghold in the 17 metals and force defence contractors to stop buying rare earths from the nation by 2026.
The bill sponsors, Senators Mark Kelly, a Democrat from Arizona, and Tom Cotton, a Republican from Arkansas, said the Restoring Essential Energy and Security Holdings Onshore for Rare Earths (REEShore) Act of 2022, will protect the US from rare earth element supply disruptions and reduce its reliance on China.
The act would:
Require the Pentagon and Interior Department to create a strategic reserve of rare-earth elements and products by 2025. The reserve must meet the needs of the U.S. military, defense industrial and technology sectors, and other critical infrastructure for one year in the event of a supply disruption.
Require Department of Defense contractors to track and disclose the origins of rare-earth magnets used in systems that it delivers to the US military.
Prohibit Chinese rare-earth metals from being used in sensitive Department of Defense systems by 2026.
Require the Office of the US Trade Representative and Department of Commerce to submit a report to Congress on China's alleged unfair trade practices in the rare-earth metal market, with potential tariffs to follow.
As of Wednesday, the bill, S-3530, is waiting for action by the Senate Energy and Natural Resource Committee. There is no House companion bill yet. It hasn't been scored by the Congressional Budget Office and offsets were not listed in the proposed legislation.
Kelly, a former astronaut and a member of the Senate's Armed Services and Energy committees, said the bill should "strengthen America's position as a global leader in technology by reducing our country's reliance on adversaries like China for rare earth elements."
Bargaining chips
In recent years, Beijing has used its access to metals as bargaining chips in geopolitical situations.
In 2010, China stopped all rare earths export to Japan, after Japan detained a Chinese fishing boat captain near disputed islands in the South China Sea.
That same year, China slashed its export quota for the metals to protect domestic supply, inflaming trade ties with the U.S. and its allies.
Further reading: