US steelmaker Nucor (NUE) stock dives 13% Wednesday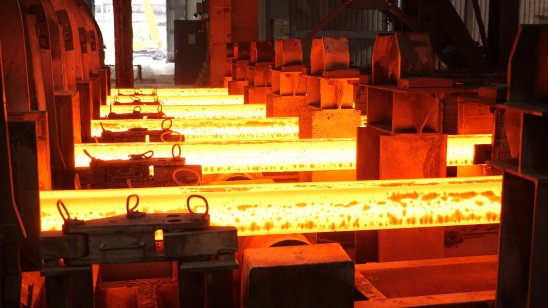 Amid expansion and mixed price targets, US steelmaker Nucor expects fourth quarter earnings to shatter the company's record, despite its stock skidding nearly 13% today.
Nucor's stock prices sank Wednesday, after missing pay-out expectations. Analysts surveyed by FactSet had forecast earnings of $8.20 per share.
The company expected earnings to range between $7.65 to $7.75 per diluted share, breaking the record of $7.28 per diluted share set during the third quarter of this year.
At 1 pm EDT (UTC-5) Wednesday, the Charlotte, North Caroline-based manufacturer's stock dropped nearly 13% to $104.96 per share.
Its 52-week low was $47.92 on 29 January and its high was on 13 August. Domestic steel production has increased, given the recent $1trn infrastructure package passed by the US Congress and signed by President Joe Biden. The package included billions of dollars for roads, bridges, airports, and other infrastructure projects that use steel.
Demand will remain strong in most of the market the company serves. The company is confident 2022 will be another profitable year, according to a company statement.
Earnings forecast
Nucor forecasts "robust" earnings from its steel mills segment during Q4, despite lower output caused by seasonality.
"We expect the steel products segment to generate increased earnings in the fourth quarter of 2021 as demand in non-residential construction markets remains strong," the company's statement said.
"Raw materials segment earnings are expected to decrease in the fourth quarter of 2021 as compared to the third quarter of 2021 primarily due to margin compression at our direct reduced iron facilities."
During the fourth quarter, the company purchased about 13.5 million shares of stock at a price of $111.63 per share.
This is Nucor's 195th consecutive quarterly cash dividend, which is payable on 11 February 2022 to shareholders of record as of 31 December 2021.
Shopping spree
During the third quarter of 2021, Nucor spent billions to boost its presence in the industry.
This week, Nucor entered a joint venture with Japan-based JFE Steel, after agreeing to purchase 51% of California Steel Industries (CSI) for $400m. CSI runs a plant in Fontana, California, producing about two million tonnes of sheet steel and products yearly, and employs around 800 employees.
Under the agreement, Brazil-based Vale SA sold its 50% share in California Steel for $400m in cash, adjusted for debt and working capital. Nucor also bought 1% of the steel maker from JFE for an undisclosed amount.
Nucor's CEO said the deal, expected to close by the end of March, will strengthen the company's West Coast operations.
"This acquisition will grow our portfolio of value-added sheet products, provide opportunities for increased internal shipments and enable us to provide our downstream businesses in the region such as Verco and Hannibal Industries with sheet steel products," said Leon Topalian in a statement.
Investment in mill
In November, the Charlotte, North Carolina-based company made a $1.7bn capital investment in its blast and prime line mill in Brandenburg, Kentucky. Company officials said during a Q3 2021 conference call the key markets for the mill are military, infrastructure, heavy equipment, offshore and energy production.
"By adding a blast and prime line to our state-of-the-art plate mill, we will be able to better serve customers in key markets, including our nation's military, infrastructure, heavy equipment, offshore wind and other energy products," said Johnny Jacobs, vice president and general manager of Nucor Steel Brandenburg.
In October, Nucor announced it would purchase an existing state-of-the-art coil processing site in Indiana, expanding its fastener division, which supplies materials to the automotive sector.
During its Q3 2021 earning call, CFO James D Frias hinted more acquisitions are in the company's future.
"Our confidence in Nucor's competitive positioning has never been greater, as we look to execute on further opportunities in the months and years ahead," he said.
Currently, the company has 123 operating facilities, primarily in the United States and Canada. Also, most of its operating facilities and customers are in North America.
Mixed advice
Despite healthy earnings during the second half of 2021, financial institutions have mixed advice about Nucor.
Goldman Sachs cut its price target from $123 to $108, switching its recommendation from Buy to Neutral.
Credit Suisse Group continues to recommend Buy and its price target is $142.
Nucor's 50-day moving average of $109, while its 200-day average is $106.24, according to Zacks.
Read more: Steelmaker Nucor sees record third quarter earnings