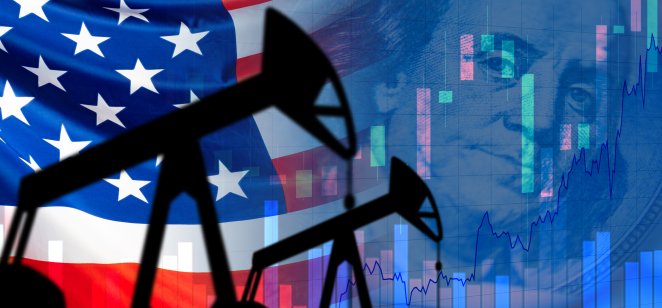 Perhaps the biggest sign that the US could expect troubles ahead after banning Russian oil and gas was when US Energy Secretary Jennifer Granholm last week called for oil companies to increase production and offset the spike in pump prices.
"We are on war footing. We are in an emergency, and we have to responsibly increase short-term supply where we can right now to stabilise the market and to minimise harm to American families," Granholm told the CERAWeek energy conference in Houston, Texas.
"In this moment of crisis, we need more supply," she said.
Unrealistic hopes
Granholm's statement had analysts and industry insiders baffled, wondering if the US administration knows the industry cannot just increase production on a moment's notice.
US President Joe Biden – with bipartisan support – decided to ban the more than 700,000 barrels of crude oil and refined products imported from Russia, in response to that country's unprovoked invasion of neighbouring Ukraine. Russia is the world's third largest oil producer.
The ban, however well intentioned, continues to drive up risks that destabilise oil markets. The ban also potentially poses a threat to the global economy, several sources told Capital.com recently.
Oil insiders warned that any increases in near-term drilling for oil may not yield increased production for 8-12 months.
In the meantime, sources told Capital.com, oil prices will remain high.
On Monday morning, April contracts for West Texas Intermediate hit a low of $100.32, down significantly from last week's high of more than $130 a barrel on the New York Mercantile Exchange – the highest since 2008 – amid worries the sanctions against Russia would hinder world oil supplies.
Price dip
"I think the market getting bid up to $130 was a little premature," said Helima Croft, head of global commodities strategy at RBC, in a note on the US ban on Russian oil obtained by Capital.com.
Croft said Monday's prices are the results of market traders gambling a broader embargo on Russian oil is in the future, including by European countries and other key customers.
"Right now, the market is too extreme in either way. I think it's justified at $110. I think it's justified over $100. I don't think we're headed for an off-ramp, and I think we have room to go higher," Croft wrote in the note.
For Europe, noted Commerzbank energy analyst Carsten Fritsch, the drop in price is a sign of hope for a somewhat peaceful resolution to the war.
The price dip "is due to positive signs from the talks conducted at the weekend by Russian and Ukrainian representatives, which are giving rise to hopes of rapprochement," Fritsch said in a note emailed to Capital.com.
Unstable nations
The Biden administration said there are ways to plug the 700,000 barrel a day hole the Russian ban leaves in the US oil supplies, mainly by importing from Venezuela and Iran.
However, these are three unstable countries which historically have had been hostile toward the US. Additionally, Venezuela and Iran have oil output challenges.
Venezuela
In 2019, the US slapped an embargo against Venezuela for political reasons. Two weeks ago, high-level, bilateral talks between Washington and Caracas took place, signs that the administration is seriously considering lifting those sanctions.
Last week, the Venezuela's president Nicolás Maduro released two political prisoners, another sign in thawing relations between the two countries.
However, Venezuela probably cannot fill much of the supply gap left by Russia. Venezuela's oil industry is not the once global giant it was in the 1990s when it pumped out 3.2 million barrels daily. Now it struggles to produce 800,000.
Iran
For decades, Iran has called the US "The Great Satan." The US hasn't imported Iranian oil in about four decades. But the Biden administration is now looking toward that country for more oil.
Earlier this month, US Transportation secretary Pete Buttigieg said in an interview "all options are on the table" to find additional oil supplies after the Russian ban, including importing oil from Iran.
However, there are problems with Iran's supply, analysts told Capital.com this past week. First, it's well known in the oil industry that Iran pads the amount of oil it claims it can produce.
Second, on Monday, the country's foreign minister said he's headed to Moscow days after negotiations to resume the Iranian nuclear deal stalled after Russia made new demands.
After months of meetings in Vienna, Austria, major powers are close to renewing the 2015 deal regulating Iran's nuclear programme. Russia's new demands can be seen as a way to stall the country from importing oil to the West.
It's unclear what the demands are, but Tehran imports its excess enriched uranium to Moscow.
Without a nuclear deal, it's unclear if oil exports from Iran would be viable, said two sources.
Competition
Meanwhile, the third-largest energy user – India – said over the weekend, it is hoping to resume crude oil shipments from Venezuela and Iran to help offset rocketing oil prices.
No to Canadian oil
Analysts are wondering why the US isn't turning to Canada for help in plugging the oil supply gap.
Paul Sankey, CEO of Sankey Research, said – when asked if Biden needs to play nice with the Iranians and Venezuelans – "God forbid he turns to the Canadians."
He pointed out Canada could easily transport oil from the Alberta oil sands into the US without issues.
During CERAWeek in Houston, Alberta politicians were handing out business cards and information sheets about Canadian oil. As a selling point, the political leaders hammered home the need to build the massive and controversial Keystone Pipeline running from Canada to Port Arthur, Texas.
Read more