US recession: What does this mean for stock markets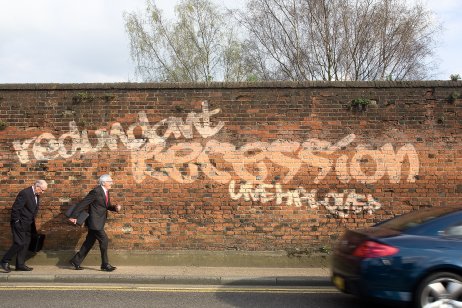 The US economy has contracted for two consecutive quarters, placing it in a technical recession. Equity markets are likely to behave differently now, creating new opportunities for investors.
Forward looking behaviour of equity markets means that broader equity markets have already priced in this downturn at the start of the year, and have now begun to rally. The S&P 500 (US500) and the Nasdaq 100 (US100) gained almost 7% and 9% respectively in the past month.
During a recession, stocks in the energy and consumer sectors are likely to face a devaluation as they begin to report lower sales numbers. While tech stocks are likely to recover, as the market rushes to buy quality stocks at discounted prices. As reflected in the rally of Apple (AAPL), Alphabet (GOOGL) and Microsoft (MSFT) stocks in recent weeks.
What is your sentiment on US500?
Vote to see Traders sentiment!
Nasdaq 100 (US100) Price Chart
Are we in a recession?
Although there is no official definition of a recession, the rule of thumb generally is that an economy is in recession when its gross domestic product has contracted for two consecutive quarters. The US economy contracted 1.6% during the first quarter of 2022 and 0.9% during the second quarter, placing it in a technical recession.
David Jones, analyst at Capital.com states why this has not been officially declared yet "it's an odd technicality as to whether or not the US is in a recession. It is down to the National Bureau of Economic Research to officially call it." He adds that "some would point to the fact that there isn't high unemployment but to me, the US is in recession - we can't be changing the rules as we go along".
Why is the stock market rising?
Although the economy has been contracting during the first half of 2022, the stock market in recent months has inclined. The S&P 500 (US500) and the Nasdaq 100 (US100) gained almost 7% and 9% respectively.
This is due to the fact that equity markets are forward looking. Investors had already begun to price in a potential recession earlier in the year when the stock market began seeing a sell off.
As Jones puts it: "Indices like the Nasdaq are off by around 20% this year and have been anticipating the ongoing economic slowdown."
Now that the contraction has occurred, the equity markets have appeared to have turned. Jones says the catalyst for this may have been decisions made by the Fed: "With the narrative around this week's Fed meeting suggesting that interest rates may not rise as aggressively as they have, investors seem to have taken some heart from that."
For investors he says: "The real test for indices now is when they sell off - how deep do they go? If indices such as the S&P 500 hold above the lows for the year so far then it looks like the market is once again in 'buy the dips' mode."
S&P 500 (US500) Price Chart
How will the different sectors behave?
Although broader equity markets are rallying, individual sectors of the stock market create different opportunities for investors as the economy moves through new cycles. Some key points to note for all market watchers as:
In anticipation of a recession, equity investors generally flee to defensive sectors, such as consumer staples, industrials and healthcare, as researched by SSGA. These sectors are likely to see a slowing down of growth once the economy is in recession. Indeed the start of the year saw firms such as Walmart (WMT), Coca Cola (KO) and Kraft Heinz (KHC) outperform the market, only to see their values deflate in recent months.
Once a recession comes closer, investors begin to buy stocks in industries such as energy, a sector which historically benefits from inflation that precedes a recession due to its ability to pass on costs to customers. TotalEnergies (TTEF), Chevron (CVX) and ExxonMobil (XOM), Shell (RDSa) and BP (BP) all outperformed the market as they reported historically high revenues during the most recent quarter. As recession continues, the energy sector may create a shorting opportunity as demand slows down. Jones comments: "If the slowdown continues then I would expect energy markets to fall back, which would normally impact the share price of these companies." However, due to unique supply constraints seen in recent months, stemming from the Russia-Ukraine war and supply chain disruptions, there may be a chance the energy sector only drops so far.
During the recession itself, it is the technology and financial sectors which take a hit. This is when the market begins to price in reduction in borrowing and disposable income. JPMorgan (JPM), Goldman (GS) and Morgan Stanley (MS) all saw their stock values lower following disappointing earnings during the second quarter of 2022. It's a similar story for tech stocks, however. Jones says: "If investors embrace risk once again then some of the higher tech companies that have been particularly hard hit over the past 8 months or so could see a decent recovery." Tech stocks such as Apple (AAPL), Alphabet (GOOGL) and Microsoft (MSFT) have begun to slightly rise after seeing a major sell off a few months ago.