US natural gas prices frozen by warm weather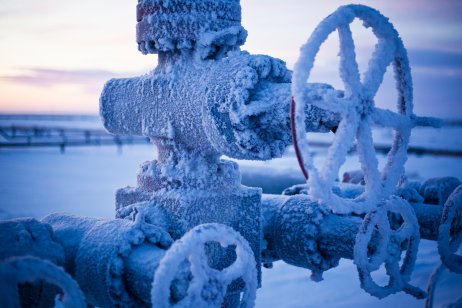 Natural gas futures remained volatile Tuesday as utilities stockpile the energy source due to a warmer-than-normal winter.
At 11:00 ET (UTC-5) Tuesday, natural gas futures for January 2022 deliveries remained in the red, down by more than 2% to $3.72Mbtu. On Monday, the commodity reached a high of $4.09, but eventually closed at $3.79Mbtu.
Forecast
Eli Rubin, senior energy analyst at EBW AnalyticsGroup, told Capital.com the current pricings appear to be bearish in the long-term. However, traders must be prepared for short-term recoveries from time to time. Cold snaps could occur in January and February, but the cold weather arrival seriously impacts a previous bullish prediction.
"We are well situated for extreme cold," he said.
However, government data shows a warmer-than-normal weather forecast for this month leaving US power companies with enough natural gas in storage to stockpile for one to two weeks. Not since April 2021 has storage been above normal levels.
Natural gas futures are headed downward. It would require a trade at or above $5.088 to reverse the trend, something analysts said is highly unlikely. A move through $3.503 will green light a downtrend with the next targets coming in at around $3.430 and $3.186.
Rory Johnston, managing director and market economist at Price Street said prices dropped from a 13-year high of around $6.30/MMBtu to less than $4. "Largely reflecting a combination of marginally warmer than usual winter temperatures as well as the reduced tail risk probability of an especially cold overall winter (e.g., 2013-14) in forward forecasts," he wrote.
What is your sentiment on Natural Gas?
Vote to see Traders sentiment!
Drill baby Drill
The decline in price is not surprising to some analysts. Rubin said in the last few months, natural gas companies have increased production after the coronavirus pandemic sent drilling to a 25-year low. When the world eased Covid-19 restrictions, producers started drilling with full force to where the market is now at capacity, sending prices to near record lows.
Last week January contracts saw the largest price drop in a decade, he said, when futures dipped below $2.
Liquefied Natural Gas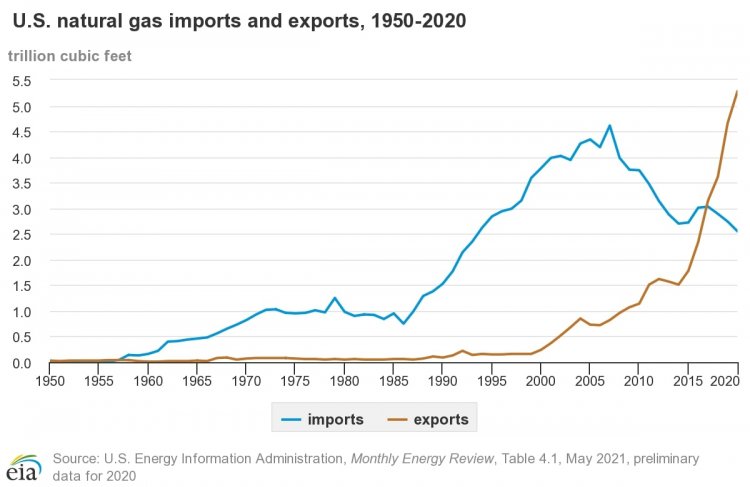 US Energy Information Administration
There is a bright spot in the natural gas industry, which is the export of liquefied natural gas (LNG).
However, there is some talk of curtailing US exports of LNG as an option to boost gas and power costs around the globe. However, an imposed disruption of LNG supply at a time of extreme stress in global gas markets would have a highly destabilising effect both politically and commercially, according to a study by IHS Markit released Monday and obtained by Capital.com.
Such a move risks higher prices for US consumers while undermining the nation's interests and emissions reduction goals abroad, according to a new analysis by IHS Markit.
"When markets are tight what is required is an assurance of steady, secure, reliable supply, and reliability for the agreements and relationships with other countries underwriting this supply," said Daniel Yergin, vice chairman, IHS Markit and author of The New Map. "Proposals to limit or redirect supply only exacerbate tensions, add to uncertainty and market volatility, and undermine both investor and consumer confidence, as well as relationships with US allies and partner countries."
In a recent interview with CNBC, Tellurian Chair Charif Souki said LNG is good business for the natural gas industry. He explained it costs $3.50 to produce natural gas, $1 to process LNG and ship it, then it can sell for $25 to $30 per million British thermal units (MMBtu).
World stage
The US continues to ship a large amount of natural gas to around the world, including Europe. The US Energy Information Administration said the US exported a record 5.28 trillion cubic feet of gas in 2020.
At a G7 meeting last week, natural gas was a major topic on the agenda.
Russia continues to tease western Europe with its Gazprom PJSC's Nord Stream 2 pipeline. With Europe's weather turning cold so is natural gas politics. Reuters reported, based on current conditions, approval of the Russian Nord Stream 2 pipeline is impossible. "Russia is saying they will do what it takes to please regulators. Maybe pull your troops back off the border of Ukraine," the British news wire said, adding Belarus President Alexander Lukashenko is warning that he could cut off supply if the EU puts on more sanctions.
The pipeline to Germany gives western allies leverage over Russia because President Vladimir Putin has an interest in getting the gas flowing. The US is pushing Germany to stop Nord Stream 2, which is awaiting certification by the German government, in the event Russia invades Ukraine, Reuters reported last week.
"It's very unlikely or hard to see that happening if Russia has renewed its aggression on Ukraine," US Secretary of State Anthony Blinken said in an interview with NBC's "Meet the Press."
On Sunday, Blinken, and his Group of Seven (G7) colleagues issued a joint statement warning Russia to back off Ukraine or "face massive consequences."
Read more: Natural gas price forecast: Strong demand to life US prices?