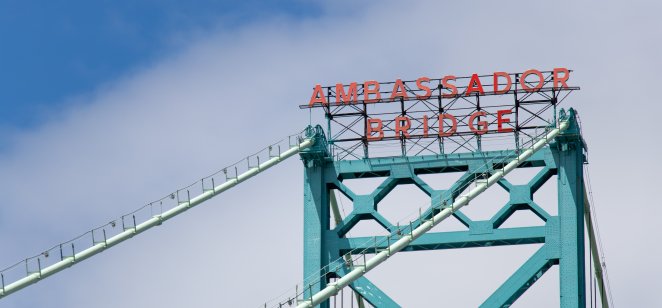 North America's auto industry started revving again Monday after a seven-day protest closed the busiest US-Canada border crossing in response to Ottawa's Covid-19 mandates, with carmakers saying it could take weeks to return to normal production levels.
Automakers Ford (F), General Motors (GM) and Chrysler-maker Stellantis (STLA) reduced production last week after parts could not be delivered. In Canada, auto parts manufacturers cut production when exporting to the US stalled. IHS Markit estimates the blockade will end up costing the industry $850m (£626m), with the daily output of vehicles and parts at $141m a day.
The Ambassador Bridge – which connects Detroit to Windsor, Ontario – and other bridges, were paralyzed after truckers and protestors blocked border crossings over Canada's vaccine mandates and other Covid-19 regulations. The Ambassador Bridge is the most vital commerce link between Canada and the US. Daily more than 10,000 commercial vehicles cross the bridge, bringing in more than $325m worth of goods, according to the Michigan Treasury Department.
"It's not like you can flip a switch and get back to where we were production-wise," said Peter Nagle, a principal analyst who specialises in the auto industry at IHS Markit, a research firm, told the New York Times. "It's going to take a few weeks."
The blockade only adds to issues impacting the automakers' fragile supply chain. Production lines are still idle or running at lower speeds because of a semiconductor chip shortage that has lasted more than a year. Meanwhile, car dealer lots are emptying as demand remains strong for cars, especially SUVs, driving prices to record highs. The average vehicle in the US now costs more than $40,000, said Kelley Blue Book.
Each automaker is responding to the parts problem. Some are temporarily shuttering factories, and others are chartering cargo planes to transport parts from Canada to the US.
Ford
Ford Motor told the Times no impact on production was caused by the border disruption, but a facility in Ohio would close for a week due to a microchip shortage.
However, Ford said in a statement to Detroit's WOOD-TV, that the parts shortage forced the company to close its engine plant in Windsor and to reduce production runs at an assembly facility in Oakville, Ontario.
"This interruption on the Detroit-Windsor bridge hurts customers, auto workers, suppliers, communities and companies on both sides of the border," Ford said in a statement to the news station. "We hope this situation is resolved quickly because it could have a widespread impact on all automakers in the U.S. and Canada."
At 14:00 EDT Monday (UTC-5), Ford was down 0.23% to $17.51 per share.
Toyota
America's best-selling car company's facilities in North America were also impacted by the blockade, but Toyota expects to resume full operations in weeks.
Originally, Toyota expected supply chain issues at plants in Alabama, Kentucky, Ontario, West Virginia. However, a Toyota spokesperson said the company was also unable to manufacture cars at three Canadian plants during the latter part of last week because of parts shortages. A statement attributed the problem to supply chain, weather and pandemic-related challenges, but the shutdowns came just days after the blockade began last Monday.
"Our teams are working diligently to minimize the impact on production," the company said, adding that it does not expect any layoffs at this time.
Toyota (TM) was down 1.95% to $188.95 in early afternoon trading Monday.
Stellantis
The maker of the popular Jeep and Ram lines reduced production shifts at facilities in the US and Canada last week in response to the shortages. The company said Monday, operations resumed as normal and its plans to make up for lost production in the months ahead.
"We are working with our carriers to get parts into the plants as quickly as possible to mitigate any further disruptions," she said.
What is your sentiment on F?
Vote to see Traders sentiment!
Stellantis is formerly Fiat Chrysler and was trading down to $18.44 per share, a 1.34% decline.
GM
In the case of General Motors, reports state it chartered cargo planes to fly parts stuck at Canada's border across the Detroit River into the US to keep a critical truck plant going.
However, GM cancelled its first and second shifts at Lansing Delta Township (Michigan) facility due to the parts shortage.
GM was down to $48.64 a share, a loss of 0.39%.
Trudeau reacts
In response to the blockade, Prime Minister Justin Trudeau announced on Monday he plans to invoke the Emergencies Act. The measure, which replaced the War Measures Act in the 1980s, defines a national emergency as a temporary "urgent and critical situation" that "seriously endangers the lives, health or safety of Canadians and is of such proportions or nature as to exceed the capacity or authority of a province to deal with it."
According to the Canadian Broadcasting Corporation, the Act gives special powers to the leader to respond to events impacting public welfare (natural disasters, disease outbreaks), public order (civil unrest), and international and war emergencies.
"The reason why we got to this point is because the prime minister let the siege in Ottawa go on for weeks and weeks without actually doing anything about it, allowing the convoy to shut down borders without responding appropriately," said NDP Leader Jagmeet Singh, according to the CBC.
Patrick Leblond, a senior fellow with the Centre for International Governance Innovation, the blockade was a "direct threat to the economic lifelines" of all of Canada – in a way Prime Minister Justin Trudeau and Ontario Premier Doug Ford cannot ignore.
Leblond explained the Windsor-Detroit corridor is "so important for the economies of Ontario and Canada that it was decided several years ago that another bridge was needed to allow more goods to flow across the border – and to reduce the risk of disruptions should something untoward block the Ambassador Bridge."
This second bridge, the Gordie Howe International Bridge, will not be ready to open for several years.
Monte Stewart in Canada contributed to this report.
Further reading: