UPS shares jump after Q3 earnings report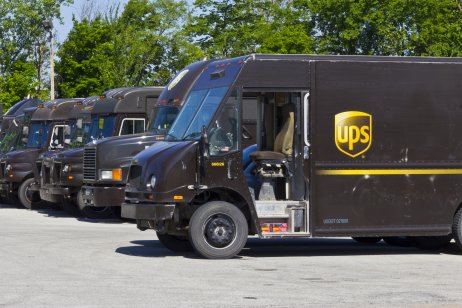 Higher shipping prices and an increase in e-commerce allowed United Parcel Service to top analysts' expectations during the third quarter, the company said Tuesday.
UPS shares increased 7.1% to $218.56 during mid-morning trading. During 2021, the stock has increased 21%, while the Standard & Poor' 500 index climbed 22%. Adjusted earnings came in at $2.71 per share in Q3, from $2.28 during the same time last year, a release from the Atlanta-based company said. The company's consolidated revenue was $23.2bn (£16.8bn). Analysts predicted Q3 earnings of $2.54 per share on increased revenue of 9.2% or $23.2bn in the quarter.
Since Covid hit last year, UPS raised prices to offset expenses of more home deliveries, which are growing faster than its more-profitable commercial business. The increase and focus on more-profitable deliveries resulted in a 13% gain for the company's overall revenue per package, which offset a 2% decline in average volume, the release said.
Candid comment
The company's CEO Carol Tome said during a conference call Tuesday that UPS is rethinking its package strategy, according to Bloomberg.
"We used to think that every package was the same. We don't think that anymore," she said. "We're controlling the volume that comes into our network because we're laser-focused on revenue quality."
Profit margins
UPS has created a "better, not bigger" campaign. The campaign realigns the company's past strategy of getting as many packages as it could despite the cost to focus more on profitable deliveries.
Tome, who took over last year, has stressed increased profit margins. In April, the company announced it would sell its freight business for $800m and last month UPS announced an agreement to acquire Roadie, described as a same-day delivery startup.
Amazon largest customer
Deliveries from the company's key customers are decreasing as UPS controls the volume arriving at its network, including its largest customer, Amazon, Tome said.
However, she said, the percentage of the e-commerce giant's shipments with UPS is nearly identical to 2019 during the first three quarters of 2021.
Read more: UPS delivers the goods with second quarter earnings jump
The difference between stocks and CFDs
The main difference between CFD trading and stock trading is that you don't own the underlying stock when you trade on an individual stock CFD.
With CFDs, you never actually buy or sell the underlying asset that you've chosen to trade. You can still benefit if the market moves in your favour, or make a loss if it moves against you. However, with traditional stock trading you enter a contract to exchange the legal ownership of the individual shares for money, and you own this equity.
CFDs are leveraged products, which means that you only need to deposit a percentage of the full value of the CFD trade in order to open a position. But with traditional stock trading, you buy the shares for the full amount. In the UK, there is no stamp duty on CFD trading, but there is when you buy stocks.
CFDs attract overnight costs to hold the trades, (unless you use 1-1 leverage)
which makes them more suited to short-term trading opportunities. Stocks are more normally bought and held for longer. You might also pay a stockbroker commission or fees when buying and selling stocks.