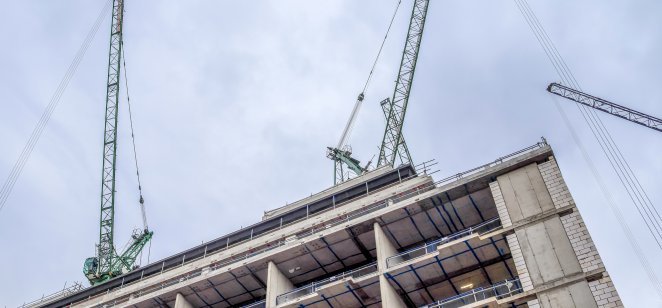 Multi-billion pound projects to rebuild the UK's infrastructure are providing potentially attractive opportunities for investors and traders in stocks such as Kier Group (KIE), Balfour Beatty (BALF) and Galliford Try (GFRD).
They include schemes such as Build Back Better, the government's pledge to stimulate economic activity and drive long-term improvements in roads, rail and cities.
And the longer-term outlook is positive, according to an analysis by London-based broker Peel Hunt, seen by Capital.com, due to regulatory, governmental and structural tailwinds.
Here we take a look at the key reasons to consider this area and highlight companies that stock market analysts expect to prosper.
Picking up the pace
The UK government has been told it risks failing to deliver the aims of its national infrastructure strategy unless it picks up the pace with detailed policy design and implementation.
The warning has come from an annual review of progress by the National Infrastructure Commission, the UK's official independent adviser on the subject.
Sir John Armitt, its chairman, called for better progress in areas such as reducing greenhouse gas emissions and ensuring economic opportunity was more evenly spread.
"Reviewing the current state of key areas of policy and delivery, gaps are opening up between aspiration and execution," he wrote.
Positive outlook
Peel Hunt analyst Andrew Nussey believes the outlook for UK infrastructure investment remains positive and offers macroeconomic protections.
"Major projects continue to ramp up with further regulatory, governmental and structural tailwinds," he said. "Management teams are positive and forecasters point to sustainable growth."
He sees this as good for investors. "Positive industry behaviours and more disciplined procurement, including inflation protection, suggest more predictable and valuable cash flows," he added.
Key reasons for optimism
The Peel Hunt report highlighted a number of reasons for positivity:
The infrastructure revenue opportunity is under-appreciated
Near-term momentum remains positive
Margins are showing increasing visibility
Balance sheets provide management with options
Potential issues
Infrastructure is traditionally less affected by immediate economic conditions and the current outlook is positive, according to the Construction Products Association (CPA).
It noted projects such as high-speed railway HS2, the Thames Tideway tunnel and the Hinkley Point C nuclear power station were contributing to forecasted growth of 8.8% in 2022 and 4.6% in 2023.
Noble Francis, the CPA's economics director, acknowledged creeping uncertainty is a major challenge, even though the immediate picture was one of resilient demand and healthy pipelines.
"Longer term, the current inflationary pressures, if sustained, will have an increasingly depressing impact, while the continuation, or potential escalation, of conflict in Europe, presents an existential risk," he said.
Stocks to consider
But which companies are best placed to benefit from this increasing enthusiasm for UK infrastructure?
Kier Group (KIE)
The company has performed well over the first four months of the year – despite ongoing inflationary pressures, according to a trading update issued yesterday (24th May).
What is your sentiment on BALF?
Vote to see Traders sentiment!
Its order book stood at £8.5bn on 31st March 2022, which represents a 6% increase over the £8bn level at the end of December 2021.
"We remain focused on winning work through our long-standing client relationships and regionally based operations," it stated.
According to Joe Brent, an analyst at Liberum, trading remains in line with expectations, although he doesn't expect a dividend to be paid until full year 2024 at the earliest.
"Kier has performed well despite continuing inflationary pressures," he said. "We maintain our earnings estimates."
Balfour Beatty (BALF)
The infrastructure group recently reported that overall trading had been in line with expectations since the start of the year, with a continued strong cash performance.
In a statement, chief executive Leo Quinn said he remained confident that the group was well positioned for 2022 and beyond.
"Our business portfolio has been transformed to focus on the growing infrastructure markets of the UK, US, and Hong Kong – each underpinned by strong government investment programmes," he said.
Peel Hunt analyst Andrew Nussey believes the company offers investors "high quality, proven and diversified" exposures to these programmes.
"We estimate that Infrastructure (both construction and maintenance) will represent over 65% of full-year 2023 pre-disposal profits and procured on a basis that will firmly underpin the multi-year capital allocation strategy," he said.
Galliford Try (GFRD)
The construction business, which employs more than 3,000 people, carries out building and infrastructure works across the UK.
Liberum analyst Joe Brent has a 'buy' recommendation on the stock and a target price of 270p. This would be a 54% increase over its 175p level as the market closed on 24th May 2022.
"The market is attributing negative value to the Building and Infrastructure businesses, which is unjustified given management has returned the business to profitability while implementing a strict low-risk strategy," he said.
He pointed out that a recent capital markets day* highlighted a sustainable growth strategy to deliver controlled margin and revenue growth.
"Management re-iterated confidence in the targets and the competitive advantage from a strong balance sheet," he added.