UK average house prices up, London sees lowest annual growth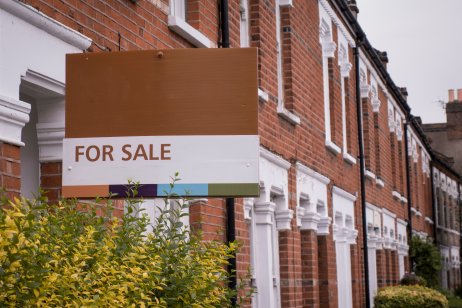 Average house prices in the UK increased by 10.2% over the year to October 2021, down from 12.3% in September this year, with London reported as the region with the lowest annual growth at 6.2%.
That's according to data published on Wednesday by the Office for National Statistics (ONS).
It said the average UK house price was £268,000 in October this year, which was £24,000 higher than this time last year.
Moreover, the data revealed that average house prices increased over the year in England to £285,000 (9.8%), in Wales to £203,000 (15.5%), in Scotland to £181,000 (11.3%) and in Northern Ireland to £159,000 (10.7%).
House prices by region
In England, the East Midlands was the region with the highest annual house price growth, with average prices increasing by 11.7% in the year to October 2021, down from 14.2% in September this year.
The lowest annual house price growth was recorded in London, where average prices increased by 6.2% over the year to October 2021, up from 2.8% in September.
"Despite being the region with the lowest annual growth, London's average house prices remain the most expensive of any region in the UK at an average of £516,000 in October 2021," the ONS said.
Meanwhile, the North East continued to have the lowest average house price at £148,000, having surpassed its pre-economic downturn peak of July 2007 in December 2020.
Economic outlook
Chief UK economist at Pantheon Macroeconomics, Samuel Tombs sent Capital.com additional comments on the current UK property market.
"The unadjusted official house price index fell by 1.1% month-to-month in October. In seasonally adjusted terms, prices dropped by 1.0%. Year-over-year growth declined to 10.2%, from 12.3% in September. No consensus was reported," Tombs said.
"House prices unsurprisingly fell back in October as the threshold for Stamp Duty Land Tax returned to £125K, from £250K, at the start of the month. Timelier indicators suggest that October's drop in the official index is just a blip. For instance, Nationwide's house price index rose by 0.9% month-to-month in November, ensuring that the year-over-year growth rate eased only to 9.7%, from 9.8% in October. Meanwhile, growth in prices has continued to vary substantially by property type. Prices for detached homes were up 14.0% year-over-year in October, well in excess of the 6.6% increase for flats. This divergence reflects greater demand for outdoor space caused by the pandemic, the shift towards home-working, and the adverse impact of cladding-related issues on prices for recently built flats," he added.
Looking ahead, the UK economist said we can continue to expect higher mortgage rates and the squeeze on households' real disposable incomes from rising inflation and taxes to subdue the housing market in the first half of next year.
"The average quoted rate for a five-year fixed-rate mortgage, with a 75% LTV [loan-to-value] ratio, jumped to 1.52% in November, from 1.30% in October. It likely will increase to about 1.7% early next year, once the full impact of the recent rise in banks' wholesale funding costs has been seen. Admittedly, house prices still could rise next year, if households are prepared to devote a much larger share of their incomes to mortgage repayments.
"The shift to working-from-home in many professions probably has raised the steady-state share of incomes absorbed by housing, given that households now spend less on transport. House purchases also will be supported next year by the large savings that many households in the top half of the income distribution have accumulated since the pandemic began. Nonetheless, house prices typically have struggled when CPI [Consumer Price Index] inflation has been high, and the sub-par level of consumers' confidence suggests many households will hold back from committing to an onerous schedule of mortgage repayments. Accordingly, we continue to expect house prices to flatten off in the first half of 2022," Tombs added.
Read more: Pressure mounts on Bank of England as inflation hits 5.1%